Endeavour Funding for University of Auckland research
University of Auckland research projects led by the Faculty of Science have been awarded more than $16 million from the Ministry of Business, Employment and Innovation (MBIE) Endeavour Fund for 2020.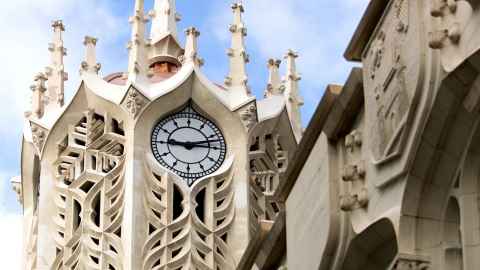 Awarded $9,179,085 over five years, Waerau waikawa iti rongoā paturopi: New Generation Peptide Antibiotics is a project to develop new antibiotics and will be led by Dame Professor Margaret Brimble from the School of Chemical Sciences and the School of Biological Sciences.
Antibiotics are our last line of defence against multi-drug resistant bacteria. The World Health Organisation has listed 12 priority pathogens, or superbugs, where antibiotics are urgently needed. Waerau waikawa iti rongoā paturopi aims to help meet this urgent need and will investigate and develop new anti-microbial medicines, vaccines and diagnostic tools.
Due to their unique bacterial mechanisms of action, antimicrobial peptides have a lower tendency to elicit antimicrobial resistance than conventional antibiotics. The project expands the new antibiotic pipeline by optimising the therapeutic properties of these peptides and investigating them for novel mechanisms of antimicrobial action. The work has potential impact worldwide and researchers hope it could lead to an innovative New Zealand pharmaceutical sector that discovers, develops and produces antibiotics.
Research on erionite, a potentially toxic mineral that may be in the dust produced during earthworks, receives funding of $7,682,404 and is led by Associate Professors Jenny Salmond and Martin Brook from the School of Environment.
Erionite is a natural mineral fibre that forms in volcanic regions, including being newly discovered in the Auckland region. It is similar to asbestos but even more likely to cause cancer when inhaled. When rock and soil containing erionite are disturbed during construction projects, for example tunnelling, the fibre can be released into the air, exposing workers and the general public.
Assessing and managing the risk of carcinogenic erionite in New Zealand is funded to investigate the risk posed by Erionite and deliver risk assessment and safe management practices.

The project team will include geologists, environmental scientists, medical specialists and engineers to work with industry experts, policy makers and social scientists and the wider community to foster development of a new high-tech erionite measurement industry.
University of Auckland researchers are also involved in a transformational and multi-disciplinary research project being led by Tāmaki Paenga Hira Auckland Museum and Ngāti Kuri, which is focused on one of New Zealand's most important marine reserves at Rangitāhua / Kermadec Islands.
Rangitāhua, halfway between mainland Aotearoa and Tonga, comprises both internationally significant terrestrial nature reserves and one of Aotearoa's largest marine reserves. It is scientifically identified as one of only four pristine marine ecosystems on Earth that is fully protected, and as a result contains a fully functional ecosystem.
Te mana o Rangitāhua: A holistic approach to transform ecosystem wellbeing receives $13.3 million over five years from the Endeavour Fund and will focus on the biodiversity and ecosystems of Rangitāhua / Kermadec Islands, alongside a mātauranga lens on translating the resulting research evidence into tangible tools for iwi-led management of the Rangitāhua environment.
Ngāti Kuri, through whakapapa, have an obligation to restore the mauri of their ancestral lands and oceans of Rangitāhua.
Sheridan Waitai, Ngāti Kuri says, "Rangitāhua and all those elements that define its purpose and function reflects our tupuna's articulation of the contiguous nature of land, sea and people".

University of Auckland researchers involved in the project include Professor Mary Sewell, Professor Jacqueline Beggs, Professor Wendy Nelson, Associate Professor Rochelle Constantine and Dr Richard Taylor from the Institute of Marine Science.