Engineering student's eye-opening internship leads to job in healthcare technology
We caught up with three sides of an internship project to find out what makes a great work experience, and the lessons they've learned along the way.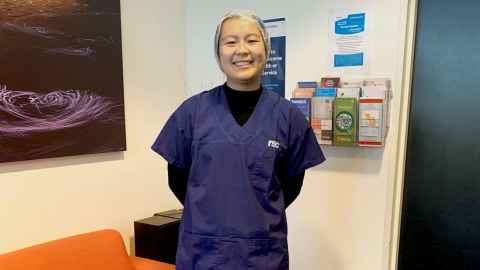 Part IV Biomedical Engineering student Sharon Wong recently completed an internship worth raving about — one that ultimately led to being offered a permanent position that she will start after graduating this year.
Set in the idyllic landscapes of Te Puna in Tauranga, Tidy International (NZ) Limited is an established company in that provides services in Enterprise Resource Planning (ERP) cloud software products. In the past few years, the company has been exploring expansion in the healthcare sector, which prompted projects to be advertised as work experiences for students such as Sharon.
We spoke to Sharon herself, Tidy CEO and Founder Kevin Mann, and Dr John Bridgman from Tauranga Oral & Maxillofacial Surgery about their mutual learning outcomes, what makes a successful internship experience, and how Tidy came to employ their first University of Auckland Engineering graduate.
The hands-on experience
"On my first day with Tidy, my boss asked me to meet one of their clients in a clinic in Auckland. It kind of threw me in the deep end", Sharon recalls. "But it was a very eye-opening experience. I didn't actually think I would be watching real surgeries on my first day!"
It was really interesting; I really loved watching it. It was like a well oiled machine and everyone knew exactly what they were doing. They had something like five back-to-back surgeries, and while they all were the same procedure, they had to deal with different patients, and differrent behaviours and tools. I think it's because of all the medical dramas that we watch on TV where it's super crazy and everyone's rushing around, but these were just so smooth; everyone was so calm and were like, 'oh, I'll take over from here', and I was sitting there, being really surprised!
Opportunities for observations and insights of that nature continued throughout her experience. When lockdown was lifted, she spent the rest of her internship at Dr Bridgman's clinic. Because her specific project focused on software, she was there at every step where it mattered: in consultation sessions between doctors and patients where treatment outcomes were discussed and determined, at the reception desk, with nurses, and during the surgical procedures.
I was actually there, controlling the software they were using; it was an actual hands-on experience. I was basically a nurse, experiencing what it feels like first hand… you can always simulate the testing scenarios, but I was actually in the actual end-scenario. So I know it was just so amazing to be part of. And I'm so thankful for that opportunity.
Kevin now firmly believes that Tidy is on the right track in the taste of employment that they're providing via internships in partnership with tertiary institutions. The company advertises their internship projects by including plenty of detail on their technologies and problems in need of solutions, so that students who are applying are already motivated. He argues, "I even think we're pretty understated on the fact that they'll be immersed in some really exciting stuff."
Working hands-on also gave Sharon a real taste of applied knowledge. She talks about how her background in Biomedical Engineering focuses more on bones, tissues and limbs, but in working with Dr Bridgman, she noticed how "specialised" they were, being a dental and maxillofacial clinic. "I remember sitting in on a consultation where they mentioned a couple medical terms. And I'm like, 'I know what that means!' It felt good that it wasn't too different to what I've learned; it's just heavily focused on a different region."
A diversity of young minds
Tidy's internship projects to date have involved stock handling for sectors such as manufacturing and construction. For Kevin, branching into something like healthcare raises new, important challenges. "Health tech is a mission-critical area of work", he states, "it can't fail, so there's a heavy emphasis on resilience." This, coupled with the need for technology to be user-friendly and simple makes it particularly challenging.
The company's approach is to employ people with the right skillset, but also ensure diversity. This means hiring more engineers, blending them with computer scientists, and working with students from other universities, as well as different disciplines, such as marketing, HR and education. Kevin states that seeing students trained in different ways has enriched the way his team functions.
We have noticed that the University of Auckland offers specialisations that others don't, but we don't necessarily want to minimise our exposure elsewhere. If we always take from the same pool, we don't broaden backgrounds or possibilities. We want a good mix of people in our organisation.
When Tidy officially offered Sharon a permanent position — as a software engineer specialising in health tech — it harked back to her success as a candidate in the first place. Kevin stresses that they wanted "more than just a technically capable engineer. They have to be able to communicate extremely well – not just in quality, but also reliability, speed, and responsiveness". He made it clear that team harmony matters, and this requires a capacity to think broadly, "Sharon surfaced to the top."
Tauranga Oral & Maxillofacial Surgery's collaboration with Tidy began last year during their worldwide search for a new practice management system. Dr Bridgman's clinic found a company conveniently located "ten minutes down the road, which is incredible", he says. "We're a progressive practice looking to improve ourselves, so the opportunity to meet face to face was just wonderful. I can just go to their office and talk to their coders, and they can come here. There's a wonderful synergy developed by proximity and convenience."
The internship would involve observations and notes from an engineering perspective, and report on how technology can assist and improve the process of the practice. It means "watching the cadence of patient flow, and not what was being talked about medically, but what information was being transferred", Kevin suggests. Sharon not only managed to achieve these tasks, but more distinctively, proved that an engineering student has a lot to contribute to the medical practice.
Dr Bridgeman — who is already accustomed to training medical and dental students — describes her as "remarkable; she fitted in just as seamlessly as any medical student would".
We taught her the same principles, and we're already used to really high calibre, high performing students with inquisitive minds. Sharon was just like that. I reckon I could have taught her to do my job and she would've soaked up the ways to do it just as quickly as a medical student!
Both Dr Bridgman and Kevin recalled an anecdote where Sharon commented on a medical instrument being used — "these torque drivers, which is a lot of micro-engineering. She piped up and said, 'that's the smallest torque driver I've ever seen. It's so cute!'", Dr Bridgman says.
Medical and dental students are always in clinical situations, but it was quite novel to Sharon, so I think it got her really involved in understanding the environment itself — how it functioned behind the scenes, how we think, how we prepare our clinics, how we treat patients and manage all their information… that was of great interest to her because that's really a different experience. I think we were able to offer her something radically different from what the average engineering student would get.

Ultimately, for Kevin and Tidy, Sharon's success as a candidate is reflective of their hiring process, values, and the relationships they will continue to build with tertiary institutes to ensure that clever young people will consistently be part of their pool.
There's constant modernisation in software, so that's where it's exciting to bring in young people — those who do not accept the world as it is. They're from a different technical world to what it was decades ago and have an insatiable appetite to learn about what works without duplicating what's already been done. When Tidy started up a decade ago, Cloud definitely isn't the buzzword that it is now. We now know there are further, exciting challenges and opportunities with upcoming R&D investments in fast-evolving areas like AI, Machine Learning, and cybersecurity. They have fresh and open minds and are also able to structure the way they look at problems and research; this is how we work to create solutions.
Humanising software
In a field which greatly privileges the personalisation of products, the need for software to work for individuals becomes paramount. To ensure that a system works as a whole, their usability should not be detached from their core functions.
Kevin, who's an engineer himself, expresses what's necessary from a technical standpoint, including helping doctors and nurses access information instantaneously because they're not meant to rely on their memories, collecting and recording all telemetry information such as heartbeats and blood pressure, and keeping records on medical devices such as when they were sterilised. "Software steps in to do this complicated work in case we need to look back at the patient's journey", he says.
"But it's all about improving the quality of patient care each step of the way. Sharon's internship included directly interacting with customers for this specific purpose", he says.
Sharon was unexpected with the full breadth of her three-week internship. "I didn't expect to take on so many roles as an engineer! I really got to see how everyone interacted with the software and the patient; to sit with nurses and reception and accounting and the different ways they all looked at software, but the software itself has to cater for all these different people. And if it doesn't work, it impacts the patients too", she notes.
I got to see how our software is integrated into the whole mechanism of surgery. At uni, you were always taught about the product but never really get to see how the end user interacts, or struggles with it. It's so different to think of the ways people might use something as a software engineer, but when you're actually in a scenario, you might not actually use it the way it was intended because it just might be too tedious or troublesome, like when you're in the moment, in surgery.
Dr Bridgman adds that the legacy systems used by many organisations treat computers as useful storage devices. "We use them to help us, but they're not really helping us back, so there are opportunities to be more integrated; it's beyond just putting pictures and panels in an interface". Issues like this are where someone like Sharon can bridge the gap between the user and what's being produced.
She's really good at understanding deeply what we're trying to achieve with the patient and what the patient is thinking, as well as how the doctor and patient interact with the software. You want your doctor to be focused on you and not the software they're driving. I think she got my explanation that the software has to work for and with me, rather than me trying to use it as a tool.
It's these understandings that Sharon will bring to her future role, one with "feedback loops" that Dr Bridgman is looking forward to. "You can always imagine software to do something better for you. We'll have ideas, but she will too, and she'll know what technological advancements can solve specific problems. We'll say 'great, bring it on!'"
Culture outside the big city
'Software Engineer' isn't a position directly associated with her Biomedical Engineering training, and Sharon admits that her coding background — which in her degree largely focused on mathematical modelling — isn't as strong. That being said, coding is her favourite part of her study and she's ready for the challenge to come.
"There's something about coding… and trying continuously to solve problems and actually get to the finish. And when your code actually works instead of getting a little error message, it's just such a good feeling", she says. She's also pleased to be taking on these challenges around some familiar, supportive faces.
One of the reasons Sharon was initially drawn to the role was timing. With Aotearoa being on its first COVID-19 lockdown, Tidy notably offered the flexibility of remote working. It didn't take her long to realise that kindness was really embedded in the company culture and the people in the region — "they're all really lovely. John Bridgman was so nice to me, and I loved everyone I worked with at the clinic. The company culture at Tidy just seems so nice and relaxed!"
"They even let me stay in a place they owned so I didn't have to pay any rent during my internship; that was so nice of them", she says. "I mean, I'll miss my friends, family, the range of restaurants… but I actually can't wait to get out of the big city! Tauranga is so beautiful, and the commute was so short compared to Auckland, and it's right by the beach… I'm really excited for the summer."
Common ground
This was notably Dr Bridgman's first time with an engineering intern. He describes the conversations between himself and Sharon as some of the unexpected pleasures to come out of the experience, "we talked a lot about the principles of biomaterials; there's a lot of materials science in surgery and dentistry."
In some ways, it made me feel a little bit more of an engineer than I am… because everyone does a little bit of engineering and we have a little bit of engineering in my job. I don't consider myself an engineer, but there are aspects of engineering that we kept talking about. And I thought, 'gosh, we have some connection with engineering'. It's quite amazing.

With the working relationship about to extend, they also talked a lot about software, though he thinks it veers more towards mechanical and structural aspects, "she very quickly picked up on what the structure of our software needs to be and how we used it."
Sharon too, found a new way of thinking. "John pointed out how everything is quite similar to medicine and engineering", she explains: in engineering, there usually is a problem posed by a client to be fixed to the best of one's ability, whereas in medicine, the patient is the client. "I was like, 'oh my goodness, that makes so much sense!' I never thought I would think of it, but it's just like engineers and doctors maybe aren't all that different. It's just the way that they're specialised. It kind of just kind of blew my mind."
I just found that piece of information so important. I thought, maybe there's so much other stuff in the world that I see that could be simplified down to the root cause; maybe, everything is just similar in a way that you should approach it.