Using the law as a tool for freedom
When Peter Williams was studying at Auckland Law School in the early 2000s, he recalls the ongoing discussions with staff and students about the meaning of justice. An idealistic student, he knew he wanted to use the law as a tool to fight for people who weren't able to fight for themselves.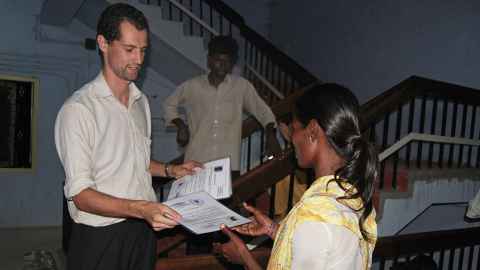 Delivering a lecture at his alma mater in Auckland recently, he reflected on his legal journey, and his current role helping to free people trapped in slavery.
Williams is the Principal Advisor on Modern Slavery at International Justice Mission (IJM), a global organisation that partners with local justice systems to end violence against people living in poverty.
"When I was a student, I encountered IJM, and saw it was an organisation consisting of lawyers, social workers, and other professionals, mostly working in the developing world addressing violence among people in poverty. It sounded too good to be true. In my mind I knew I'd like to go and volunteer there one day."
Williams realised he needed the right skills to help. Criminal Procedure, and Evidence, both papers taught by Professor Scott Optican, along with Rights and Freedoms taught by Professor Paul Rishworth, had been his passion at law school and he knew he wanted to work in court.

"I was fortunate to get a job with Meredith Connell, where I ended up being a prosecutor for four years. That was a great training ground because it allowed me to see how criminal law could be applied and the need to take a careful, objective, justice-and public-interest-oriented approach to the application of the state's power."

Williams says the training he got there was a phenomenal platform for his future work at IJM. "The practice of applying the criminal laws to a set of facts and understanding how states interact with individuals, was very helpful for working in human rights.
From there, Williams and his partner, a community psychologist, shifted to South Asia to volunteer with an IJM office working to combat bonded labour, a form of modern slavery where someone incurs a debt or bond, is forced to work for their creditor to repay their debt, but is manipulated, deceived and exploited so that the debt is impossible to repay.
"Bonded labourers are paid a pittance a day, usually less than a dollar, so to survive they have to keep taking loans from the person who gave them the original loan in the first place, who is usually their employer. There is no end in sight for these workers. They have to stay and live where they work. If they try to leave, the person who owns them knows where they live. If someone tries to escape, they and their family will be brought back into the facilities, and usually the worker will be beaten in front of everyone else. So there is this threat of violence and culture of violence that helps to enforce debt bondage."
Estimates are that there are tens of millions of people in South Asia alone trapped in bonded labour. They are often people coming from areas where there has been drought or other factors leading to high rates of severe poverty and they are desperate. They get bonded for a few hundred dollars.
Estimates are that there are tens of millions of people in South Asia alone trapped in bonded labour. They are often people coming from areas where there has been drought or other factors leading to high rates of severe poverty and they are desperate. They get bonded for a few hundred dollars.
Within a month of arriving, Williams went his first case with the IJM team - seeking rescue for several families who were in a rice mill trapped by debt bondage. IJM investigated, undertaking forensic interviews to determine if this was a case of bonded labour under the applicable law.
IJM field workers had carefully documented the case over a long period of time. Not only did they have to get the facts through interviews with the labourers, made more difficult because there was a limited period of time where the workers could leave the rice mill on the pretext of going to the market, but they also had to gain the labourers' trust.

"Developing trust is often difficult as these tend to be people who have been marginalised and disenfranchised for generations. It would never really occur to them to call the police in situations of entrapment and fear, as they know power lies with the person who has enslaved them, and that is where the influence will be if they try to complain to the authorities. They need to know that it is going to go well for them, not make things worse. "
"Corruption is a problem in many parts of the world," says Williams, "and it's an impediment to using the law to intervene. A functioning and accountable public justice system is often a key factor even in places where corruption remains a problem, because the officials know they have an obligation under the law and you can advocate more strongly."
"There is some transparency when you can file a 'right to information' report or take people to court for things they have failed to do. Quite often there is a level of transparency that means you can use the law as a leverage point."

Williams says over time you build up the experience to identify which officials mean well and are trustworthy, and who you can therefore develop relationships with.
"You learn who you can rely on. There are many officials in the governments where we work who are very passionate about protecting their people. So you work with them, and enable them to help you, to achieve what you need to achieve."
Legal systems not functioning as they should is intrinsic to the issue. "If access to justice is compromised, then there are power imbalances. One of the things we try to do in our organisation is change the power imbalance."

Bonded labourers trapped in a rice mill or a brick kiln have very little power but Williams says bringing in an NGO, who are there when they give their statement, shifts the power dynamics as there is external observation happening.
"There is now an organisation that has a relationship with the government involved. One who is willing to step in and say 'this is the proper process you must follow here,' and are there to ensure those processes are followed."
LJM's involvement doesn't end there. With bonded labour in South Asia they have a two-year aftercare programme that works with people in their communities, because when they leave a place like a rice mill or brick kiln, the first place they want to go is home to their village. "They go where their families are, and we often go all the way with them."
"Imagine arriving at 2am in a village, after driving through the countryside for hours, with a family member no one has heard from for ten years. It is a thing to behold!"

From that day on, the journey to sustained safety and full recovery takes years, and IJM's team of social workers support survivors on that journey.
Since that first year as a volunteer in 2010, Williams has worked for IJM as a field office director for nine years – five in South Asia and four in Cambodia.
"This is not glamourous work. It just takes a huge amount of persistence. You start to build momentum, until you reach a tipping point. It takes time and there are many failures. It is hard, but joyful. One of the things I carry with me from my time in South Asia was the utter resilience, not only of the team that I worked with, but the people we served and the survivors."

Williams now has a new job, based in IJM's office in Washington, once he can freely travel again. "My role is to help antislavery teams around the world, to be an internal consultant for them, and to help scale up and replicate our model globally."
Ten years later Williams admits he is "pretty hooked". "Seeing the law being applied to bring someone freedom is extraordinary."