Rural home for cutting edge research centre
Regional New Zealand is home to a leading medical imaging research centre tackling health inequities.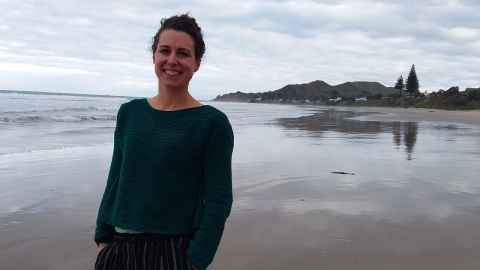 Samantha Holdsworth grew up in the small town of Te Karaka in the 1980s and attended Te Karaka Primary school on Kanakanaia Road. Approximately fifty percent of her classroom was made up of Māori students, and Te Reo Māori was an instinctive part of the school environment.
From childhood she saw first-hand the inequities underlying the unchecked health issues of her classmates, the lack of school lunchboxes, and the bravado in the playground. She saw there were fewer opportunities for young Māori and under-recognised talent, and was acutely aware of her own fortunate circumstances. 
"Comparatively, we lived in a comfortable environment. I always thought, 'we can't let people think that we're lazy', so we always went above and beyond to make sure that we weren't seen as 'privileged' kids. Working hard has always been one of our family's values, as has being engaged with the community. It developed in me a keenness to make a difference as well," she says.
Her father was a farmer and an entrepreneurial engineer, her mother interested in philosophy, the arts and education. Initially she followed her father's path, earning a first-class honours BSc degree in Physics, but still felt the call to medicine she had first felt as a child. So she googled the words 'medicine' and 'physics' together and her future vocation appeared with the job title of 'medical physicist'.
A medical physicist marries the concepts and methods of physics with the diagnosis and therapy of disease and health conditions. Their optimal tool, a platform called MRI, or medical resonance imaging, is a state-of-the-art scanning technology operated by highly skilled medical physicists to produce detailed images of the body, from the brain to blood vessels and bones. This enables superior diagnostic capability, and the opportunity to intervene to manage disease or prevent further injury. Holdsworth had found her vocation.
In 2009, she and colleagues pushed their Stanford scanner to its limits – and achieved the highest-ever resolution image of the living human brain.
She crossed the Tasman to gain her doctorate at the University of Queensland focused on MRI. She immersed herself in the field, spending 11 years as a postdoctoral fellow and then senior scientist at the Radiological Sciences Laboratory at the Stanford University Lucas Centre.
"Our research centre was right next door to Stanford Hospital, and serendipity paved a path from our basement lab to the neurosurgeons and neuroradiologists, our clinical counterparts. These connections gave me access to diversity of opinion and open-minded engagement. Walking over and talking to my clinical colleagues was when the innovation and discovery started to happen."
In 2009, she and colleagues pushed their Stanford scanner to its limits – essentially disabling the restraints of the machine – and achieved the highest-ever resolution image of the living human brain. This resolution record was only recently overtaken by a group from Harvard.
Advancing scan clarity as well as shortening time needed for patients in the scanner is transforming clinical research and diagnostic capability. The shortened time measure also means that in the future, babies and children are less likely to need general anaesthesia to keep them still long enough to have a scan.
Holdsworth's research breakthrough at Stanford included the development of new methodologies using MRI to help diagnose disease earlier. She has successfully translated a variety of these methodologies into clinical practice through her streamlined image-reconstruction methods, which have led to better detection of brain disorders and disease.
Focus on concussion
In 2018 it was time to return home. Settling in Gisborne with her husband and three sons and also took up a teaching role at the Department of Anatomy and Medical Imaging in the Faculty of Medical and Health Sciences. She was also appointed a principal investigator at the Centre for Brain Research, to help establish the centre's Traumatic Brain Injury research platform, where she has a strong focus on concussion.
It was at the University that Holdsworth's ambition became concrete: to create a medical imagining research centre, a major challenge in itself, but to also locate it in the region where she was raised in Tairāwhiti/Gisborne. While sunny and scenic, Tairāwhiti/Gisborne is also a district with the highest level of deprivation in the country.
Situating a state of the art research facility in the backblocks took some persuasion, which is clearly another of Holdsworth's key skills. Through her University role she met and gained the support and confidence of two of New Zealand's top health researchers– the founder and director of the Centre for Brain Research Distinguished Professor Sir Richard Faull (Ngāti Rahiri and Te Ātiawa), and Associate Professor Brett Cowan, Chief Scientist at the ESR. Both now sit on the board of Mātai.
Holdsworth has managed to secure funding from the government's Provincial Growth Fund. The fund decision makers saw that Mātai would provide immense health and social benefits to both the Tairāwhiti community, and to all New Zealanders, and provided a $6 million start-up allocation. The University of Auckland has contributed $1m in kind for the set up for the Mātai Lab and for grants and salaries for research staff. Along with $1 million from Trust Tairāwhiti, the region's wellbeing trust, the funding has enabled the centre to be established with a world-class, cutting-edge MRI scanner.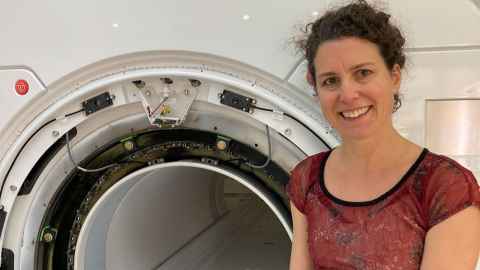 Holdsworth and colleague Madhi Salmani Rahami have co-developed a novel technology, amplified MRI that enables the scanner to produce exquisite detail of tissue in motion in a specific area. This enables the diagnosis of subtle tissue damage such as trauma, injury, cancerous tumours and stroke.
Mātai has a number of major research projects ready to go. For concussion – an underestimated and under-reported national health problem (sports injuries, domestic violence, vehicle accidents and falls) - Mātai will collaborate with specialist groups at the University of Auckland, the Centre for Brain Research, the Auckland Bioengineering Institute, and the Centre for Advanced MRI, and other organisations, to work towards identifying a biomarker, or 'indicator' that confirms concussive status.
There is currently no gold standard or definitive technological assessments to confirm if a concussive injury is present. The visualisation from a suite of advanced MRI scanning methods could potentially pick up brain motion changes, swelling, blood leakage, and broken white matter fibre tracks. Once visualised these changes in the brain will advance understanding of concussion and how it might be better managed.
Mātai's clinical lead and University of Auckland honorary senior lecturer Dr Daniel Cornfeld, in collaboration with GE Healthcare, are also working on a protocol of a ten-minute prostate cancer scan.
Holdsworth says "We are based in a chronically under-served region of the country in terms of access to cancer diagnostics, particularly for Māori – our goal is to improve the diagnostic pathway for prostate cancer by using advanced MRI prior to making the decision to biopsy, and in guiding biopsy."
Holdsworth wants to provide future generations of tamariki with medical and scientific career opportunities.
This will be one of the most advanced MRI protocols in the world. Current obstacles to increased utilisation of MRI in the workup of prostate cancer include the time and expense of the exam. A standard diagnostic prostate scan can take up to 40 minutes, and visiting urologists are locums who are time-poor. A fast, high quality MRI protocol begins to break down these barriers to cancer diagnostics.
Funding-pending, Mātai is ready to test the feasibility of a Tairāwhiti-led pilot study on a unique life trajectory child-wellness project. The goal is to scan at least 750 seven-year old Tairāwhiti children from the head to the pelvis using advanced structural, functional, and physiological MRI methods, and follow them over their lifetime to build up an understanding of child health and well-being in New Zealand.
"This study will likely be the world's first of its kind. Acquiring such comprehensive head-to-pelvis MRI scans over a long-term period will enable us to understand developmental changes, and how the health of organs relate to each other," she says. Images of the brain, heart, liver, kidney, and the body's vessels will be collected, and this data will potentially help to predict disease and disease outcomes and change treatment protocols.
The scanner is only part of the future success of Mātai. Matai's Māori Advisory Board provides an "on-the-ground" understanding of Tairāwhiti health and workforce issues. Her longer game includes providing future generations of tamariki with medical and scientific career opportunities so they, too, can impact the health and well-being of whanāu.
 
Story by Jeanette Lepper
The Challenge is a continuing series from the University of Auckland about how our researchers are helping to tackle some of the world's biggest challenges.
To republish this article please contact: gilbert.wong@auckland.ac.nz