Trump's 'breakthrough' in the Middle East
Opinion: President Donald Trump is claiming credit for the September agreement between Israel-UAE-Bahrain. Stephen Hoadley provides some context around this claim.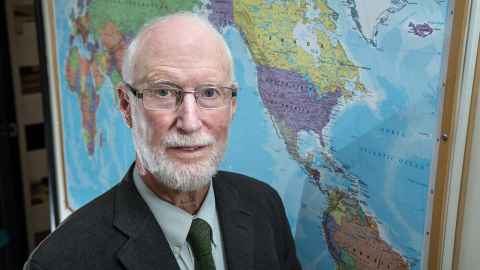 On September 15, 2020, President Trump hosted leaders from Israel, UAE, and Bahrain at the White House. The event was the signing of agreements in which UAE and Bahrain normalised diplomatic relations with Israel. Trump characterised this event as ushering in an era of peace in the troubled Middle East region, and is hopeful that Oman, Sudan, and Saudi Arabia, and Serbia and Kosovo, too, will join in.
Trump took credit for the "breakthrough", asserting that past US presidents had failed and "only he" could have achieved it. A letter-writer to the Herald believes that "Trump deserves the Nobel Peace Prize" (David Gibbs, Beach Haven, NZ Herald September 17).
Closer inspection reveals that the above narrative is wrenched out of historical and political context. As an observer of Middle East politics for 50 years I see a different picture.
My picture begins with the 1993 Oslo Accords brokered by President Bill Clinton that established the Palestinian Authority and foreshadowed an eventual Palestinian state. The Accords induced a pragmatic although non-official rapprochement between Israel and the Gulf emirates, based on common interests in trade, technical exchange, and counter-terrorism cooperation. Trade offices were exchanged and discreet diplomacy ensued. Contacts were deepened by the common threat posed by Iran and its Shia and Palestinian proxies, notably Hezbollah and Hamas. Successive US presidents Bush and Obama encouraged these links. And Presidents Carter and Clinton had already presided over Egypt's and Jordan's recognition of Israel.
Consequently, the Trump administration was able to build on a well-established network of linkages between Israel and the Gulf emirates, Egypt and Jordan, and a long history of preparatory negotiations. Its contribution was to persuade UAE and Bahrain to go public.
Moreover, the September 15 agreements are less substantial than they appear. First, they are diplomatic recognition agreements, not formal treaties. Second, they were signed not by Gulf heads of state but ministers of foreign affairs. Third, they sidestepped the thorny issue of Israel-Palestinian conflict. The 'two state' solution remains stalled because of the division of the Palestinians into rival factions Hamas and Fatah, the refusal of either to accept Israel as a legitimate state or to renounce 'resistance' (aka terrorism), and reluctance by right-of-centre Israeli governments led by Benjamin Netanyahu. Fourth, the Gulf signatories conditioned their agreements on Israel's cancellation of plans to annex 30 percent of the West Bank (legitimised by Trump's Middle East Peace Plan). But Israel's Prime Minister Netanyahu asserted that the annexation was only 'suspended'.
Further inquiry reveals that integral to the agreements were promises by Trump to sell a billion dollars' worth of advanced US arms (fighters, surveillance aircraft, and armed drones) to UAE. This followed a $10 billion arms sale to Saudi Arabia that circumvented Congressional approval, and one that the Obama administration had partially halted because of concerns that the arms were used by Saudi Arabia to bomb residential neighbourhoods in Yemen, opening the US to possible war crimes charges.
While welcoming the diplomatic regularisation, Israeli security officials are anxious lest US arm sales will tilt the balance of military power against Israel.
Consequently, the September 15 agreements in their wider context appear to be motivated more by Trump's aim to sell US arms than to establishing a basis for an enduring peace in the Middle East. Trump's abandoning of the Palestinians and arming of Israel's authoritarian neighbours, some of whom are accused of war crimes using US bombs, are actions that are not likely to find favour among the Nobel Peace Prize committee members.
Stephen Hoadley is Associate Professor of Politics and International Relations in the Faculty of Arts.
This article reflects the opinion of the author and not necessarily the views of the University of Auckland.
Used with permission from Newsroom Trump's 'breakthrough' in the Middle East 22 September 2020.
Media queries
Alison Sims | Research Communications Editor
DDI 09 923 4953
Mob 021 249 0089
Email alison.sims@auckland.ac.nz