A political dance with no room for missteps
Opinion: Vote Compass data reveals Ardern and Seymour have played the political dance to perfection - other leaders not so much. Jennifer Lees-Marshment explains.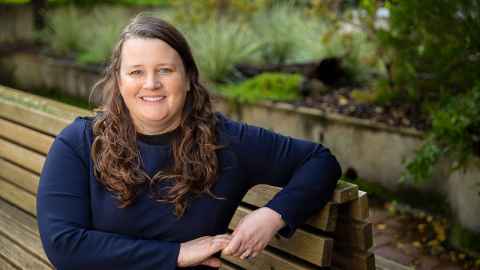 Earlier this year I asked whether Prime Minister Jacinda Ardern could dance her way to a second term. If Vote Compass data is anything to go by, the answer is a resounding yes, and not just for her but for ACT Party leader David Seymour too.
I am an academic advisor to TVNZ's Vote Compass, the online engagement tool that provide deep insight into public views on policy and perceptions of leaders. It provides far more detail than standard polls because it asks more questions and more people take part – 200,000 plus so far, compared to the average poll of 1000.
Data out this week on a question that asked respondents how likeable they find the different party leaders (on a scale of 1-10 with 10 being the highest) has two surprises that buck the usual trend. Labour Prime Minister Ardern is way ahead on an average likability of 6.8; David Seymour, sole MP and leader of the ACT Party, has the next highest rating of 4.4.
This is unusual in two respects. Ardern's likability has gone up during her time in Government when, as a sitting leader, we would expect it to fall given prime ministers need to make difficult and unpopular decisions in power, their failure to deliver on promises damaging their brand. It is much easier to like a sunny, fresh opposition leader making popular promises than a tired leader struggling to achieve change.
Seymour's likeability is above that of Judith Collins, leader of the National Party. It is incredibly unusual for a minor party leader to get higher rankings than the leader of the main opposition, as minor parties normally get little air time. Clearly both Ardern and Seymour have played the political management dance to perfection whereas other leaders have not – there is bad news in this data for National and the Greens.
So what does a question on likeability tell us? Well, several things really. It conveys how much voters think a leader understands and listens to their concerns, is someone they relate to, and can trust. These are all key political marketing components. Likeability is therefore a shortcut to testing how voters perceive the leader's brand. But individuals are affected by their party too, so this data also gives us a sense of how the overall party brand that politician is leading is standing up during the 2020 election.
Ardern is riding high; she is ahead of all the dancers - her likability score of 6.8 even higher than it was in 2017 (6.1). Her favourability has even increased among Labour supporters (from 8.5 in 2017 to 9.1 in 2020) who normally would likely be disappointed with their party's performance in government.
Ardern is also perceived as more likeable than Collins by younger voters aged 18-29 (7.4 compared with Collins' score of 2.9) and also older voters aged over 65 years (6.4 compared with 4.7). Collins' overall likeability rating is 3.8, which is very low for a major party leader. Even Bill English, who lacked charisma and relatability, was still well liked at 5.2 in 2017.
Collins is also seen as less likeable than English by National supporters, both young and older voters, with her rating from 18 to 29-year-olds particularly low. Given that Vote Compass data earlier ranked her as substantially less capable than Ardern at managing Covid-19 pandemic, this tells us there are deep issues within the National brand overall.
The surprise in the spotlight is David Seymour, who has played a long, slow, quirky dance – quite literally. He went on Dancing with Stars in 2019, which raised his profile, then consolidated this with brave leadership on the issue of euthanasia.
Even if his twerking on that show was questionable, his smart moves in Parliament along with ACT deputy Brooke van Velden have paid off: his likeability has jumped from a low 2.4 in 2017 to 4.4 in 2020.
In contrast, the Greens have struggled to ensure their dance steps accommodate their supporters within the constraints of being in a coalition government. Overall, the likeability of party co-leaders James Shaw and Marama Davidson is 3.7, which is fine, Shaw's having increased from 2.9 in 2017.
But it is with Green supporters that the problem is revealed. In 2020, Shaw is at 6.1, down from 6.6 in 2017, while Davidson is slightly higher on 7. But even then, Greens supporters rate Ardern more highly on 8.5. This means that the Greens leadership brand is yet again suffering and the party could lose their own supporters as they feel let down by their time in government.
As for the most experienced dancer, Winston Peters' overall likeability has decreased from 3.8 in 2017 to 3.0 in 2020; and among his own supporters, from 7.7 to 6.8. New Zealand First supporters also rate Ardern as highly as Peters.
That supporters of the Greens and New Zealand First are dissatisfied with the performance of their party in government is a common trend for minor parties who become part of a coalition. But Seymour's moves in opposition now raise the possibility of a Labour/ACT, Ardern/Seymour coalition government, which would combine the solid, cautious but adaptable steps of Ardern with the more innovative 'twerking' of Seymour.
Of course, there are still three weeks left of the campaign. Greens' supporters may yet come to their rescue, and Shaw and Davidson may carve out a distinctive gap in the marketplace to give environmentally-friendly voters reason to vote green rather than red with moves such as the recently-announced Thriving Oceans Plan. The National Party may also produce visionary, outside-the-box policies to help New Zealand get through the global recession, building on their recently announced technology policy.
If not, Ardern may end up regretting some of her moves on the 2020 dance floor. Helen Clark was always good at creating space and acknowledgement for the distinctive contributions of her coalition partners. Labour has failed to do this with the Greens, so may end up having to partner with ACT and face an even more difficult coalition after this election than they did in 2017.
Twenty-first century political management always requires working with others, so any attempt to dance solo could backfire. Then again, it's 2020, and it's not beyond the bounds of possibility that we will see a Labour majority and ACT-led opposition where the lead dancer, Jacinda Ardern, takes it all.
Associate Professor Jennifer Lees-Marshment is from Politics and International Relations in the Faculty of Arts.
This article reflects the opinion of the author and not necessarily the views of the University of Auckland.
Used with permission from Newsroom A political dance with no room for missteps 23 September 2020.
Media queries
Alison Sims | Research Communications Editor
DDI 09 923 4953
Mob 021 249 0089
Email alison.sims@auckland.ac.nz