Sam Elworthy: director of Auckland University Press celebrating success
The long-time director of Auckland University Press thought book sales might go to the dogs because of Covid-19 but has been pleasantly surprised.
Dr Sam Elworthy always seems to have a smile on his face. He's happy in his work, of course, as director of Auckland University Press (AUP). But he's also proud of AUP's many successes in the past 18 months.

It's not just the triumphant Mophead, Selina Tusitala Marsh's children's book, that keeps a smile on his face or that AUP is one of New Zealand's most successful scholarly publishers. It's that November sees the launch of the first of four books in AUP's ambitious Kotahi Rau Pukapuka project, publishing 100 popular books in te reo Māori.

Sam has been at the helm of AUP since 2007, after ten years at Princeton University Press.

"To be honest, I kind of fell into publishing," he says. "I did my history masters and taught for a bit. Then I went to Rutgers University in New Jersey to do a PhD in history."

After that, he got the job at Princeton University Press but says publishing wasn't an obvious career path. "Most people do a PhD because they want to be a lecturer or a professor but I never really had that in mind.

"Writing the PhD, I realised that long-term isolated work wasn't what I wanted to do. Over time, I've come to realise that scholarly publishing allows you to engage with big ideas, because you really need to understand the books you publish.

"So whether it's history, biology or political science, you encounter lots of intellectual ideas."

Being an affable creature, Sam says the relationships he fosters also appeal. "Publishing is a very people-oriented business, so I like that. I like the business side too – working out how you're going to cover your costs and what's going to sell and what's not. The job has a lot of elements to it."

AUP was founded in 1966 and publishes around 20-25 books a year. Sam and his team are answerable to the AUP board, who have the power to say yes or no to proposals. 

"The AUP board hardly ever says 'no' to me as an editor, I guess because I know the business well. But I subconsciously think of the board all the time when I'm considering taking on a project. We all care about AUP's reputation as well as the role it plays in the University's strategy."

AUP chooses what books to publish by having an evolving list and carefully considering what that should look like every year. Its main fare is new poetry collections, textbooks, popular science, history and art books, as well as biographies. It doesn't publish short stories or novels.

No, no novels.

Asked what he would do if Rose Carlyle had presented him with the manuscript for her hit debut thriller The Girl in the Mirror, Sam couldn't be clearer.

"We would have said, 'sorry we don't publish novels'. Just like we wouldn't publish chemistry monographs. We just think we're not the best publisher for those."

AUP tries to focus on the areas it wants to grow, he says.

"Over the past few years, textbooks have become important to us. We feel there's a real opportunity for locally grown textbooks by the best people in the field, published at a decent price in print and electronically. We've made a lot of headway in that area."

AUP now publishes nine textbooks that are leading teaching resources in sociology, social research, Māori studies, criminology, politics and media courses.

"Not only do they make money, but they can go into multiple editions without having to reinvent the wheel each time.

"Likewise Māori language and Māori world books, along with history, art and architecture. There's an opportunity to publish definitive books that last for generations."

He says evolving the list means deciding what areas you want to publish and then spending time on the road, when Covid levels allow, meeting with the best authors in those fields.

"Sort of like prospecting. I find out what they're working on, what exciting topics."

Sam says the key to good publishing is to "get a run on" certain types of books so you become very good at those types. "You actually get decent at it then," he says. "When you try and publish a one-off book that you're not used to publishing, you tend to do a terrible job."

With his history background, it's no surprise that Sam would like to see more New Zealand history books in the catalogue.

"The number of great historians out there writing great books has fallen off a bit and that's partly driven by academics' workload and them having to research and write for an international audience."  
I've not heard of a single bookshop closure, despite the challenges of
2020, so it's quite optimistic out there.
Sometimes he'll take a punt on a book he feels is important, but for which sales expectations might be quite low. A book that surprised him most in recent years was He Kupu Tuku Iho: Ko te Reo Māori te Tatau ki te Ao by Tīmoti Kāretu and Wharehuia Milroy, written entirely in te reo Māori. It won the Māori Language Award at the 2019 Ockham New Zealand Book Awards.

"It's one of very few books for adults written in the Māori language and AUP had modest expectations for sales ... bookstores had even more modest expectations. When our reps went around to sell it, they sold in about 50 copies when we'd expect to sell in around 500.

"But we ended up doing several reprints because we sold thousands of copies! That was a thrill because even though the audience that can read fluently in te reo is smaller than English, those readers are undersupplied with good content. It was a reminder to us not to make assumptions."

On 5 November, AUP will launch four books from Kotahi Rau Pukapuka, that will ultimately publish 100 books in Māori. AUP is working in partnership with the Kotahi Rau Pukapuka Trust in response to a dearth of books in te reo for both children and adults. The first book is an original non-fiction account of Māori song in the 20th century by Timoti Kāretu, Mātāmua ko te Kupu! The next three are translations, Hare Pota me te Whatu Manapou (Harry Potter and the Philosopher's Stone, J. K. Rowling), Nōu te ao, e hika, e! (Dr Seuss: Oh, the Places You Go!) and Te Ruānuku (The Alchemist, Paulo Coelho).

"We're not sure how many of the 100 books will be translations and how many originals, but there's an opportunity to do both. We've had the occasional person who frowned on the books being translations, but books are always translated into other languages. Harry Potter is available in almost every language in the world."

AUP is working with a number of experts in Māori language and literature for the mammoth project, and the AUP team of four has grown to five with assistance from the Vice-Chancellor's Strategic Development Fund, helping with the salary of a publishing associate working purely on Kotahi Rau Pukapuka.

The AUP annual report shows 2019 was a hugely successful year with the likes of Peter Simpson's two-volume study of artist Colin McCahon, Volcanoes of Auckland, and Exploring Society, written by authors at Auckland, Massey, Canterbury and Otago, which was AUP's bestselling textbook yet.

The 2019 children's book by Selina Tusitala Marsh, Mophead: How Your Difference Makes a Difference, won book of the year at the NZ Book Awards for Children and Young Adults in 2020. Helen Rickerby's poetry collection How to Live won the Mary and Peter Biggs Award for Poetry at the 2020 Ockham New Zealand Book Awards.

AUP has more than 300 books in print and Sam speaks like he's losing a pet whenever one of them gets killed off.
"We love to keep books in print," he says. "It's a sad moment when there's a book that people still want that we can't afford to reprint. It doesn't happen too often."

He says 70 percent of the books for which there has been demand for reprints in recent years are from te ao Māori.
"Some of those books stretch back to the 1960s. There's a huge long-term appetite for books in that area."

He says a few factors affect whether a book can be reprinted. "If it's little poetry book we can print a couple of hundred copies in a week. If it's Gottfried Lindauer's New Zealand, The Māori Portraits or a big Colin McCahon, it's going to cost $10,000 to $30,000 and take three or four months. So that would be a larger challenge."

Some books are printed in New Zealand but most are done overseas in Singapore, China and Hong Kong because of cost.

Speaking of cost, the costs associated with Covid-19 on booksellers and events in 2020 are still being tallied but it seems it's not too bad.

"Book sales in general have been very good. As a whole in 2020 we're still a bit behind 2019 because we had that six-week period of zero sales, but the week before lockdown was high, 20-30 percent better than the same time last year."

Anecdotal evidence is that people want a break from their screens and to read a 'real' book, and with air travel out of the equation haven't needed to buy lighter-to-carry kindle editions.

"E-books are still minor sales for us anyway – maybe eight percent of revenue. Around 25-30 percent of our books are bought online through the AUP site or Fishpond or Mighty Ape and the rest are still bought in stores."

He says surveys done in the UK, that he expects would show similar results here, showed there was an increase in reading for pleasure during lockdowns. "I've not heard of a single bookshop closure despite the challenges of 2020, and there have been two or three new openings, so it's quite optimistic out there."
We ended up doing several reprints of He Kupu Tuku Iho: Ko te Reo Māori te Tatauki te Ao because we sold thousands of copies.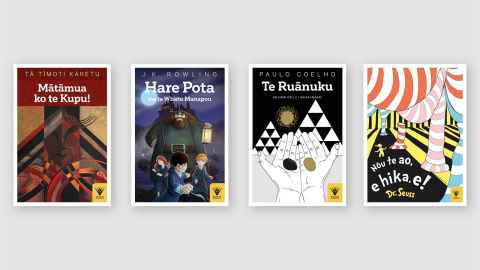 He's also optimistic about the future of AUP, even at a time when there is cost-cutting in tertiary institutions around the world. He acknowledges there will always be financial existential threats in universities having publishing arms.

"It's not unreasonable for a university to take a look at its press along with all parts of the university, to ensure it's still creating value.

"That's why I really like to have the AUP board behind me. We talk about what value each project brings and how AUP is representing the University. For students, it's great to have good local textbooks or our Māori language books to fit in with the te reo revitalisation efforts.

"I'm always thinking about the University aspirations, as well as the financial gains to be had from these books."

He says in recent years, philanthropy has also played an important role in boosting the Press's coffers to allow it to evolve.

"We receive funding from Creative New Zealand but we're aiming to get an increasing amount of external money to help us be more ambitious. We're a small team and for those bigger projects we need to have extra people involved to do, for example, bigger, more beautiful art books or more books in the Māori language.
"We're really grateful that an increasing amount is coming to us from private individuals and trusts. We already have some longer-term supporters such as the Gerrard and Marti Friedlander Trust and Michael Horton."

Asked about the cost of readers buying books locally versus buying them from Amazon, he has a message.
"I'd like to think there's an increasing sense among Kiwis that for an extra $3 or $5, they might actually walk around the corner and support their local bookstore."
Denise Montgomery