Pop-up art installation by School of Architecture and Planning students, one night only
A series of pop-up art works created and built by students from the University of Auckland's School of Architecture and Planning as part of their course work, will be a key feature of Late Night Art in the City Centre.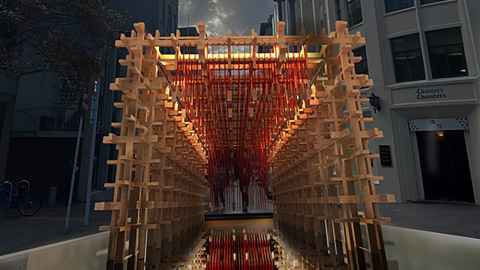 The event, Urban Art Village, is part of Art Week 2020 and will feature a village of structures on a closed-off O'Connell Street on Tuesday 13 October from 5pm-9pm.
Urban Art Village includes creative and interactive structures that will appeal to all ages. The project has been led by Matt Liggins, an artist and a teacher at the School of Architecture and Planning, and includes five of the School's students.
Installations include The Wish Tree by masters student Rosemary Li, a large-scale walk-in structure constructed using traditional Chinese joinery, created in reference to the Covid-19 pandemic and its links to the first case of the virus in Wuhan.
Using architectural language, the interlocking brackets represent people coming together and finding strength in connection. It invites visitors to walk through the void to hang a customised red ribbon, to reflect on the emergence and impact of the virus.
The Architect Comes to Town, created by Finn Forstner (also a masters student) is a playful critique of the architectural profession's attitude towards participatory design. It invites people to contribute to the design of a new waterfront project, as if participating in a carnival game; people interact with the architect via three holes in the façade. Questions and answers will be fed into the 'architectural machine' to conglomerate participants' ideas into a final design which will be revealed at the conclusion of the event.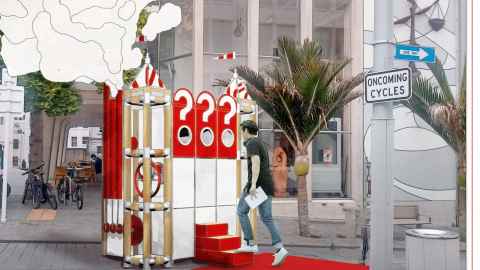 In The Box, by third-year students Philip Lee and Jack Wu, the box is an art space that brings the public together to express their thoughts, emotions and senses.

Masters student Angus Carson's Grow Your Own Building draws attention to fungi, a species that has been around for millions of years and has mastered the process of evolution - and asks us if it's time for us to harness the intelligence of mushrooms, for a cleaner, brighter and more 'fungtastic' future.
Matt Liggins will also be part of the event, in a conceptual performance art piece called It's In The Box, Auckland! a play on the long-running New Zealand television game show, It's in the Bag. 
Liggins will host It's in the Box Auckland! using Toogood's catch phrases such as "what should we do, New Zealand?" and invite participants to take "the money or the bag?". (Liggins has used much of his Artweek funding to buy op shop prizes for the participants.)
"After a long time working and studying from home, Urban Art Village is a terrific chance for our students to connect with visitors to the central city, and for all of us to remember how the creative arts can bring people together, and in doing so, bring our city centre back to life," says Liggins. 

Find out more about Urban Art Village and Late Night Art 2020.