Engineering alumnus becomes ENZ's latest Chief Executive
Engineering NZ's new CE talks about the values he will be bringing to the new role.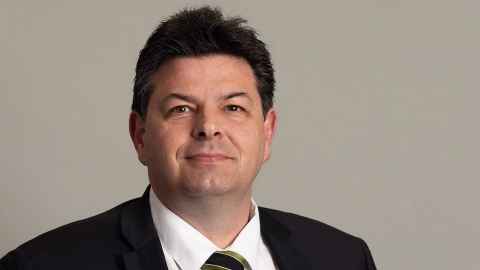 Dr Richard Templer, who completed his BE and PhD in Mechanical Engineering at the University of Auckland, has been selected as the organisation's new Chief Executive.
The position involves setting the strategy, vision and direction for Engineering NZ (ENZ), Aotearoa's professional engineering body. It is a full-time role that will take Richard — who is currently CE of the Manawatu District Council — to ENZ's headquarters in Wellington from November this year.
Professor Rosalind Archer, our faculty's Acting Deputy Dean and ENZ's Vice President was part of the appointment process. She comments, "Richard's track record shows he clearly understands and values the impact that engineering can make — in businesses and in communities. He embraces the breadth of technological contributions that engineering makes from healthcare to infrastructure."
She also mentions that his "authentic relationship with iwi" aligns well with what the Faculty of Engineering/Te Herenga Mātai Pūkaha is trying to achieve, especially as engineers play a major role in our increasingly technologically-driven economy.
Richard cites his working relationship at the Manawatu District Council with Ngāti Kauwhata as a highlight. By adopting iwi viewpoints and working collaboratively, they made well-received decisions in their development of a new wastewater treatment plant and the centralisation of its villages' wastewater.
During his time at Council, he also appointed a Principal Advisor Māori, helped the organisation adopt tikanga Māori, and supported the establishment of a te reo programme. He considers the investment in building relationships with iwi as key to successful delivery on the four aspects of wellbeing: better outcomes environmentally, socially, culturally, and economically.
It's been a really exciting journey, and for me, there are opportunities for the entire engineering profession to build relationships with iwi both locally, and at a national level. The biggest challenge has been reluctance; people don't feel confident about their skills and knowledge enough to make those connections. To this I suggest being open to new experiences and new challenges, and being willing to embrace them.
Richard's technical skills were honed back in our classrooms where he first completed his Mechanical Engineering degree. While he is grateful for the education he received, he also believes those good fundamentals can be expanded to be applied to our modern economy and society. "The young people who are entering engineering now will be solving problems that I haven't even thought about", he says. Along with the challenges faced by Aotearoa with COVID-19, the engineering community has opportunities to "help us come out of this in a substantially better way", not to what it was before, but within fit-for-future models.
For him, those are the more interesting challenges because they carry weight and potential for cultural change. The engineering profession has evolved significantly in the last decade, though there is room for more growth and Richard sees people at its core: "it's kind of clichéd, but it comes down to caring about people [...] your workmates and your clients, and the community that you're part of."
It's caring about people, so you can create a more diverse environment in engineering — to create an environment in which people are comfortable being their real, genuine selves and it is celebrating the diversity in our profession. We also should create work environments that support greater diversity.
His vision of a diverse engineering culture is shared by many institutions, including the Faculty of Engineering, through our partnership with initiatives such as ENZ's Diversity Agenda. He recalls his time as a Mechanical Engineering student, dominated largely by Pakeha males, and how this is not representative of the available talent pool.
"A more diverse environment is a more interesting environment" as well as a happier, more productive one, he concludes, and caring for people "sounds really simple, but it does work."