Privacy argument wins memorial moot
A junior mooting team has won the Justice Sir Robert Chambers Memorial Moot 2020 with their legal arguments concerning breach of privacy.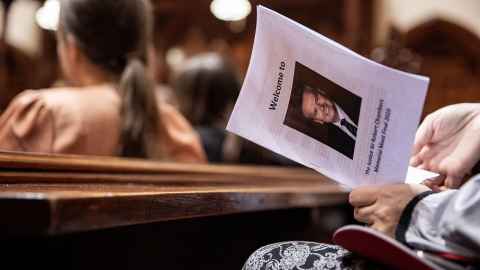 Maria Romero De Medeiros and Danica Loulie-Wijtenburg, who are in their first year of university study, acted as the respondents in the moot, which was an appeal against a lower court finding that there had been no invasion of a plaintiff's privacy following the unauthorised access and disclosure of medical records.
The 18-year-olds, who met after moving into the Halls of Residence, won first place with their submissions to a panel comprising Justice Simon Moore, Lady Deborah Chambers QC, and Caitlin Hollings, at the High Court in Auckland, earlier this month.

Established to commemorate the late Supreme Court Judge, Justice Sir Robert Chambers, competition in the moot is fierce. The students beat seven other teams in the semi-finals to make it through to the top two by successfully arguing there was no breach of privacy, as the elements of invasion of privacy - intrusion and disclosure - had not been met.

The students successfully argued there was no breach of privacy, as the elements of invasion of privacy - intrusion and disclosure - had not been met.
Maria, who is enrolled in a BA/LLB degree, and Danica, an LLB/BGlobalSt, both began mooting earlier in the year, attending training sessions during mid-semester break.
"We were really interested in mooting from the start of the year, as it seemed like a great way to try out being a lawyer and put all those legal skills to the test," says Danica.
The pair say it has been a revelation. New Zealand law can seem distant and intangible. Mooting, however, let them delve into the day-to-day significance and impact of the law.
"It was a fun way to practice advocacy. I really enjoyed Law 131 - Legal Method. I was considering a career doing government policy work, but I liked mooting so much that I want to do this sort of thing again, so now I'm considering training to be a barrister," says Maria.

"I participated in debating in high school, but this was quite a different style. The whole process really put law into context," says Danica.
Both Maria and Danica plan to continue competitive mooting.

Justice Chambers is survived by his wife Lady Deborah Chambers QC, his two sons, David and Christopher and step-daughters Caitlin and Zelda. The mooting competition was established by Lady Deborah Chambers QC in Robert's memory, to commemorate the contribution he has made to the New Zealand legal profession.
The Auckland Law School and the University of Auckland Mooting Society would like to thank the Chambers family for their support and Stephen Penk for writing the problem question.