Serious scientific fun a winner at Velocity
A clever and fun piece of technology that allows children to take scientific measurements of the world around them has won the Social Entrepreneurship Category of the Velocity $100k Challenge.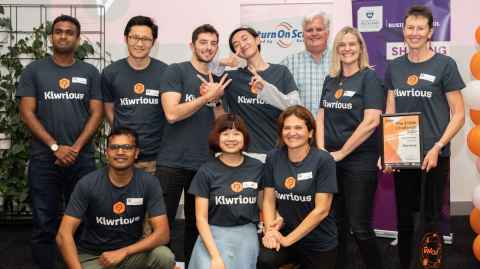 The Kiwrious Science Experience kit, created by Associate Professor Suranga Nanayakkara from the University of Auckland and his team at the Auckland Bioengineering Institute, was designed in collaboration with science educator Associate Professor Dawn Garbett, from the Faculty of Education and Social Work.
The kit consists of eight sensors which children can use to measure things like air quality, ambient temperature, humidity, light and sound level and their own heartbeat. They can then plug them into a computer to launch the Kiwrious Learning Platform, which encourages students to make multiple observations, represent their findings in creative ways and share and discuss them.
Dr Garbett says she was initially approached to guide the educational impact of the Kiwrious project.
"Suranga's vision to enable young people to engage in technology-enhanced science experiences is driving this project and he has created a great team. He asked me what role I wanted and I said I'd like to be 'Queen of Kiwrious', a title that has stuck! Together we finalised the MBIE Curious Minds Grant and an ethics application to research the pilot study."
Her involvement so far has included masterminding teacher resources, user testing, piloting the sensors and web-based platform in several schools and supporting teachers.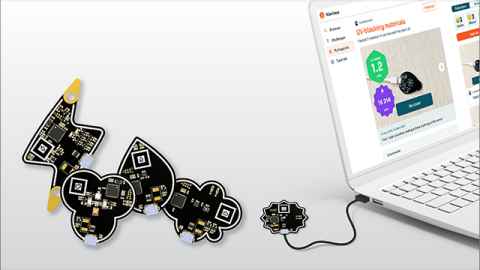 "We meet weekly to catch up as a team of between 15 and 18 fabulous, dynamic people with amazing skills to make things happen. I have been involved in all aspects of the user's experience, often being the recalcitrant student, and if I can't make sense of the data or how to use something, the team knows how to simplify it."
She says the Velocity win was an added bonus, offering workshops and three mentors over an intense six-week period who put the team in touch with a number of useful contacts, including the Ministry of Education.
Dr Garbett is hoping the technology they're designing and building will make science inquiry accessible to all students in New Zealand, at home and in school.
"We aspire to change the way students engage with science. Given that science is marginalised in the primary school curriculum, we have identified a glaring hole in professional development needs for teachers and a dearth of opportunities for students to do science that is relevant and authentic; we're hoping a tool like Kiwrious can fill some of those gaps."
We aspire to change the way students engage with science.
Kiwrious also gives schoolchildren access to scientific tools that would be out of economic reach for many and can be used spontaneously outside the classroom. It has already been trialled this year at five schools in Auckland: Panmure Bridge School, Epsom Girls Grammar, Mount Albert Grammar, Kings Primary and Kowhai Intermediate.
As part of their win, the Kiwrious crew has been offered a place in the VentureLab incubator, valued at $15,000, and Dr Garbett says they are now applying for more support to extend the kit's research, development and deployment.
The plan is to launch a national pilot with 30 schools from six cities and offer training with teachers to help them plan their lessons for 2021. Interested schools can contact the Kiwrious team at: hello@kiwrious.com.
About Velocity
Velocity is the University of Auckland's entrepreneurship programme, student-led and supported by the Centre for Innovation and Entrepreneurship at the Business School. In 2020, more than 80 teams entered the competition in August, with 15 shortlisted as Velocity $100k Challenge finalists.
The Social Entrepreneurship category was for ideas that solve social and environmental problems, and provide benefits in those areas.