Stunning shearwaters photo wins People's Choice
A stunning night-time photo of Buller's shearwaters/rako captured in the flash of the camera with the Milky Way as a backdrop high above, has been named People's Choice at this year's NZ Geographic Photographer of the Year awards.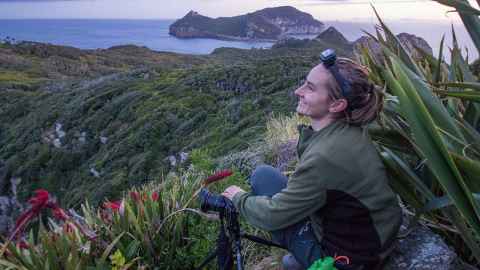 Doctoral researcher Edin Whitehead from the School of Biological Sciences waited patiently for the winning shot perched on a cliff edge at the birds' only known breeding ground, Tawhiti Rahi/Poor Knight's Islands in the Hauraki Gulf.
"I've spent the past three years studying these amazing birds so the fact people really loved this photo is inspiring to me, I'm really grateful," she says.
Edin is passionate about the natural environment and says her photographs are aimed at conveying some of the beauty she sees during her fieldwork on the Islands, where she spends three and a half months of the year. But the job is not for the faint-hearted.
"Living next to these birds and getting covered in the same rich island dirt that they dig their burrows in, I never cease to be amazed at the way they live their lives and the effort that goes into raising their single chick each season.
"In May they depart for the northern Pacific in a huge figure-of-eight migration around Hawai'i before returning to Aotearoa and their innate navigation skills and resilience are really a wonder. That's what I try to capture in my photos, hoping to instil the same sense of wonder in other people."
As for so many researchers, it's been a hard year for Edin. Covid-19 and lockdown meant a large part of her study had to be cancelled in April-May. After a long delay in being able to return to the Islands for the season she is now back on Tawhiti Rahi but managed to 'attend' the Awards by video link.
"I was in the exact spot the photo was taken and it was great to be able to thank everyone who voted for me, and share a bit of the magic of a seabird island at night. It was really great to have won the People's Choice Award because one of my goals is to inspire others to appreciate these little-known and I think under-appreciated birds."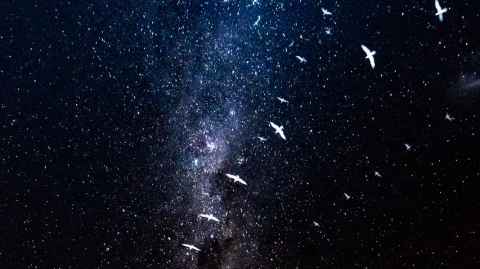 Edin says that for her, photography is the perfect blend of science and art.

"Good photography leans heavily on the technical mastery of the equipment you're using (the science) and your own creative practice (the art). But there's an added layer for me, because I often use my photography to complement my research - documenting our field research and even gathering data on the birds such as counting them from photographs of nesting areas, or photographing beak-loads of food to assess their diet.

"Photography is one of my creative outlets, something that keeps me sane and inspired, which has been particularly important this year."