Paths toward equitable change
Masters student Kylie Huard's desire to make a difference has proven that all it takes is one person to push for real-world, positive change — even if it takes time.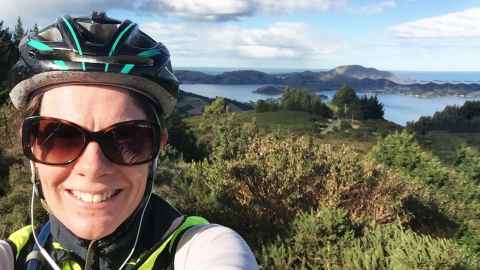 Master of Engineering Studies in Transportation Engineering student Kylie Huard has recently experienced several victories: the completion of the first part of her degree, the people and places that its findings have circulated to — including in her presentation to the upcoming 2WALKandCYCLE conference next year — and how they may be eventually implemented to create a safer Aotearoa for pedestrians and cyclists.
Her success on this project so far has been covered in her local paper, the Otago Daily Times, though Kylie's pathway to her current position wasn't direct or conventional. It began with a stint studying Civil Engineering at university in Sydney, in a programme that required 18 months of work experience where she "didn't really enjoy working on site with ex-cons and gang members as a young woman", and therefore switched to major in Environmental Science.
At the time, career prospects were slim for the young graduate, "so I ended up in a call centre in local government answering phones", which she admits wasn't always pleasant but got her a foot in the door. In a part-time role in waste education, she honed her ability to understand issues such as behaviour change — to eventually, road safety education.
"It actually wasn't something I was passionate about", Kylie says of her initial impressions of working in road safety, "because it's hard to tell people that if you speed, you might kill someone, because you don't kill someone on most journeys."
It's not easy to link behaviour change to an outcome.
That role however, gave her opportunities to, as a keen cyclist and "a people person", encourage and promote the alternative modes of transport. "I sort of had an epiphany one day, and was like, 'I know what I want to be. I want to promote sustainable transport!' I realised this is what I wanted to do when I grow up!"
From there, she was able to focus on applying for roles that suited her interests, leading to working in community engagement and sustainable transport initiatives in Melbourne, where her engineering knowledge came in handy. Then, she saw the intersection between her goals, passion for "getting stuff on the ground", and skills in infrastructure and policy. She pivoted to working in policy and planning in local council, until her then-partner, a Kiwi, prompted a move to Aotearoa New Zealand.
Kylie now works as a Senior Transportation Planner/Practice Leader at Stantec's Dunedin office, a consultancy position that for the past four years has taken her all over the country to work on projects, facilitate workshops, and delve into her new passion: business cases. "It's the front end of any large project, and I like engagement and working with clients, trying to understand people's problems, and coming up with benefits and potential solutions."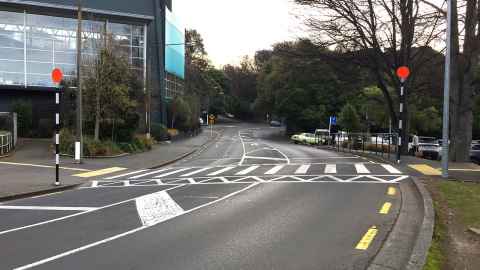 In mid 2018, she enrolled in our Master of Engineering Studies (MEngSt), of which she is currently at a halfway point to completion upon submission of her research project, "though I'm very much part-time" due to her work and family commitments. For her, pursuing the MEngSt is simultaneously a personal goal, and her observation that qualifications matter in the world of consultancy. "I have a Bachelor of Science degree in Environmental Biology, which doesn't really align with what I work on with my clients!"
The masters project wasn't a hugely difficult feat thanks to her work experience. Beyond already having contacts on hand — "so I'm more professional than just this uni student" — to enable the survey portion of her research project — completed by Automobile Associations members in New Zealand and Australia on zebra crossings — to proceed smoothly, "I write business cases for a living", she says, gesturing at the print material on her desk. "My supervisor said that it needed to be about 18 pages long, and a lot of the work I regularly put together is about 100 pages..."
I'm kind of used to it. Business cases are really evidence-based. There's the need to identify problems, draw evidence, and demonstrate that they exist, so it wasn't too far of a stretch to write that paper.
"I think one of the integral reasons I've chosen to do this is because I found something I was really interested in", Kylie adds. "And while I talk about cycling a lot, I'm actually more passionate about pedestrian access."
Growing up in bigger cities in Australia has certainly given Kylie the right perspective to tackle these specific challenges in Aotearoa, where she's constantly reminded of what matters the most: the people.
It's about people, and ensuring that it's not a one-size-fits-all. We need better infrastructure guidelines. There are communities here that are really isolated because we create these barriers; because we prioritise cars. For some reason, when we plan our infrastructure, people and pedestrians turn out to be the last ones that are being thought of.
Her engineering background is advantageous too. "In any promotional or education campaign, I'm sitting next to engineers every day." It also frames her knowledge of how infrastructure affects transportation decisions ("nobody drives into Melbourne CBD because parking is expensive"), particularly when combined with understanding of human behaviour ("We're investing in more cycling infrastructure but this can be a challenging conversation to have, because people don't like giving up what they're used to").
"Some traffic engineers forget about walking and cycling access", she considers. "It tends to be about the turning radius of a car and stuff like that, but my first thought is always about active modes — how does a pedestrian safely access the site or is bicycle parking provided?"
When prompted for some of her favourite discoveries from her project, Kylie offers an unexpected insight: "I learned that in New Zealand, we pretty much use a third the amount of paint than Australia and the UK do for zebra crossings. Our white stripes here are skinny and the black stripes are wider, whereas they're of equal width everywhere else. It's so stingy. It's just paint!"
Her motivation to change led to action. She presented this finding to a group of council representatives and NZTA staff, who have agreed to adopt her recommendation, the same way that in the past, she prompted a change in the Traffic Engineering Manual in Melbourne because she was not pleased about the way slip lines are managed.
It's so easy but someone needed to do research to point out the obvious.
That knack to use research to inform real-world change is core to the success of Kylie's masters project so far. Her decision to tackle zebra crossings is prompted by the fact that engineers here are actually "reluctant" to provide new zebra crossings, because safety statistics reveal that people are being killed in these areas. To compensate, cities and communities have begun to implement courtesy crossings in various forms — with raised surfaces, by using different materials such as asphalt, or different coloured paints that allow them to double as artworks.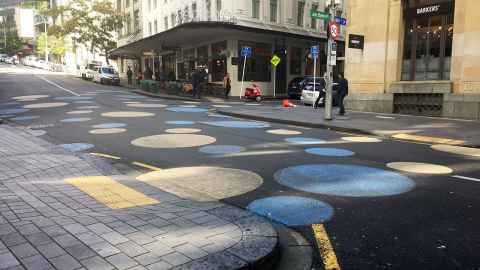 The common issue here is inconsistency — in application, and in the mutual lack of understanding between road users on who has the right of way in these situations. It became real to Kylie when her young son walked across a threshold treatment, on a raised platform, to get across a road, "just because he thought he could. It felt like it should be designed for pedestrian priority, but I had to tell him that it's not an actual zebra crossing."
Her dissertation's conclusion is that the separation between 'official' zebra crossings and courtesy crossings are not fit-for-purpose in Aotearoa because of the crashes we're seeing, and now that the research is complete, the work in the real world may proceed — through conference presentations, through pitching the findings the right working groups, and working with councils across the country.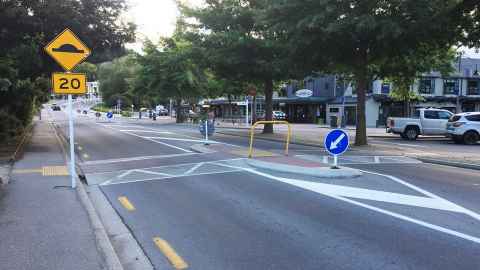 The paths towards real-world change from the work will draw from both Kylie's academic success and the career credibility, allowing those in power to see that research can have an impact on the vision for a safer, accessible society. What will continue to motivate her as she juggles work and completing her degree part-time is her passion for equitable infrastructure.
"Part of me always just wants to make a difference. I keep getting asked if I'm driven by environmental issues, and actually, it isn't. It's equity."
What I've learned in my career is that when you're younger — and maybe a bit naive — and really passionate, you just want the world to change. But it actually takes time and you need to balance the trade-offs. You learn to recognise that one solution isn't going to work for everyone, but the more choice you can offer people, the more opportunities there will be for them to use other modes that suit each journey they make.
"I'm a mum. I have two kids, and it's chaos in the mornings as I'm getting them to school. I do the trade-off in my head that by the time I get the bike on the rack, it would be quicker to drive, but I did get on the bike, and there was all this traffic on the road, then I see the benefits. But it doesn't work for every situation. I still drive them to school sometimes.
"It was easier to live car-free in Melbourne because of car-sharing, and we had amazing public transport. Here, going car-free would be a huge barrier for people to give up."
Equity is therefore the biggest driver for me — some people have choices, and others don't. We need to provide options for everyone.
"I just get grumpy about these little things", she laughs. "A lot of what I've explored in my research are my personal bugbears."