Celebrating curiosity and creativity with kids: a lesson from Nanogirl
A group of Graduate Diploma in Teaching (Primary) students were inspired by Nanogirl this week, during a lecture at the Faculty of Education and Social Work.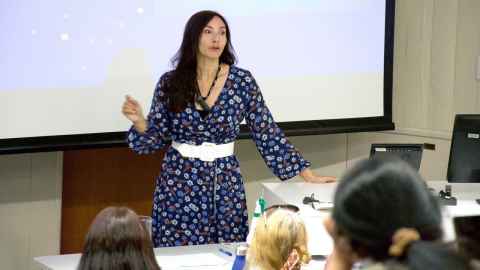 Captivated teaching students gathered in a lecture theatre to hear a talk from Michelle Dickinson (Nanogirl) at Epsom Campus this week. Organised by lecturers at the Faculty of Education and Social Work, the talk was designed to inspire students as they get ready to head into classrooms to teach next year.
With an impressive career as a nanotechnologist and science educator, Michelle shared inspiration about empowering young people with STEM subjects. She touched on her own experiences of struggling with school and feeling confined to 'a box' because school systems didn't reward her practical skills and curiosity. While working at a retail job, she gained a reputation for fixing her colleagues' things – from toasters to washing machines – before pursuing a career in engineering.
Michelle shared a few highlights from her incredible career since then, from working with Richard Branson to helping with early iPhone development, and encouraged the soon-to-be-teachers to value their students' creativity, curiosity and unique skills when they enter the classrooms next year.
Graduate Diploma in Teaching (Primary) student Bethany Laycock says the talk opened her eyes to the wonder of science in the classroom.
"Nanogirl was phenomenal, tino pai!" Bethany says. "Getting to understand where Nanogirl has come from and her hopes of the future, inspired me."
I am wanting to provide ways to nurture our akonga and make sure I am doing my best, as a teacher, to give a range of possibilities, hopes and dreams.
Bethany will take this inspiration to Oaklynn Special School, where she has already secured a teaching job for next year.
"I am so thrilled about this experience as I believe being in this environment we will have a creative space where activities can happen more freely. I look forward to merging my art background with students who think differently from others."