Scholarship recipients give thanks to their donor
The 2020 Dullabh award recipients were recently given the opportunity to meet with their donor, Arvind Dullabh, to express their gratitude for his financial support.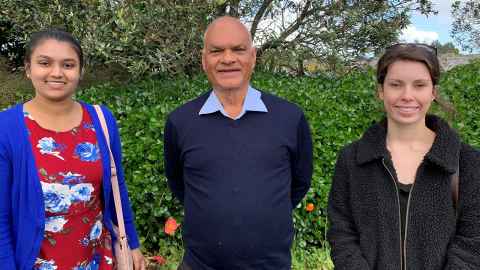 The Dullabh Education Award was established in 2016 and is funded by Arvind Dullabh, an alumnus of the University of Auckland and a retired Auckland secondary school teacher. The award was inspired by Arvind's father who was a strong advocate for education and throughout his life helped many children in India to gain an education.
In a leafy spot at the Faculty of Education and Social Work's Epsom Campus, Arvind told this year's recipients, Sarah Hickey, Neha Singh and Gabrielle Stone the story of how his father, who grew up in small village in Gujarat, India, was left a legacy from Arvind's grandfather for his high school education, which is a rare opportunity in a rural village.
Because of this, Arvind grew up understanding the value of a quality education and life-long learning. Arvind was able to complete a Bachelor of Science in India before completing a Diploma of Secondary Teaching at the Auckland College of Education in 1989 and a Diploma of Technology Education in 2000.
Arvind was also taught the importance of giving from his family, and given 2020 has been a harder-than-usual year for many students financially, he stresses the importance of helping others in times of need.
"My philosophy of giving comes from my father," says Arvind.

"I think people should give wholeheartedly. Every time you give to a person, you bless them at the same time and hope that they will be more successful than you have been in your life.
"I hope that this Award will inspire others to give back to the community too, whether that's through donations or through volunteer work."
Arvind plans to offer the Award again for three students in 2021.

My philosophy of giving comes from my father. I think people should give wholeheartedly. Every time you give to a person, you bless them at the same time and hope that they will be more successful than you have been in your life.  
The 2020 award recipients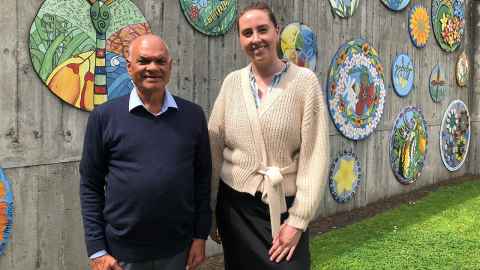 Sarah Hickey
Sarah Hickey has spent the past three years as a Researcher and Bio-Designer using bacteria, fungi and other New Zealand microbes to dye merino wool and other textiles. Prior to that she was a Contract Production Manager in the Apparel Fashion Industry and has worked in garment production for the likes of Max Fashions, Huffer and Ice Breaker.
With the support of the Dullabh Education Award, this year was a chance to complete her Graduate Diploma in Teaching (Secondary) and share her wealth of experience with secondary school students.
"Over the past few years I have put my education at the forefront of my career goals. It has been a journey that I have taken to develop my skill set, learn from my studies and workplaces to eventually share these with my future secondary students.
"Teaching offers me a platform to share, inspire and shape the next generations of secondary students. I am not only grateful for this support, but emotional to have some funding that I used to pay for my tuition fees.
"This support not only allowed me to complete my studies in Secondary Teaching with more ease but it also benefitted my family and me. It was a great relief to have this support and be able to continue to do the things I love.
"I look forward to what my future holds in teaching secondary students in New Zealand and maybe one day in Fiji and other parts of the Pacific", says Sarah.
Neha Singh
This year Neha Singh completed her BEd (Teaching) Primary specialisation at the University of Auckland's South Auckland campus - Te Papa Ako o Tai Tonga. She loves teaching Maths and Science.
Her practicum at Favona Primary School, although compressed due to the pandemic, gave her an opportunity to teach the Year 5 and Year 6 students and she particularly enjoyed teaching them fractions as part of the maths curriculum.
"When I received the email confirming that I was selected for this Award, I could not believe that I had qualified for this amazing scholarship. I had to immediately share this news with my family and friends.

"For a third-year Bachelor of primary teaching student this award means a lot. My commitment to complete my study and become a teacher is now even stronger as this Award has lightened my burden and enabled me to be focused and motivated.
"The Dullabh Education scholarship helped me stay dedicated and committed to this wonderful profession of teaching and I cannot thank Mr Dullabh enough for his generosity. My family and I are extremely grateful," says Neha.
Gabrielle (Gabby) Stone
Gabrielle (Gabby) Stone has a strong background in hospitality. By the time she reached Epsom campus this year, she had not only completed her Bachelor's degree, but had experience running two food trucks and a restaurant.
In 2020 she decided to undertake a (Graduate Diploma in Teaching Secondary) and when she finishes she is hoping to combine her skills and experience to teach at Secondary School in Business and Food Technology.
"I was starting to worry how I would continue to study once my practicum started and I no longer had time to work part-time, so receiving the scholarship meant so much to me. It meant I no longer had to worry about working long hours and instead could focus on getting the most  out of my studies and practicum.
"I want to make a difference and to be able to care for and support my students the way that I have been supported throughout my life," says Gabby.