Post-submarine life evolves into PhD opportunity
After over a decade in the US Navy, Jeffrey Langley decided to explore his passion through a Master of Engineering Project Management, and will soon start a PhD in the area.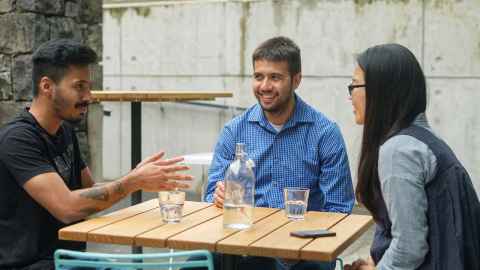 While most people will never experience living on a submarine, recent Master of Engineering Project Management (MEPM) graduate Jeffrey Langley has spent eleven years as a sonar technician for the US Navy in one.
Jeffrey started his MEPM with our Graduate School of Engineering (GSE) in Semester Two 2019, a decision he was finally able to make based on his work and visa obligations. Abandoning the submarine lifestyle in Connecticut also meant changing his original decision to remain in the career for two decades, which in the US Navy meant a pension for life. This however gave him a chance to spend more time with his family — including two children — who were then already based in Aotearoa New Zealand.
It was a stressful lifestyle. Imagine being on a tube that's the size of a rugby field for months on end, and the only people you'd see are the hundred or so that you have to put up with every single day. If you're junior enough, you'll be sharing two beds between three people. Unless you're at a port, you're just living at your place of work.
He acknowledges that not everyone is built for the lifestyle he had — one that involved mental endurance even if you're not claustrophobic — though the select few of the US Navy who do make it through initial tests remain for over a decade and long-term. Jeffrey was so passionate about the work then that he added career counselling to his list of responsibilities.
"I'd be counselling people on the programmes available within the Navy. It was a fulfilling thing for me; it didn't feel like work so I didn't care how many hours I had to put into it. I kinda just felt good about people trusting that I could give them good information."
This trust in his discipline as well as ability to communicate and help others has been evident throughout his time in the MEPM, where most of his peers admired his ability to tackle studying full-time alongside being a dad. To add to the list of ever-changing goals, completing the courses component of his MEPM first meant that the pandemic changed the trajectory of his research project.
The original plan was to work in an embedded project with a local horticultural company, though our COVID-19 lockdowns meant that between semesters, Jeffrey had to plan, research and write his report in five months. He then realised that timing actually worked in his favour, and he chose to explore the effects of COVID-19 on project management.
"I had to play a lot of catchup and started reading articles, quickly", he says. "There was a Turkish researcher that conducted interviews with project leaders worldwide and their perceptions on how project management would change."
All the literature reviews started happening once COVID was around for a bit, because I was exploring what the new norm would be like for project management professionals — stuff like telecommuting and how industries adapted. From all that, I was actually able to develop a sustainable framework that I'm going to use as the foundations for my PhD next year.
The revelation is a bit of a surprise for Jeffrey, who at the start of the masters programme "was like, no way I'm spending three years doing a PhD", though his mind changed when he saw the potential to help people through research: the goal of his PhD is to develop a sustainable framework for businesses and the economy to rebuild from COVID-19.
"I also just want to see this through", he adds. "The GSE space is really accessible so my supervisors are nearby whenever I have any ideas for my thesis, and they think it's a good idea."
The decision to pursue a PhD also aligns with his passion for project management and helping people. His ultimate goal is to work with local organisations in a programme to give graduate students and recent graduates opportunities to be part of embedded research projects. This is spurred by his observation that job-seeking itself is difficult, and particularly challenging for international students. "They just want to be given a chance to apply what they've learned here, and it's almost never about the money", he suggests.
Jeffrey's approach to fix this process is "networking, and letting people get to know me as a person, not a researcher. You need to show them what you can do and they can vouch for you."
His openness to network and talk about his passions led to him recently being employed as a Business Development Manager for the Project Management Training School, a role he will tackle alongside the PhD and parenting.
"I have experienced pressure like this before and thrive on it. I've spent months where I didn't leave work till eight at night and will be awake by five! I feel like it's something I want to do so I'm actually in the best possible position to make it happen."
The US Navy pays the education fees for those who have served with them, though the new role does add a layer of financial security for his family. Before the full-time job offer, he considered becoming a Graduate Teaching Assistant, and still would because he enjoys leading and helping others grow. "The main thing I miss in the Navy isn't the submarine! It's actually the people. They're amazing. Some of the best leaders I've known in my life were people I served with, and I keep touch with them to this day."
I just like giving people opportunities to grow in their careers, but also being able to apply my own leadership abilities to drive change and make a difference in the world. I feel like project management is a good way to apply skills I've learnt over a lifetime. I was actually worried about how (the MEPM) was titled as 'Engineering' Project Management as I did not have an engineering background, but there's so much stuff I took away from it. It diversified everything I like to learn about and I didn't want to stick with the 'normal' anyway. I wanted to reach outside my comfort zone and learn something new.
The complete change in goals, scenery, and even the comfort of structure within a submarine certainly gave Jeffrey a new sense of perspective about the life he could lead from here onwards. "I don't think I can bear only seeing my kids for a month a year again", he says. "I'm also doing something I love."
Being able to enjoy the lifestyle in New Zealand is certainly an added bonus: "Being able to go out and enjoy that. New Zealand handled the pandemic really well and placed itself in one of the best positions worldwide for recovery. It really is our social responsibility to carry forward our success, and I want to be part of it."