Five of a kind: medical degrees run in this family
Miriam Karalus, 32, is the fifth sibling from one family to graduate from the University of Auckland's medical school.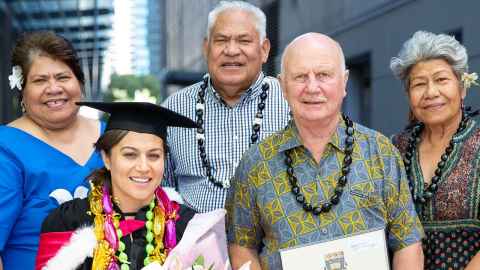 When she trained in Samoa during the measles outbreak, two brothers and a sister were there too, volunteering for Samoan Doctors Worldwide. Miriam worked in the kidney unit of Tupua Tamasese Meaole hospital as an elective element of her medical degree and also carried out charity work helping families who lost loved ones to the epidemic.
"I saw how vulnerable people are to disease," she says.
Her family is steeped in medicine, from the great-grandmother who was a nurse supervisor at the national nurses' home in Samoa—and whose work is still remembered on the islands—to the grandmother who worked as a nurse, and Miriam's doctor-and-nurse parents who met at Napier Hospital.
The Hamilton woman abandoned her career in civil engineering after feeling she could add more value as a Pacific Island woman in health. "In medicine, the need is great for Pacific Island doctors. Wanting to relieve the suffering of others is also intrinsic to being a Pacific Islander."
She adds: "There is an underrepresentation of Pacific doctors in all medical specialties in New Zealand. This creates barriers to Pasifika people trying to access healthcare. With a lot of our people suffering from chronic illness, joining my sister Sarah in general practice would be an option."
Medicine is an intense degree, but don't give up on the things that you love.
Looking back on her experience of the degree, Miriam says: "My experience of medical school has not been the norm—entering as a graduate and starting a little later in life. I already had the life skills to bolster me through the challenges."

While she came well-equipped, she also cites the university's Māori and Pacific Admission Scheme as a great support, connecting her with a community of people and enduring friendships.
One piece of advice to prospective students: Don't let medicine swamp your life. "Remember to maintain a balance. Medicine is an intense degree, but don't give up on the things that you love."
Her outlet is rugby, playing for a women's team in Hamilton as an open-side flanker and also representing Taranaki while working in New Plymouth. The lessons in teamwork and communication may help her in clinical practice and her sporting interest will be shared by many patients.
Another piece of advice for would-be medical students: Moderate your 'top-of-the-class' expectations. "We're talking about some of the smartest students in the country training together in one class. All of a sudden, you're not performing as you well as you're used to amongst these high-achievers. For many students this can be hard to accept."
 
Her parents are Dr Pauli Noel and Leaupepe Elisapeta Karalus, who split their time between Hamilton and Samoa. Dr Noel also graduated from the University of Auckland's medical school, beginning his studies in 1970, only the third year that medicine was offered as a course at the University.

So, was it different growing up in a medical family, where five of nine siblings have now gone through the medical school?
"The only time I was acutely aware was at the dinner table when my medical siblings would converse with my father about medical things—I remember feeling really left out as they were certainly speaking a different language," she says. "Otherwise my upbringing was ordinary in the sense that my parents took us to church every Sunday, disciplined us, and always encouraged us to do well in our studies and think of those less fortunate than us."

Ask her parents if more of the family will join medicine, and they say: "Watch out for the grandchildren."

Miriam: "I'd like to thank the head of the department of medicine, Professor Phillipa Poole, who has been a great role model for me as a woman in science. Also my parents, my siblings, and my extended family in Samoa and New Zealand for their support. My faith is important to me and I also thank God for making this dream possible."