New Dexterity wins international nonprofit challenge
Our New Dexterity researchers have recently been presented with a Hackaday Prize.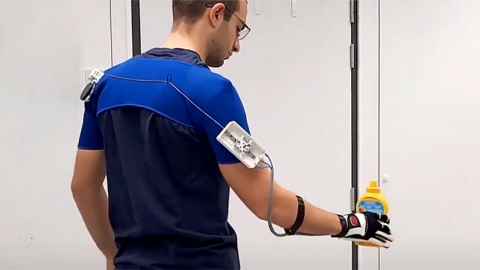 Our Department of Mechanical Engineering's New Dexterity research group were recently named winners of the $10,000 Assistive Device open challenge of the 2020 Hackaday Prize. Led by Dr Minas Liarokapis, the team won the challenge with their wearable, soft robotic exoskeleton gloves.
New Dexterity's submission includes the development of two exoskeleton gloves: a body-powered and a motorised variant. Both are lightweight and easily operable, as well as developed with rapid prototyping techniques and off-the-shelf materials that resulted in each item costing under $100 to produce.
Aimed specifically at those who have suffered strokes and are going through rehabilitation, exoskeleton gloves help to manage exercises that depend on repeated movements — such as bending fingers — via performing day-to-day activities. A lot of the researchers' work involve testing the ability to grasp objects safely. The motorised variant for instance includes the use of a smartphone app that provides an extra inflatable piece at the base of their palm so they can stably grip an object.
The development of robotics and prosthetic arms, grippers and hands, as well as wearable exoskeletons are some of the team's core research areas, many of which focus on bettering the lives of those suffering from neurological disorders. Their work on exogloves particularly focuses on making wearable technology more affordable, lightweight, user-friendly, and with the same dexterity as a healthy human hand.
Organised by electronics design and manufacturing company SupplyFrame, the Hackaday Prize is an international competition that brings together organisations and nonprofits with unique missions to better the world — from tackling conservation issues to climate change and healthcare. 282 projects were submitted in 2020.
The Assistive Devices challenge this year was sponsored by United Cerebral Palsy Los Angeles (UCPLA), dedicated to "advancing the independence, productivity, and full citizenship of individuals with development and individual disabilities". The brief presented for their sponsored challenge mirrors this goal.
Winning this prize additionally opens up opportunities for New Dexterity to collaborate with UCPLA, which Dr Liarokapis is very much looking forward to as it enhances their potential to create better lives for people suffering neurological conditions and also "maximises the impact of our work."