Remembering Bruce Goodfellow
Engineering alumnus Dr Bruce Goodfellow passed away late last year.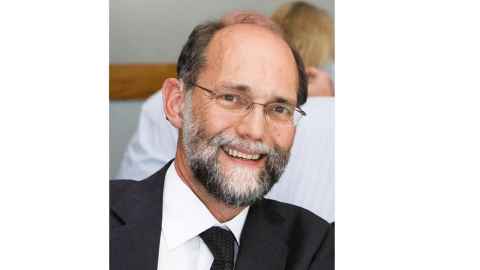 Dr William Bruce Goodfellow (1951 - 2020)
We sadly mark the passing of Dr William Bruce Goodfellow on 28 December, 2020. We will remember him for his kindness, desire to 'give back' via his personal time and efforts, and his passion for ensuring that young people are prepared to take on their futures via a great education.
Dr Goodfellow received his bachelors, masters, and PhD degrees in Chemical and Materials Engineering from the University of Auckland. With an initial intention to study Commerce, he notably also completed these papers for he believed that engineers deserve a commercial element in their education. This eventually led to the establishment of the Bachelor of Engineering/Bachelor of Commerce conjoint degree which is still offered today.
His business acumen came into play for decades afterwards. Upon graduating in 1980, Dr Goodfellow worked in his family firm, Amalgamated Dairies Ltd, where he expanded into new areas. The family's investments are now extensive, and include agribusiness, food, clothing, property, finance, fishing and engineering. Since then, he held positions in several companies as Director, Chairman, and on the Board of Trustees.
He always had a visible passion for education. He is third in a line of succession of Goodfellows that served on the St Kentigern Trust board — where he was also a pupil — as philanthropists and dedicated contributors in the Trust and School Boards. He became Chairman of the Trust Board in 2000, and the College saw significant expansions in this time, taking on its largest building project to date.
His father, Douglas Goodfellow, started the family's philanthropic involvements with the University of Auckland in 1978 with the establishment of the Goodfellow Unit to commemorate his father, Sir William Goodfellow. The funding provided by the unit directly assists healthcare professionals to gain new knowledge to provide better outcomes. Dr Goodfellow himself continued to oversee the trust, philanthropic work that he has considered satisfying as he is able to see his role in making a positive impact.
The gift must go to something that contributes towards society.
Along with fellow alumni Sir Ron Carter and Dr Ian Parton, Dr Goodfellow was notably a founding Trustee and active committee member of the Auckland University Engineering Association (AUEA) Charitable Trust. Their contributions have made significant impacts on our engineering community for years, and will for years to come.
A funeral for Dr Bruce Goodfellow was held in the Chapel of St Kentigern on 31 December 2020. Our thoughts are with his wife, Mary Ann, and his children, Margaret, Anna, Catherine, Fiona, Stephen and their families during this difficult time.
We'd like to thank Professors John Chen and Gerard Rowe for their contributions to this piece.