Student composting champions lead the way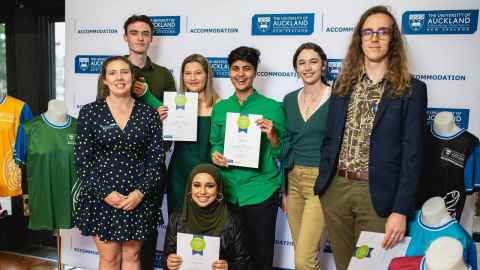 Carlaw Park Green Team, a student-led group initiated a composting trial from August to October 2020 at the Carlaw Park student village. The trial was run to test the efficacy of implementing a composting system at a self-catered student accommodation hall. Twenty apartments took part in the trial and managed to prevent over 300kg of food waste and scraps from going to landfill.
The trial conducted with the support of their Resident Manager, Sylvia Wheeldon and guidance from Waste Minimisation Specialist, Mark Neal received a very positive response with more apartments wanting to sign up for the initiative in the future.
The Green Team were very committed to this trial and were able to overcome and adapt to challenges as they arose. The trial led to greater awareness about food-scraps, composting and diverting waste from landfill among participants.
"With full-scale implementation at Carlaw alone, composting could divert at least 10 tons of food waste from landfill", said Arsheen Hasolkar, one of the members of the Green Team. "Our dream is for a composting system to be adopted across Carlaw and to completely localise composting with all food waste composted on-site, at the University, as to cut out the carbon emissions from transporting the food waste to a separate commercial composting facility".
The team are hoping to become ambassadors for student accommodation composting and are also planning a trip to a composting facility to see where their food scraps are going. They would also like to thank all the students who signed up and followed through with the trial and those who have expressed interest in future composting initiatives.