Celebrating a treaty banning nuclear weapons
On the evening of Friday 22 January 2021 at the University of Auckland, Associate Professor Treasa Dunworth and Dr Anna Hood from Auckland Law School, together with the Ministry of Foreign Affairs and Trade, hosted an event to celebrate the entry into force of the United Nations Treaty on the Prohibition of Nuclear Weapons (TPNW).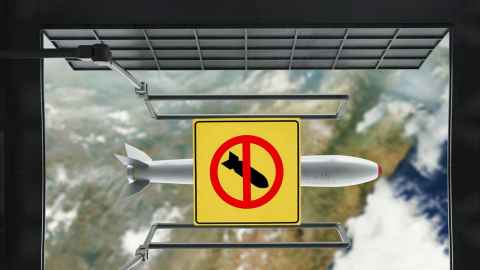 Signed by 86 countries and ratified by 52 of them, the TPNW includes a comprehensive set of prohibitions on participating in any nuclear weapon activities. These include undertakings not to develop, test, produce, acquire, possess, stockpile, use or threaten to use nuclear weapons. The Treaty also prohibits the deployment of nuclear weapons on national territory and the provision of assistance to any State in the conduct of prohibited activities.
Guests from around the country celebrated together at the Law School, with refreshments, followed by an address from the Honourable Phil Twyford, the Minister of Disarmament and Arms Control.
The Minister acknowledged all the activists present, saying they made policy and changed the world, setting the direction for movements and governments to follow.
"Many of you, if not all in this room have been involved in the campaign against the use of nuclear weapons. Today is your celebration, as much or more than it is the 52 countries who have now ratified the treaty.
"This issue has captured the imagination of generations of New Zealanders, who have committed themselves to the anti-nuclear movement, both here and worldwide," he said.


It is a huge pleasure to be marking this historic occasion, that represents a culmination of efforts across generations and the globe. It's a reward for the activists, campaigners, academics, religious leaders, politicians and public servants, who never lost faith in the promise of a world without nuclear weapons.

"Being anti-nuclear is kiwi as. The leadership role that our country continues to play on this issue has its foundation in the groundswell of public opposition to nuclear weapons in the later part of the 20th Century, triggered in this country in large part by outrage at nuclear testing in the Pacific.
"What's been achieved together is remarkable and I hope that it will be a source of inspiration for the international community as we try to tackle other seemingly insurmountable challenges," he said.
While there have been campaigns to legally ban nuclear weapons since their first use in Hiroshima and Nagasaki in 1945, the most recent iteration of those campaigns was the so-called "Humanitarian Initiative" which sought to change the discourse around nuclear weapons, from seeing them as instruments of security under the doctrine of deterrence, to being understood as instruments of terror and destruction from a humanitarian perspective.
New Zealand was the 14th state to ratify or accede to the treaty.
To find out more about the event, watch the following video: