University joins global network driving accelerated health breakthroughs
The University of Auckland is part of a charter group of 21 world-class institutions uniting to set the bar for fast-paced research and development.
The Wellcome Leap Health Breakthrough Network links leading academic and research institutions committed to solving the world's most serious health challenges - such as cancer and infectious diseases - at record speed. It comprises more than 150,000 researchers across six continents and is designed to connect innovative and applicable research around the globe.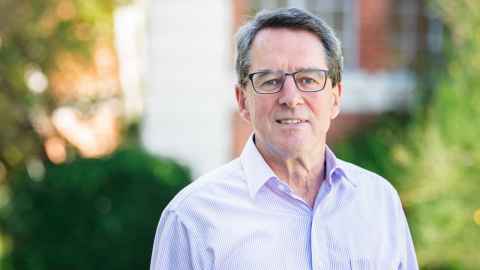 University of Auckland Pro Vice-Chancellor, Research, Professor Jim Metson, said that the Covid-19 pandemic had highlighted the importance of tackling urgent, large-scale health challenges quickly and across disciplines, organisations, and borders.
"It is crucial that good ideas can be identified and funded quickly, and that researchers across many institutions can build solutions together," he said.
Professor Metson says that delays in contractual processes such as signing agreements means it is not uncommon for research funding agreements to take up to a year to finalise, which can significantly delay collaborative work. Moreover, key components needed to catalyse innovation can come from individual researchers or smaller institutions that are often left out of major research initiatives.
"Breakthroughs require momentum, and diverse capabilities, wherever they exist globally," he said.
The Leap Health Breakthrough Network will help eliminate some of these barriers to progress thanks to the first-of-its-kind Master Academic Research Funding Agreement (MARFA), which equitably addresses all terms and conditions, including IP, ownership, and publication.
As part of MARFA, the University of Auckland will only need to negotiate the statement of work and cost before funds can be transmitted and work can begin. This can be completed in days, which will potentially reduce development timeframes by months or more.
"This partnership strengthens our connections with leading research institutions across the world. Multi-disciplined global teams will be assembled from universities, companies, and not-for-profits working together to solve problems we cannot solve alone.
"It also allows means that collectively we can act swiftly, with pace dictated by ideas and innovation rather than contract administration."
Wellcome Leap (Leap) is a U.S. non-profit organisation founded by the Wellcome Trust to accelerate innovations that benefit global health. Leap programmes target complex human health challenges with the goal of achieving breakthrough scientific and technological solutions.
Charter signatories for the network include:
Agency for Science, Technology and Research; California Institute of Technology; Carnegie Mellon University; Francis Crick Institute; Harvard University; Massachusetts Institute of Technology; National University of Singapore; University of Auckland; University of California, Los Angeles; University of California, San Diego; University of Cape Town; University of Dundee; University of Pittsburgh; University of São Paulo; University of Southern California; Uppsala University; Vanderbilt University; Virginia Polytechnic Institute and State University; Wellcome Sanger Institute; Wyss Center for Bio and Neuroengineering; and Wyss Institute for Biologically Inspired Engineering.
Media enquiries
Lisa Finucane
Media and Communications Manager

DDI:   09 923 7698 
Mob:   021 677216
Email: l.finucane@auckland.ac.nz