So we're in lockdown again: pick up those needles
Turns out our grandmothers were onto something. Knitting isn't just good for your wardrobe, it has benefits for mental health. Student Mei Gillespie also reckons it's a great distraction in lockdown.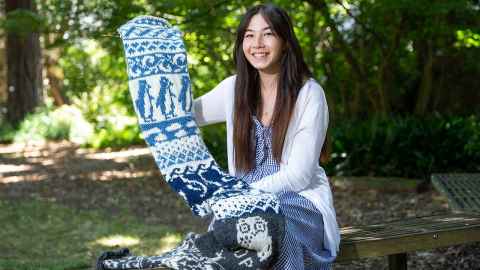 Not too many people would disagree that 2020 was a stressful year.
For those with anxiety issues, that stress was exacerbated. Routines that help people deal with stress, such as gym classes and social gatherings, went out the window in lockdowns. We were left with ourselves and those we were locked in with.
Even before the upheavals of 2020, student Mei Gillespie had some mental health struggles. She didn't complete any NCEA levels, crippled by anxiety and depression, and dropped out of school.
"There's been a fair share of hardship and uncertainty in my life so I thought it would be impossible to get anywhere or do anything different. My mum never gave up hope though and was pushing me to do differently and to do something beneficial for me.
"Later I realised that if I could do that, I could go on and help other people like me.
"Now I want to overcome my challenges and inspire others like me to achieve."
Mei enrolled in the Tertiary Foundation Certificate (TFC) for 2020, before lockdown was part of our parlance. It's a year-long course in which students of diverse backgrounds can gain university entrance qualifications or upskill in sciences.
"It worked out really well. I struggled to adjust in the first two to three weeks because of my lack of NCEA background. In biology, for example, I was quite behind, but I worked really hard in the first semester to catch up."
She ended up getting two A pluses and two As. Her tutor for the TFC core subject, English, Agnieszka Zabicka, says Mei's results were extremely impressive.
"Let's not forget Covid and the lockdown from 26 March. That really threw a spanner in the works for many students. The fact Mei was able to achieve such good grades despite the upheaval was really remarkable."
Mei admits lockdown was a challenge she had to find a way to deal with.
"I struggled with keeping a schedule and having to learn topics myself and through Zoom. I found myself unable to focus on the more challenging topics and spent a lot of time just ruminating over that and telling myself, 'I can't do it, I can't do it'.
"When you're in lockdown it's so confined: your bedroom is your sleeping place, your study place, your lecture-watching space and I didn't like that. So I'd walk to a nearby mountain, or somewhere near home like that, and set up everything and just start studying there. I can't study at home."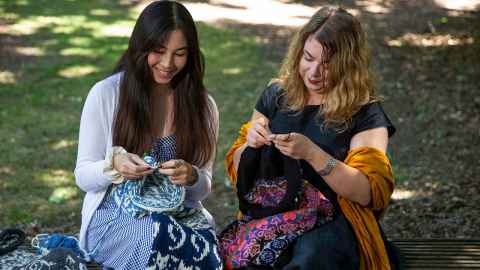 We were pushing knitting as a therapeutic project on the Tertiary Foundation Certificate. In Zoom classes I'd always be knitting and I have a little knitting group, a very loose group of students and former students, who meet with me when it's not lockdown.  
Escaping to nature was one tactic but there was another surprising one. Having seen her lecturer and some other students knitting during Zoom lectures, she decided to try it herself.
"The last time I knitted I was probably about nine but I needed something to do because I was really bored. I also heard that knitting was good for your mental state, for reducing anxiety. Because I had a lot of additional anxiety around the whole Covid thing. There was so much uncertainty."
"We were really pushing knitting as a therapeutic project at TFC," says Agnieszka. "In Zoom classes I'd always be knitting, [TFC course co-ordinator] Nina Nola was knitting, Stephanie our co-ordinator was knitting. So we would encourage students to knit as well. I have a little knitting group, a very loose group of students and former students who meet with me ... when it's not lockdown."
Agnieszka, who is Polish, was taught to knit by her grandmother but she says even if you haven't knitted before, so many explanatory videos are available on YouTube.
"Personally, also, knitting was very helpful in lockdown. But now we can just sit in my office and drink tea and knit. Sam was a student of ours two years ago. He's another big success for TFC, an A-plus student, and has even written poems about knitting.
"Mei is very special because when most people first start knitting, for the first project they would make a simple scarf or something. Mei made some gloves that were actually my design so I was very excited. Every time she came in with the knitting, it was like a miracle!"
Mei also started a scarf that tells a story of how she's been feeling, with words knitted into the design including 'hope'.
"I started knitting a scarf during lockdown, and I found it was a form of meditation and mindfulness during the panic and uncertainty of Covid. I found with knitting it was like 'just one more I want to see what the next one is', and I'd keep going and going and by the time you know it, four hours have passed."
She's also a talented painter and a small artwork by her sits on Agnieszka's desk.
But in September 2020 Mei hit a mental health road bump.
"I went through a really bad bout of depression. I couldn't do the simplest things. I couldn't get out of bed or do uni so I had to take time off. I actually considered leaving TFC.
"The only thing that made me enjoy things again – what made me get back into things – was knitting. I got to the point where I was knitting all the time. I desperately needed something to do and I couldn't bring myself to do anything else. Slowly I found it was like a release of all this pent-up emotion so I just knitted something I could actually see and reflect on."
"The TFC is a difficult programme," explains Agnieszka. "You have to pass all of the papers in order to graduate at the end of the year so what Mei has achieved, despite the break, is actually really extraordinary. She's exceptionally hard-working and intelligent and very mature for her age. It's hard to believe she is only 18."
The only thing that made me enjoy things again – what made me get back into things – was knitting. I found it was like a release of pent-up emotion so I just knitted something I could actually see and reflect on.
Mei did return to her studies and while her grades in Semester Two didn't quite match her stellar Semester One efforts – they were good enough to give her an extra boost to her study.
"I applied for a scholarship but didn't think I'd actually get it. And then I got an email saying that I'd been awarded a Tier 2 University of Auckland scholarship for academic potential'."
It was a real confidence boost.
In March 2021 Mei started her Bachelor of Advanced Science, studying psychology, and won't have to worry about the added stress of costs associate with university and study because of the scholarship. Unfortunately her first week coincided with yet another lockdown, but she knows she has strategies now. 
"I'm really excited. I was considering bio-med because I got accepted for both, but in the end the thing that really drove me was the idea of helping people like me who think that they're unable to achieve great things because of their background or difficult life circumstances."
Agnieszka says Mei's choice of study is a good one.
"Psychology is almost like arts really and that's a discipline she's shown a lot of aptitude for – analysis of texts will be very useful in psychology."
Mei has advice for students like herself.
"No matter what your background is, it's always possible to achieve. Coming into TFC, I had very little knowledge of the topics covered in each course – including the sciences and some important English skills like punctuation. I found the teaching style in TFC courses to be better than school, and the staff were easy to approach and willing to lend a hand with questions about coursework."
Speaking of hands, Mei thinks hers will stay busy with knitting forever. Aside from being a good reason to pop in for tea, Polish cookies and a chat with Agnieszka, Mei recognises the benefits of the craft for her mental health. That is something Agnieszka can relate to as well.
"I had postnatal depression after my son was born and knitting really got me back on track," says Agnieszka. "Just focusing on something solid and doing repetitive work is good. There have been a number of studies that show knitting is very helpful in dealing with anxiety and depression.
"The other benefit it has, is it comes with being part of a community. It's great to have people to share with ... we have a few students who continue coming in, now we have that knitting connection. They come, sit, knit and drink tea and calm down."
Denise Montgomery