Forecasting the force of a tsunami
Modelling what would happen if a tsunami hit one of New Zealand's most popular holiday destinations is what Scott Murray is uncovering as part of his studies.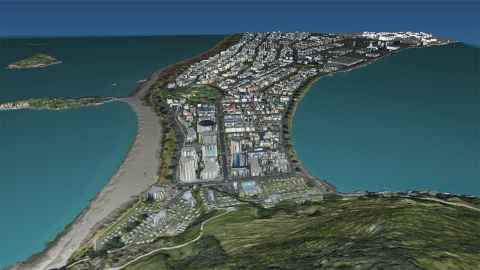 Scott is the inaugural recipient of the Tonkin + Taylor Masters Scholarship in Coastal Engineering. This innovative scholarship allows students to work at Tonkin + Taylor while studying for their masters.
The aim of the scholarship is to support the development of coastal engineering in Aotearoa, which traditionally has limited pathways into the discipline.
Scott, who was awarded the scholarship in 2019, is halfway through his thesis. He is investigating methods for modelling a maximum credible tsunami event making landfall at Mount Maunganui and overtopping the main beach.
He says this information is critical to understanding the structural loads experienced by buildings and to better inform evacuation managers of the locations that need to be evacuated.
"Using hydrodynamic software I am able to simulate this powerful wave as it flows over one of the most popular holiday spots in New Zealand. Using high resolution topographic data, including building footprints and vegetation, the expected flow depth, velocities and forces can be obtained when the tsunami inundates the urban environment."
Scott says that climate change will continue to place more pressure on coastal communities. Infrastructure in the future and the solutions that engineers develop will determine how we interact with the ever-changing coastal environment.
"Coastal engineering is an exciting field and its importance is only going to grow. Getting to work on projects in some picturesque locations across New Zealand is a great perk of the job as well."
Tom Shand, Senior Lecturer in Coastal Engineering and Technical Director of Coastal Engineering at Tonkin + Taylor, says offering this scholarship gives students hands on experience.
"For students, working concurrently at Tonkin + Taylor will mean access to an organisation specialising in civil and environmental engineering, resources, tools and access to a bunch of clever people.
"As an environmental engineering employer, we believe we have the responsibility and desire to support students entering the industry and to play our part in developing future leaders. Our graduates go on to do awesome things and we love seeing their career success."
Being awarded this scholarship has provided Scott with an opportunity to develop his skillset, expand his knowledge and work alongside industry specialists.
"Accepting this opportunity has been a brilliant springboard for me in the formative years of my professional career.
"The support and mentorship from Tonkin + Taylor has been invaluable during the first year of my career after completing full-time undergraduate study. Being able to pick the brains of experienced engineering professionals who are passionate about what they do and the flexibility to drive your own learning is something that is encouraged."
Thanks to the generosity of Tonkin + Taylor Scott is able to pursue his dream career.
"I'm extremely grateful to Tonkin + Taylor for the support they have provided to continue my academic and professional development. I am very appreciative that I get to advance my technical expertise through research and then concurrently apply this knowledge while working on exciting projects.
"The learning never stops, whether it is formal study like a masters degree or while working as a practising engineer. It is awesome to be able to gain knowledge from a number of people at both Tonkin + Taylor and the University of Auckland."