Inspiring innovation and meaningful careers
With an aim to ensure the transition from university to the workplace is as seamless as possible, MYOB provides a range of initiatives to Business School students.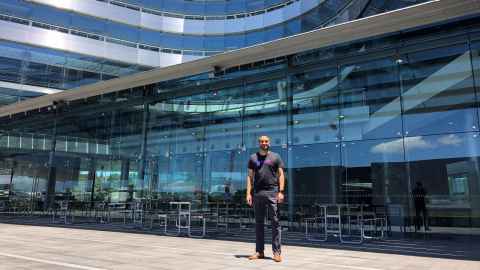 Designed to inspire innovation, the initiatives include real-world challenges, workshops, and networking opportunities.
MYOB Education Manager Shailan Patel explains that the company's mission is to help more businesses in New Zealand and Australia start, survive and succeed.
"An important part of this mission is ensuring we continue to provide the next generation of accountants, business owners and technology specialists with both the knowledge and the opportunities to help them achieve success."
One of the initiatives, the MYOB IT Challenge, began when MYOB aspired to help educate students around the complexity of balancing business management and technology when creating business solutions. The challenge was launched in collaboration with the Business School's Management Consulting Club in 2015 and since then has grown to become a Trans-Tasman competition.
The challenge sees students tasked with developing and pitching an IT solution to address a real-world problem, with their creations influenced by their own market analysis.
With timeframes, presentations and expert feedback involved, the challenge gives students a taste of what it's like to work in a fast-paced environment and encourages an entrepreneurial mindset.
"It's brilliant to see the challenge transform and grow from a University of Auckland event with 51 students participating, to a competition that is open to university students across New Zealand and Australia, with more than 400 participants," Shailan says.
He adds his favourite part about each of the initiatives MYOB offers, is seeing students thrive and turn their newfound skills into a meaningful career.
"I enjoy giving students the opportunity to test out their skills and strategic thinking to solve real business problems and discover where they wish to take their career. From there, we can help provide them with a deep understanding of what to expect when entering the workforce in their chosen field."
Shailan says there weren't opportunities like these available when he was studying.
"Back then, there wasn't as much emphasis on the need for, or benefits to, students and universities to connect with specific industries. It's something I really believe in the value of however, so it's brilliant that there are now more opportunities available for skills development and better hands-on learning experiences."
In 2020, MYOB was inducted into the University's donor recognition society, the Chancellor's Circle, for its generous support. MYOB now belongs to The Sir Douglas Robb Society, which comprises donors that have given a total of between $100,000 and $1 million.
"We are extremely proud of our partnership with the University of Auckland and we are honoured to be recognised with an induction into the Chancellor's Circle. We are truly invested in helping students with their education and career development and it's heartening to know that our passion and ongoing support continues to be valued by the University," Shailan says.