Staff and alumni support underprivileged students
In an effort to break down financial barriers and ensure students have the opportunity to pursue their dreams, nearly 200 staff and former staff members gave $37,680 to support the Annual Appeal 2020.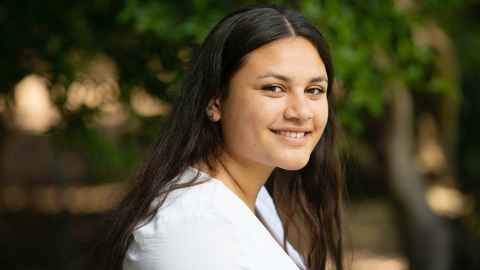 Alumni also supported the appeal, bringing the total to more than $150,000.
The appeal supports students like Tatiana Faaiu who, without generous donations, may not have been able to attend University due to financial constraints.
Tatiana was recently accepted into medical school, which she says overwhelmed her with a "mixture of emotions".
"It is such a blessing to my family and I and it is also the start of achieving a life-long dream."
Tatiana, of Samoan descent, says that the financial support gave her the hand up that she needed to succeed in her studies.
"There aren't enough words to express how grateful and appreciative I am and how much this support has impacted my life in such a positive way.
"The money I received went into resources that directly supported my studies and it took a significant financial burden off myself and my family. It gave me independence and autonomy and meant that I was free to focus solely on my studies."
Tatiana's acceptance into medical school means she is one step closer to making a positive difference in marginalised communities, which currently face disparities in both healthcare and health outcomes.
"Evidence has shown that Pacific peoples have significantly poorer health outcomes. By providing healthcare in a culturally respectful and responsive way, I am convinced that some of the present discrepancies can be mitigated. The more Pacific voices there are in this arena, the better outcomes I believe there will be for my Pacific brothers and sisters."
Tatiana says while the financial help has supported her greatly on this journey, so has the backing from donors.
"Receiving a scholarship not only helps financially but it is a tremendous confidence boost to know that people who don't even know me would invest in my future… I will do my best to make their investment worthwhile."
The latest appeal launches next week. Read about this appeal here.