Beyond shovel and cones: Solutions for improving congestion and air quality
Opinion: It is time to consider options for addressing traffic congestion and air pollution, writes Professor Basil Sharp.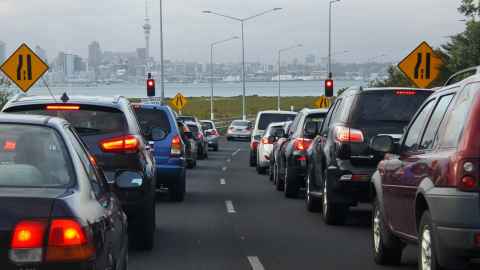 Prior to the Auckland's latest lockdown, our roads post-holidays were increasingly congested, and it's been reported that air quality in the central city has further deteriorated (The health of Tāmaki Makaurau / Auckland's natural environment in 2020). The report's conclusion that air pollution is largely a result of vehicles, particularly diesel ones, comes as no surprise.
New Zealand has the highest level of individual car ownership in the OECD and our congested roads are testament to this. If vehicles are the problem - causing not only congestion and air pollution, but injuries, fatalities, and noise, then adding additional lanes to networks – shovel and cones – only fixes congestion for a short time and does nothing to address air quality and other pressing environmental issues.
Our road networks are capital assets and congestion also reduces their value to users. One problem is that use of the network is free. More cars using an open access resource eventually results in the depletion of the resource. We know this from our experience with natural resource - road infrastructure is no exception.
Solutions to congestion and its associated impacts - environment and health - can't be magicked. It is time for our political leaders to consider the full range of alternatives to address this challenge.
 
New Zealand has the highest level of individual car ownership in the OECD and our congested roads are testament to this. If vehicles are the problem, then adding additional lanes to networks only fixes congestion for a short time and does nothing to address air quality and other pressing environmental issues.
One option is to follow Singapore's approach that ramps up the cost of car ownership. The total number of cars is capped. Those wanting a car must bid for the right to own and use the vehicle for a limited number of years. The initial cost of a basic sedan is roughly three times the cost in NZ. As we are not as space-constrained as Singapore, it is unlikely that a rights-based approach to car ownership will find favour with the public here.

Pricing use is another option. Congestion pricing has been around for years - at least since the 1950s. Motorists are charged a fee when entering the busied parts of a city. Revenue collected can be used to cover administration and operating costs, contribute to public transport and the provision of cycle ways. This results in the roads becoming less congested, air quality improving, and the city becoming more liveable. It's a simple idea, but one we seem reluctant to try.

Singapore also runs an electronic road pricing scheme aimed at traffic and behaviour management. Vehicles are charged as they pass a control point when entering the inner city. Price varies according to the vehicle type, location of entry and time of day.

London established a Congestion Charge Zone and most cars and vehicles entering the zone between 7am and 10pm - seven days a week - are charged a flat fee. Cameras record car number plates when entering the zone and the owner has an option of pre-pay or a slightly higher fee within three days. The fee is not based on distance travelled or time of day. The initial response was massive. Traffic volume has remained at around 30% of the pre-charging level. Revenue collected is dedicated to improving public transport and cycleways.

Stockholm's congestion pricing scheme is a recurring charge rather than a flat daily rate like London. Traffic volume has reduced by 18%, public transport ridership increased and travel times to get into the city during peak hours cut in half. In addition to improving congestion, carbon emissions dropped by 14–18%, environmentally-friendly tax-exempt vehicle ownership tripled, and retailers reported a 6% increase in business.

We can get even smarter by using technology. Imagine real-time pricing of access to the network supported by artificial intelligence. Data feeds from the network and algorithms could report existing flows, predict peaks, price access accordingly and provide information on Apps.
Commuters could plan their trip accordingly or chose to increase their days working from home. With ongoing Covid-19 lockdowns, many people have permanently altered their work patterns, which must be beneficial for our environment.

Reducing demand for people to own vehicles by improving public transport options is also key, but for those people who still require private transport, government incentives to use zero or low-emission vehicles should be in place – including being exempt from congestion charges.
This would make an immediate contribution to the government's emission reduction targets. It is time for owners of our assets to treat infrastructure as an economic asset and use technology to increase its value to the community – in terms of reduced congestion and pollution.

Let's not wait for our roads and air to get worse. We need solutions now.
Professor Basil Sharp is a chair in energy economics, and the director of the Energy Centre at the University of Auckland Business School.

This article reflects the opinion of the author and not necessarily the views of the University of Auckland.
Used with permission from New Zealand Herald, Basil Sharp: Beyond shovels and cones - solving congestion and air pollution, 10 March 2021.


Media queries
Miranda Playfair | Media Adviser
M: 021 063 8393
E: m.playfair@auckland.ac.nz