Friends and ex-colleagues share their memories of former staff member, Bruce Cato.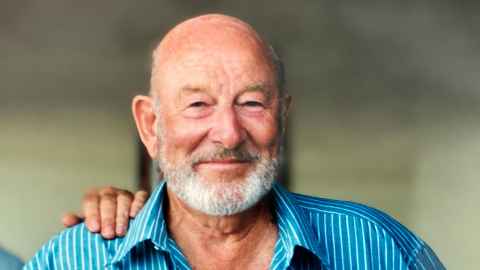 Bruce Hillier Cato (1929 - 2021)
It is with great sadness that we announce the passing of Bruce Cato on 11 February. He left us peacefully at North Shore Hospital, surrounded by his family. Our community will always remember him for his humour and generosity that punctuated his lifetime as a talented engineer, an outstanding educator, and a wonderful colleague.
He attended our Engineering School at Ardmore, and upon graduating in 1951 spent some time in an Auckland design office before moving across the world. He was a resident engineer in Malaya under the British Colonial Service in 1954, then a District Engineer for the Malaysian government from 1963-66.
In 1967, Bruce returned to our Department of Civil Engineering as a Senior Lecturer, equipped with plenty of experience to teach highway engineering, surveying and photogrammetry, and civil engineering administration. He was also here to experience the Faculty of Engineering milestone of moving from the Ardmore to City Campus.
In his time at the University of Auckland, he encouraged and supervised numerous masters research projects, organised and led continuing education courses, and chaired the Practical Work committee. He was well-loved and admired by students of all levels, as well as his peers.
Hugh Morris, a current Senior Lecturer at our faculty, comments, "Bruce formed lively friendships with our students. He was an enthusiastic personality who added highly memorable colour to their studies". According to Hugh, "students looked forward to his classes where the content was conveyed along with practical experience and stories in a very entertaining atmosphere." One of these students is now a Professional Teaching Fellow at the faculty, who alongside his two brothers who graduated before him, have fond memories of his classroom.
I'm pretty sure I must have been one of the 'stunned-mullets' he often referred to when he saw the blank looks on our faces during his lectures. I also remember him telling a story of a misaligned bridge constructed in Malaysia (not sure of his involvement!) where it didn't meet in the middle, but any liability was luckily resolved by a flood which destroyed the bridge along with any evidence! He was a character who stood out for his practical experience and dedication, as well as his sense of humour.
"I recall many times going into his office and hearing a conversation, in what I started to recognise as Malay, unfolding", Dr Tam Larkin, a current lecturer in the department, adds.
"There was little doubt that the other end of the line terminated in the chaotically confused office of 'Arnie', the department academic staff member whose responsibilities were engineering surveying. He was proficient in Malay as well as putting a boisterous engineer in his place. He did meet spirited resistance, however — on some occasions the receiver bounced out of the cradle as a result of its impact velocity, signifying the end of 'that lot'."
Dr Larkin also has fond memories of Bruce and Arnie's company at the annual four-day surveying camp that took place for four years that took place in Whangaporoa. They were "most enjoyable, supported by the camp cook, who was an unusual fellow with a leaning towards strong liquids, but capable of turning on endless rounds of sandwiches to act as blotting paper. The students had a whale of a time and Bruce was the camp Commandant. He roved the camp at all hours sniffing out activities that were on the point of getting out-of-hand – however for some it was too late – the whale had beached."
The generations of students that Bruce inspired went on to pursue careers in engineering and beyond — from industry CEOs to university Vice-Chancellors. He remained with our faculty until his retirement in 1993.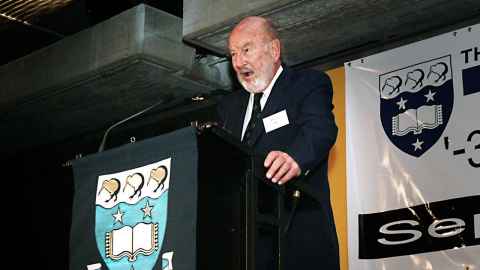 His connection to Southeast Asia re-emerged between 1989 and 1993, when he contributed to a course to upskill Indonesian bridge engineers. Here, Bruce took on a Construction Management module when Australia was providing steel bridges to upgrade the ageing Dutch colonial area infrastructure in the country. The appointment came from Professor Max Irvine, then Head of Structural Engineering at the University of New South Wales, who saw Bruce as an exemplary teacher and expert.
Bruce was a modest guy but the truth is that he had very little to be modest about. He knew how to get things done, understood cross cultural nuances and maintained the respect of staff.
This sentiment is echoed in many people close to Bruce, and his influence is no more notable than in his own family: three of his children and two of his grandchildren have studied Engineering at the University of Auckland. With them, he shared a passion for engineering which clearly resonated beyond his career achievements; he also loved the sea and sailing. Bruce was notably one of the first 20 founding members of the Classic Yacht Association, and had in the past purchased a vessel for himself and two of his sons to refurbish.
He also formed enduring friendships. Richard Compton, knew Bruce first as his lecturer. In 1980, they became colleagues at the Department of Civil Engineering where they were both lecturers, where the collaborative working friendship extended to their families. Richard recalls the barbecues, diving, fishing and refreshments in the "relaxing environment of Orere Point" where Bruce had a bach". He adds, "Bruce was an outstanding, loyal, generous and supportive friend to me and my family for over 40 years."
As a mutual friend succinctly put it when told of Bruce's demise: 'If there were more people in the world like Bruce was it would be a far better place'.
Together, Bruce and Richard were tasked with surveying Michael Fay's 'Big Boat' challenger for the 1988 America's Cup — a project that the former, with his noted passion for sailing, gleefully accepted. The work was undertaken at our University's Yacht Research Unit, which still engages with innovative research in yacht testing and composite materials until this day.
As we mark another victory for New Zealand at the 2021 America's Cup, it is to the Catos and Comptons, especially poignant. In his 90s, Bruce suffered multiple health issues, including a disfiguring cancer removal near his eyes. Richard describes, "he often said to me, 'I've not made too many mistakes in life, but turning 90 was a major'. This was usually followed by 'I'm determined to be around to see the America's Cup'."
Bruce was one of those people with a magnetic personality. People were attracted to him by his stateliness, poise and sense of fun. He had many sides to his personality and I am convinced I did not see the full range of his interests in life, fostered by his penetrating intellect, joy for life and concern for the care of others.
We express our deepest sympathies to the Cato family for their sad loss — which is truly a loss to us all, who will remember Bruce as a well-loved and respected father, grandfather, great grandfather, 'great bloke', teacher, mentor, engineer, and trusted friend.
Special thanks to Richard Compton, Hugh Morris, Dr Tam Larkin, and Con Lu for their contributions to this piece.