Ocular surgery researcher has her eye on the prize
Doctoral candidate Judith Glasson has been taking her research to conferences around the country—and brought back prizes for her posters and presentations.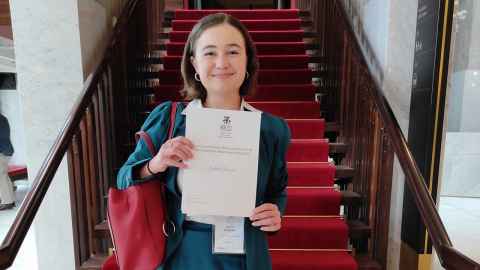 After a year of digital meetings and virtual events, the beginning of 2021 has been an exciting time for researchers. Judith has been making the most of in-person events, travelling around the country to present findings from her Bachelor of Biomedical Science (Honours) and subsequent years working as a researcher.
"I presented our work to generate a biomaterial alternative to human amniotic membrane for use in ocular surgery. We have created thin films using lens proteins from Hoki fish eyes, and they are transparent, biocompatible, and self-supporting." Further benefits of this film include the ease of reproduction and sterilisation, alongside being made from an easily accessible material.
When Judith headed to Rotorua and Christchurch earlier this year, she was expecting to present her research, refine her presentation skills, and connect with other scientists from across the country. What she wasn't expecting was to bring home two prizes, winning a Top Poster Prize at the MacDiarmid Institute Annual Symposium and Future Leaders' Programme 2021 in Rotorua in February and then following that up with a Best Oral Presentation at RANZCO New Zealand Branch Annual Scientific Meeting 2021 in Christchurch in March.
"I was not expecting to win, no!" says Judith.  
I was very proud of the poster and presentation I had put together for the two
events, but during the moment I am always rather nervous and hyper-aware.
Judith began her PhD in August last year, supervised by Dr Laura Domigan from the Faculty of Engineering and Professor Trevor Sherwin from the Faculty of Medical and Health Sciences. While it may be too early to present any findings from her doctoral studies, both Judith and her supervisors are keen for her to attend more conferences in the future.
"Conferences are a great opportunity to learn, network, and receive valuable feedback on your work and how it impacts society outside of your laboratory," says Judith. "Some questions you cannot think to ask until someone else shows you a problem you hadn't considered."