Brian Boyd donates Rutherford Medal $100k to scholarships
A student who is the first in her family to attend university has had her life made easier by a generous gift from distinguished academic Brian Boyd.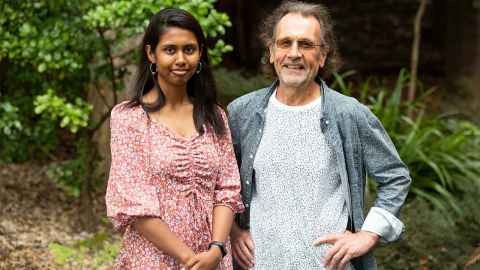 After meeting Michelle [the Brian Boyd First in Family Scholar] and hearing what she has done for others since submitting her application, I couldn't be happier with her getting the first award.
When Distinguished Professor Brian Boyd won the Rutherford Medal last November, the Royal Society Te Apārangi award came with $100,000.
Brian, the world-leading scholar on Russian-American writer Vladimir Nabokov, decided he didn't need the money for his own research and that the funds were a chance to help someone else. The Brian Boyd First in Family Scholarship has been set up to help students who may be prevented from tertiary study because of their financial situation. The inaugural winner of $8,000 a year for four years is 18-year-old Michelle Prasad, who came here from Fiji in 2018. In 2020 she was made head girl at Edgewater College in Pakuranga.
Brian says Michelle stood out. "As many have recognised, she does an astonishing amount for her community. And she has clear financial need and a background disability and family distress that she has turned into ability and positivity."
Michelle and her younger sister have been raised by their mother after her parents divorced and the family became estranged from her father. Michelle was born with a disability that meant she didn't speak until primary school but doesn't mind admitting she's made up for it since.
"I'm enrolled in law and interested in politics so need to be able to communicate. I'll tell you now, I intend to be future prime minister of New Zealand!"

Michelle is doing a BCom/LLB. When she arrived in New Zealand she went straight from Year 10 in Fiji to Year 12 in New Zealand.
"My New Zealand teachers saw something in me. My teachers in Fiji doubted me; one told me I'd never get anywhere. That just made me more determined."
Over summer, Michelle did a couple of law papers in the Summer Start programme so she could start the academic year well. But she also got all the legal paperwork in place to set up her own foundation.
"At school I was friends with the head boy and he wasn't quite strong enough academically to get a scholarship to university. I thought to myself there must be something for people like him – to give them a hand to do other study, not necessarily university. Just to give them options."
Last November, she created the Good Start Foundation and sought donations on Facebook and Instagram and then got the foundation officially registered as a charity in February.
"I want to create opportunities for people like him who do so much in the community but don't have the financial means to study further."
Michelle is heavily involved in community and relishes the opportunities given her by her new home country. In 2020 she was Auckland Head Students committee leader, youth adviser to local government boards, United Nations Youth Ambassador at the UN Model Parliament, and Auckland and Multicultural Rep for Young Labour. She has also been involved in fundraising for charitable events.
Brian says he's extremely happy to be able to assist someone with her personal qualities.

"After reading what Michelle has done, and even more after meeting her and hearing what else she has done for others since submitting her application, I couldn't be happier with her getting the first award. She can go anywhere and she will give everything."
Mental health is where my passion lies and I'm willing to go the extra distance so I can ultimately share my knowledge and life experiences with vulnerable people.

Another student whose life has been made easier through staff giving is George Leafa.
George is the inaugural recipient of the Freshwater-Tyrrell Postgraduate Scholarship established in 2020 by Vice-Chancellor Professor Dawn Freshwater. George has a BSc in Psychology, a Postgraduate Diploma of Science in Psychology and a Masters in Psychology from Canterbury, and has now begun his Master of Nursing Science at Auckland.

"After my masters, I wanted a career in mental health and I was blessed with an opportunity to be employed in a medium-secure psychiatric and forensic service in Christchurch for two years. That made me decide to enrol in this two-year Masters in Nursing Science programme at Auckland."

Already laden with a student loan, he made the tough decision to leave Christchurch to follow his dream and to give back.

"Having the opportunity to further my education means so much to me. When I become a health professional, I'll have the honour of giving back to the community. Mental health is where my passion lies and I'm willing to go the extra distance so I can ultimately share my knowledge and life experiences with vulnerable people."

George is Samoan/Chinese and says he fell by the wayside at one point, growing up in Christchurch. He got in with the wrong crowd, but now sees that as part of his learning.

"We all face adversity and obstacles, but it's up to us whether we choose to take those lessons to better ourselves or make excuses. I have been through rough patches from a very young age, but I kept moving forward and learnt from my many mistakes. Over time, I matured and realised what kind of life I want to live. That is a successful life where I can take care of my loved ones and give back to my nations. Education has provided me with a safe zone to excel and opportunities to chase my goals."

He says the scholarship, which is worth $15,000, relieves a lot of his financial burden.

"It means I can focus on my studies without the financial stresses and burden of trying to live a decent quality of life. I am so grateful for this support and I'm even more motivated to do well."
George has only been in Auckland for a couple of months but can already feel the benefits of living in the world's largest Polynesian city.

"Auckland has a lot more opportunities to offer and the large Pacific community motivates me to lead by example for our younger Pacific generation."

George is a talented sportsman, musician and artist so hopes to connect with people in those areas in any spare time he has.

"I'm looking forward to playing sports, music, meeting new people and exploring Auckland."
He also has advice for young Pacific students. "Don't beat yourself up if you fail something, because to be successful, we all must fail.

"Find a passion, generate some goals for yourself and put in the work. Surround yourself with quality people. If you feel like it's too much, just remember pain is temporary. Just keep moving forward."
If you're interested in contributing to scholarships, see giving.auckland.ac.nz
This article first appeared in April 2021 UniNews.