Linda Nikora: "We need to value the people we produce here in Aotearoa."
What can we do to value mātauranga Māori in academic institutions asks Professor Linda Waimarie Nikora, co-editor of 'Ngā Kete Mātauranga: Māori Scholars at the Research Interface'.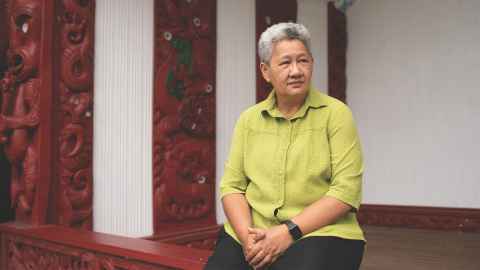 I revel in the spectrum of knowledge I am exposed to every day, and yet often mourn the absence of Māori knowledge and weep at the barriers yet to be overcome.
Our business is to grow graduates to produce knowledge and create a more promising future for themselves and the world. We're living through an epoch of change – of chaos and riotous colour in terms of diversity and the challenges in front of us. It's the ideal time to change the way we do things. If we don't, we risk becoming irrelevant. The pandemic required us to change rapidly and has also presented opportunities to improve the way universities operate.
If we look at the way in which our institutions work, particularly around the recruitment of staff, we tend to privilege the applicant with international experience and undervalue the applicant with local experience. What does this tell our brilliant graduates?
We need to value what we produce here in Aotearoa. University rankings are important and serve a purpose, but what greater dimensions would we achieve if we recognised the depth of knowledge instilled by mātauranga Māori? After all, it is not found anywhere else in the world.
I have co-edited a book with Professor Jacinta Ruru (University of Otago) called Ngā Kete Mātauranga: Māori Scholars at the Research Interface. In it, 24 Māori academics, myself included, share their personal academic journeys and what being Māori has meant in their academic work. When you consider the Māori academic, you're not just looking at the hopes and inspiration of one person, you're taking into account the hopes and inspirations of many people, communities and ancestors.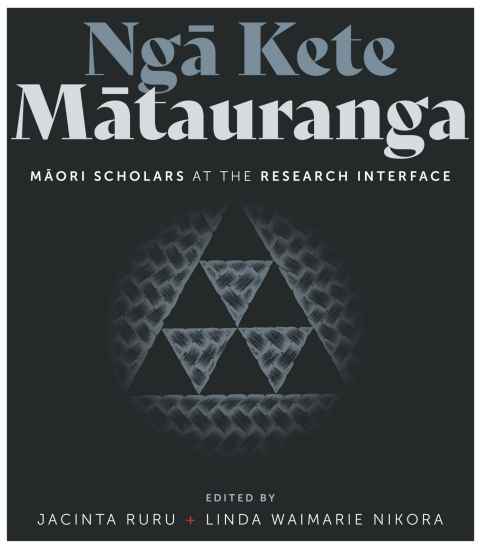 The following is an excerpt from my chapter, entitled 'Growing Up in Psychology'.

Psychology and its advanced practitioners have knowledge and skills to cause miraculous changes in people's lives, within whānau and communities. They can, and do, work magic. I am a fervent believer in the good that my discipline can and does do, yet I believe it can do much, much more.

Teaching mātauranga Māori in psychology remains a challenge. It depends on the appointment of Māori academics into full-time research and teaching positions. I have always asserted that research and teaching have to go hand-in-hand. You cannot have one without the other. I protest the recent pattern of appointing Māori with PhDs in any discipline into teaching-only positions when institutions have the facility to appoint them into entry-level lecturing positions. This seems suspiciously like a double standard and is a result of institutions neglecting to train the type of candidates they are seeking, that is, candidates experienced in mātauranga Māori! Tērā tērā.

Many of my colleagues in psychology have the luxury of access to ready-made textbooks, with ready-made lectures, tutorials, assessment exercises and tests. Mātauranga Māori-informed psychology, even with the aforementioned explosion in research activity, still remains in its infancy with much, much more remaining to be achieved. There is also the challenge of negotiating space within the curriculum to present mātauranga Māori material to students. With a large and diverse discipline, only a small amount of content can be given airtime.
Having sat through a number of curriculum review processes, one begins to recognise patterns in the arguments that are brought to the table. I note some of these below with some brief replies:

There is a core curriculum students should learn and this should be benchmarked against those curricula taught in leading institutions around the world.
My reply: This does not contribute to a decolonised, relevant and responsive discipline for us here in Aotearoa New Zealand. It simply perpetuates the colonial status quo and those biases that stem from foundations built on false Western-world assumptions.

Students need fluency in the dominant positivist empirical paradigm. 
My reply: The positivist empirical paradigm is simply one of many. Students need to learn about a range of different ways of being in the world.
We cannot use textbooks that we author ourselves as this creates an unjust monopoly and is exploitative of students.
My reply: There are not many academics able to author mātauranga Māori-informed psychological textbooks. While this argument may be valid in other countries, any peer-reviewed psychological text written by New Zealand academics should be welcomed and celebrated. I do recall Professor James Ritchie setting his own book Becoming Bicultural as a textbook, and others that he co-authored with Professor Jane Ritchie. I didn't hear any complaints about them.

We cannot be too critical of psychology as this just confuses students.
My reply: As academics, our positions require us to be critical and to reflect this in our teaching. Students deserve fair and insightful evaluations of the knowledge we communicate. Asserting or taking for granted that there is only one psychology in the world, that is, Western psychology, supports and perpetuates a colonial hegemony, and denies Māori and Indigenous knowledge paradigms and voices.

We have to look like a science subject otherwise we will lose our science funding.
My reply: Our discipline is a producer of knowledge and we do so in a range of ways employing many diverse methods beyond empirical methods. Psychology has to own up to this reality and be comfortable doing so. 

I work in a Western academic institution. It is not a whare wānanga of old, or for that matter, of new. Universities are places of learning, but of certain forms of knowledge. I revel in the spectrum of knowledge I am exposed to every day, and yet often mourn the absence of Māori knowledge and weep at the barriers yet to be overcome.
Those Māori and Indigenous peoples who pursue careers in the academy with a goal of making a difference to the lives of 'our' peoples will face bigotry, arrogance, racism, exclusion and marginalisation. This is not because we work with bad people, we simply work with people trained in a particular way of knowing and seeing. This way creates inherent biases in all aspects of our institutions and we disturb these biases through our mere presence.
Linda Waimarie Nikora (Tūhoe, Te Aitanga-a-Hauiti) is Professor of Indigenous Studies and co-director of Ngā Pae o te Māramatanga.

The views in this article reflect personal opinion and are not necessarily those of the University of Auckland.