Why moving Auckland Port would be an environmental disaster
Opinion: Moving Auckland's port to Whangarei would dramatically increase greenhouse gas emissions when compared to existing port operations, writes David Grinlinton.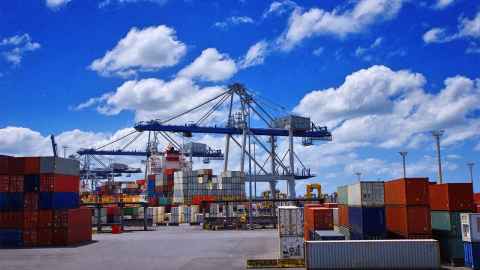 In December last year, the diversion of just one container ship bound for Auckland to unload in Whangarei graphically demonstrated the folly of the proposal to move Auckland's port to Whangarei.
It took 12 days to move over 1300 containers from Whangarei to Auckland with well over 2000 truck movements on a highway that was never intended to carry that intensity or weight of heavy traffic. At that rate it would take many years to move the Port of Auckland's annual (normal) throughput of one million containers! Since then, two further container ships have unloaded at Whangarei with similar logistical inefficiencies, traffic disruptions and wear and tear on the road between Northport and Auckland.
The plan to move the majority of port operations from Auckland to Whangarei has always been seriously misconceived, and apart from the significant economic costs, would have major environmental consequences diametrically opposed to the Government's policy on addressing climate change, not to mention its recent declaration of a 'climate change emergency'.
Some projections calculate moving the port to Whangarei would result in a 700-800 percent increase in greenhouse gas emissions when compared to current cargo handling and movement operations of the Port of Auckland.
Much of the impetus for the proposal has come from shameless political 'pork barrelling', and from those who see great potential (and profit) from commercial redevelopment of Auckland's port area. And to those Aucklanders wistfully thinking of acres of parkland adjacent to Auckland's downtown (if the port is moved), consider the lost opportunities for community open space and a closer connection to the sea with the Wynyard Quarter redevelopments.
With some imagination and long-term vision, the 'Tank Farm' redevelopment could have incorporated an iconic events centre and a public park in an unparalleled location. Sadly that area will be almost entirely dominated by residential and commercial development with only token 'pocket handkerchief' public spaces.
Here are some facts: In normal years New Zealand depends upon sea freight for well over 95 percent of its imports and exports by volume. The Port of Auckland is New Zealand's largest in terms of imports, and almost 75 percent of incoming freight is destined for the Auckland region. As any expert on freight logistics will confirm, moving international heavy cargo as close to its ultimate destination as possible by sea is by far the most economically efficient and environmentally friendly option available.
Around one million TEU (twenty-foot equivalent unit) containers move through the Port of Auckland in a normal (non-Covid) year, according to the 2019 POAL Annual Report. This is in addition to the huge quantity of other non-containerised cargo including breakbulk, steel, timber, other grains and bulk materials, heavy plant and vehicles. Given that most of the freight coming through Auckland's port is destined for the Auckland region, it isn't rocket science to calculate the huge number of truck movements that would be required to move that freight between Whangarei and Auckland, even if some of the load could be taken by rail. The environmental consequences are immense.
A substantially upgraded rail link between Auckland and Whangarei to take some of this load involves immense ongoing infrastructure investment to bring the tracks, tunnels and viaducts up to a standard that could accommodate such traffic, and maintain them at that level. Even then the rail route is a single line for much of its length involving natural limitations on two-way capacity, and the locomotives would still run on diesel for the foreseeable future emitting large quantities of greenhouse gases. There would need to be a new spur line to Marsden Point from the main trunk line, and large cargo-handling depots at each end of the line to facilitate onward transport of incoming freight, and coordinating outgoing freight, again relying upon heavy road transport.
Once currently planned upgrades are completed, best estimates are that rail, operating at maximum capacity, could move just over 100,000 TEUs in each direction each year – only a fraction of the Port of Auckland's current annual container traffic. Apart from containers, there is also a lot of freight that simply cannot be moved by rail and would need to be moved by road transport, with the accompanying carbon emissions.
Fortunately it is projected that the Port of Auckland can continue operating in its present site for another 20-30 years before it reaches capacity, so there is time to plan carefully and objectively. Even then it isn't necessary to move the entire port operations, but simply maintain them at or near capacity and progressively shift the excess to other ports. In this regard, upgrading the Onehunga Port makes much more sense than diverting freight to a Port some 160km north of Auckland. The challenges of the Manukau Bar and the shallow channel can be met with modern navigation technology and a dredging programme similar to many other modern international ports.
For many years, Onehunga was a regular port of call for substantial vessels, including cement ships, tankers and coastal freight vessels. Logistically there is a strong case to upgrade the port given its immediate proximity to Auckland's main commercial and industrial areas where much of the freight is destined. This would also avoid the environmental impacts of the other alternative: constructing an entirely new port in the Firth of Thames. That would require massive investment, and would have significant marine and land-side environmental consequences from construction of the new port infrastructure and road and rail links required to transport freight to its destinations.
David Grinlinton is a Professor of Law at the University of Auckland focusing on environmental and resource management law.
This article reflects the opinion of the author and not necessarily the views of the University of Auckland.
Used with permission from Newsroom Why moving Auckland Port would be an environmental disaster 9 April 2021.
Media queries
Alison Sims | Research Communications Editor
DDI 09 923 4953
Mob 021 249 0089
Email alison.sims@auckland.ac.nz