Myanmar civil disobedience: a lesson in good citizenship
Opinion: Myanmar activists are 'disobedient citizens' in the eyes of the state. But what is 'good citizenship' in an oppressive regime? Liyun Wendy Choo explains.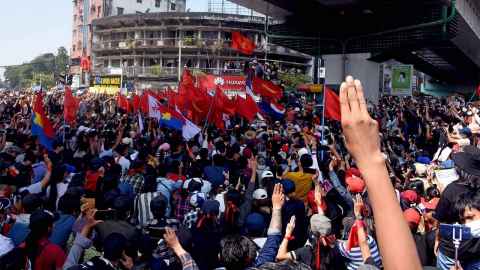 On April 20, The Irrawaddy (an independent new media group in Myanmar) reported that the protest-related death toll since the coup on February 1 had reached 726. The victims have been striking civil servants, neighbourhood watch volunteers, ethnic minorities, students and even children, including a six-year-old girl Khin Myo Chit who was killed in her home.
Last weekend when I checked in with a Myanmar friend, she sent me a video of dark fumes surrounding her neighbourhood. She said her ward in South Dagon was surrounded by soldiers and she had woken to the sounds of bombs blasting away. She sent me the video of a grieving father, wailing in the car as he held his unconscious son in his arms. His son, probably no more than eight years old, had been shot by the security forces.
Despite this suffering, the citizens continue to fight on and to resist the military regime.
I invited another Myanmar friend, whom I will name T, to share his reflection about the coup with me and all New Zealanders.
I invited him because:
the military has been trying to silence him and other Myanmar citizens; 
he wants to be heard and to speak back to power; 
I cannot speak for him or my friends in Myanmar as eloquently as they can.
This is what T said:
I join the protest because as a citizen of Myanmar, I strongly believe that I have full responsibility to fight against the coup and stand on the right side. That is what all active citizens must do. Despite the fact that we only have one life, although we are afraid of death, we have to keep on fighting. We must win this time. I want to do a good job for my country Myanmar. I am going to reject the military coup until I die. I also thank my parents for their encouragement to join the protest instead of persuading me not to go. I know they worry about me but they too know that I am doing the right thing. I am doing my best and I have already prepared for the worst.
My friend, T, is only 22 years old. Like many children and young people in Myanmar, his life and schooling had been disrupted by the pandemic and now the coup is adding to his woes. His father left Myanmar to work in Thailand to support the family more than a year ago. Because banking has been disrupted, his family has not been able to receive payments from his father. Everyday survival is a real challenge for him and his family, yet he continues to support the civil disobedience movement to reclaim his rights.
My friend, T, is from the Karen, an ethnic minority group that has fought against the Burman-dominated Myanmar government since 1949. Although he never took part in the Karen armed struggle against the Myanmar government, he had never really fully trusted the Burman-dominated National League of Democracy (NLD) government. Yet, he is putting his life at risk to support the civil disobedience movement and to restore the elected NLD government.
The civil disobedience movement is civic education in practice and is making T a real, activist Myanmar citizen. Indeed, citizenship education often takes place beyond the classroom.
Myanmar's citizenship education has always prioritised the teaching of moral values related to discipline and obedience, with many teachers implementing this official policy faithfully. Myanmar teachers agree with these moral messages and believe it is in the best interests of their students to learn and adhere to them.
Yet, many Myanmar citizens, both students and teachers, are now acting against what they have learnt about citizenship in schools. They are making claims to justice, even when it means struggling against the administration and the rules it determines. They are becoming 'disobedient citizens' in the eyes of the state. But they are also becoming activist citizens.
Several years ago, I interviewed a Myanmar student activist about what good citizenship meant to him and he questioned the idea of good citizenship:
I feel very controversial about the question. What's a good citizen, right? I cannot answer very clearly because what does good citizenship mean? Does that mean to stabilise the community or to follow whatever the government decide, or to make a harmonious society? If that is good citizenship, I cannot agree with that because that definition is very limiting of one's freedom. We cannot voice our needs. If we voice our needs, we're against the government and the government will say we're not a good citizen. If someone is doing good for the community, or good things for equality or for justice, I think he is a good citizen.
T's reflection reminded me of this interview, just as the civil disobedience movement in Myanmar spurred my reflection about the site of citizenship education.
If citizenship education takes place beyond the classroom, how do we want to educate our young people in New Zealand as citizens? What values do we want our young people to hold? How do we want them to engage with affairs that take place in other parts of the world?
I call upon all readers to take the first step and show our commitment to justice, solidarity, peace and democracy by supporting the Myanmar people through Union Aid and using the link here.
Dr Liyun Wendy Choo is a professional teaching fellow at the University of Auckland.
This article reflects the opinion of the author and not necessarily the views of the University of Auckland.
Used with permission from Newsroom Myanmar civil disobedience: a lesson in good citizenship 26 April 2021.
Media queries
Alison Sims | Research Communications Editor
DDI 09 923 4953
Mob 021 249 0089
Email alison.sims@auckland.ac.nz