Holding each other afloat, through art
Nuala Gregory, Associate Professor and Deputy Dean of Creative Arts and Industries (CAI) is showing new works at a pop-up exhibition in Wellington, and can trace her art practice back to experiments with collage as a working-class kid growing up in the conflict zone of west Belfast in the 1970s, using old newspapers, and spit as glue.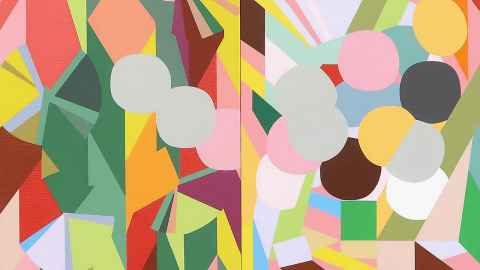 Can you describe the technique used in your latest collection of eight works at Starta Bread Kitchen?
The works draw on the ancient technique of papier collé with the modernist genre of abstract painting. My works could be described as a kind of abstract collage, which is quite unusual. The paint is high-load acrylic, which creates a strong colour effect. On first seeing the works, the curator, Paulette Robinson of the Solander Gallery, referred to them as a 'collection'. I tend to see each one as specific when I'm working on it. Each presents a different problem that requires resolution. Motifs and colours get repeated, of course, and the works tend to feed off each other. So they ended up having a 'family resemblance' and a collective identity.
Would you describe them as paintings, or collages?
The works often slip across the boundaries of the two. Collage has been described as one of the three great innovations in twentieth century art – the others being the readymade and the monochrome painting).
For me, the intrigue of collage is that it appears to have no visible ground, no absolute foundation. The supporting base gets covered over, eclipsed, lost to visibility. The elements have the reciprocal relation of 'holding each each other afloat'. 
To quote the poet Wallace Stevens, collage declares that 'being there together is enough'.
This is metaphorical, of course, but a metaphor for how we are obliged to live today, when all metaphysical and religious foundations (all our previous certainties) have been eroded and we turn to each other, whether in hope or in anguish, for whatever shared meanings we are able to construct.
Can you point to any key influences or times that has influenced your current art practice?
My earliest artistic experiments were as a working-class kid growing up in the conflict zone of west Belfast in the 1970s. My parents stored old newspapers under our beds, to be used as fire kindling, and my sister and I dragged them out each night to create murals by shredding the paper and sticking it to our headboards using saliva as glue.
In the mornings our long-suffering mother had to clean up the newspaper confetti that detached itself overnight. Those story boards we created were home-made sagas conjured from mundane happenings of the day, from images and ideas only half-understood, and goodness knows what else.
They were devoid of colour, but so vivid for us. It's surprising how creativity can start. Since then, collage has been ever-present in my work.
 
To quote the poet Wallace Stevens, collage declares that 'being there together is enough'.
 
These works were produced while on research and study leave. How important is it, as a practising artist, to have time out from your academic responsibilities?
The leave period fell during the pandemic year – 2020. All my exhibition plans were overseas-based and had to be abandoned. Paulette and the Starta Café came to the rescue, in a sense, with the offer of a pop-up show. I thought, why not? Cafés and painting have a history; let's see what we can do with it.
Producing art is not exactly 'time out' from work though – it's part of my academic research programme. A period of artistic freedom gives you time to reflect, to remember that all the administrative work we do in the faculty is ultimately to support creative learning and production – by staff researchers and students.
I was a full-time artist before becoming an academic. I tried to be a 'small, mobile, independent unit' of creativity (as the guitarist Bob Fripp, only half-jokingly, described himself). I had to make and promote my own work, project-manage, seek funding, create alliances etc. Today, university-trained artists are taught these 'entrepreneurial' skills from the outset.
You post your work, often in progress, on Instagram. Has social media opened up new ways of sharing your work?
It has. I use Instagram as a means of engaging with an audience that is a mix of fellow artists and complete strangers, non-artists, here in New Zealand, in Ireland, and in other parts of the world. On my Instagram profile, I try to tell a story about the work by curating different images in different settings, and when I rework something, I repost it.
It has opened up a whole new audience, quite different from the gallery going public I relied on in the past. Despite the limitations of electronic images as compared to seeing the actual works themselves, it's a huge advantage in that it offers a more accessible, more immediate way of communicating with an audience that can follow along with you as you experiment and develop.
Solander Pop-Up: Nuala Gregory + Starta Bread Kitchen will run until 12 May 2021.