From conference to classroom
Dale Thomas has travelled the world with sign language, interpreting alongside high-profile people like Prime Minister Jacinda Ardern at press conferences. Now, he's taking his talents to the classroom as he begins his teaching journey with a Graduate Diploma in Teaching.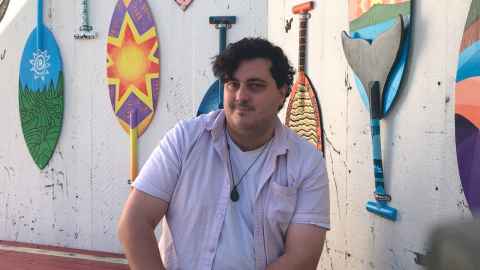 New Zealand Sign Language was Dale Thomas's first language. The eldest son of two Deaf parents, Dale grew up communicating with his family through sign language, and naturally became the interpreter for his household. English came into his life later, through kindergarten, TV and his grandfather. Dale says his unique situation had its ups and downs – but he wouldn't have it any other way.
"Growing up around sign language has shaped my perspective and opened up so many doors for me," Dale says. "A funny moment that stands out to me is when I was interpreting for my mum at parent/teacher interviews and my teacher was saying that 'Dale's maths could be improved'. I decided to sign 'Dale's maths is fantastic' instead – of course, my mum figured out that I was lying straight away.
"In all seriousness though, being part of the sign language community has changed my life in the best possible way."
After finishing high school and studying sign language interpretation, he became an official interpreter. This job took him around the world, from Fiji to France, and also put him on stage on live TV at events such as the 15 March national memorial service in Christchurch.
"Interpreting a high-pressure job, but it's incredibly rewarding. My experiences have allowed me to connect with the Deaf community, go on stage and live TV, and meet people from all walks of life."
You don't have to be a Deaf person to use sign language. It's not something to be afraid of – it's a beautiful language that you can be proud of learning and knowing.
An interpreting role in a primary school last year opened Dale's eyes to a passion he didn't realise he had: passing on knowledge to kids.
"Teaching was never on my agenda until last year," Dale says. "But I had the opportunity to experience working in a primary setting and it was just magical. I connected with the young students and training teachers, and the associate teachers really inspired me; they saw a spark in me and encouraged me to take up primary teaching. That's why I enrolled in the Graduate Diploma in Teaching (Primary) this year."
While being welcomed to Epsom Campus at the Faculty of Education and Social Work pōwhiri, Dale's sign language skills came in handy with helping others to feel at ease.
"I was sitting next to the person who was speaking on behalf of the students at the pōwhiri. I knew he was nervous, so offered to stand up with him and do sign language so that we wouldn't be alone."
Dale's already passing on his love for sign language in the classroom, using it in unique ways to get kids' attention while on practicum.
"Small things like counting in sign language as a way to get students' attention is far more productive than yelling. I've also been teaching my kids some words and phrases, and they've responded really positively."
New Zealand Sign Language Week is being celebrated from 10- 16 May, and Dale says it's the perfect time to get involved.
"New Zealand Sign Language is one of New Zealand's official languages, and there's so many learning resources online. You don't have to be a Deaf person to use sign language. It's not something to be afraid of – it's a beautiful language that you can be proud of learning and knowing."