PhD student awarded two scholarships in aerospace and aeronautics engineering
Mechanical Engineering PhD candidate Ha Tran was awarded with the separate scholarships within a span of several hours.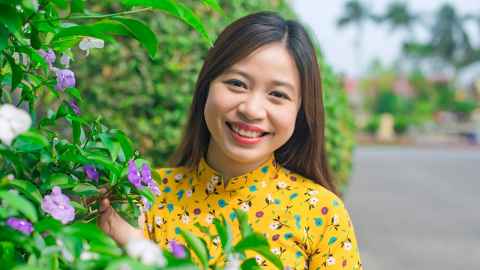 In a research journey that she describes as ranging from the sea to the sky, Ha Tran has found a strong direction for her future research — and some extra funding as encouragement. She has recently been presented with two postgraduate scholarships: the Amelia Earhart Fellowship for women pursuing research in the field of aerospace engineering, and the Mercer Memorial Scholarship for aeronautics engineering.
"I remember working from home, seeing the first email from the US and then noticing the other from the University of Auckland", Ha recalls. "To get both is a bit like a dream. I was just so excited and it took me several days to return to my normal life."
Her undergraduate journey began in naval architecture in Vietnam, where she was taught how to design ships, and followed this up with her masters here at the University of Auckland, on electricity generation from underwater tidal turbines. She then returned to Vietnam to contribute to the country's development as part of her scholarship agreement with the New Zealand Government.
She is now pursuing her PhD in Mechanical Engineering with us, focusing on the performance of small fixed-wing unmanned aerial vehicles (UAVs) at low altitudes. The experiments involve testing requirements such as turbulent and extreme weather conditions in the wind tunnel at our Newmarket Campus.
Working in the field can be demanding. Beyond the logistics of "getting in the queue" to perform experiments as the facility is often used for teaching and commercial work, Ha also sees challenges in a field where she immediately stands out as a minority. "You realise that you have to try harder [as a woman]."
The physical challenges are compounded by her currently being seven months pregnant. "There's a lot of work involved with lifting and installing heavy equipment, and it's a noisy environment. It makes you see immediately that men have many advantages in this research, and in engineering. But it doesn't mean that a woman can't do this. I'm just trying my best."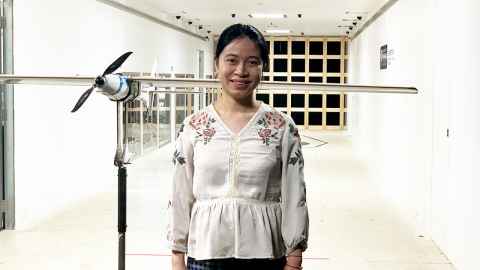 Her hard work is paying off — she also submitted her research findings as part of a presentation for the American Institute of Aeronautics and Astronautics (AIAA) conference, just days before applying for the Amelia Earhart Fellowship. The paper has recently been accepted and she's slated to present her work at the online conference to be held five days before her baby's estimated due date. "I just hope everything goes smoothly", she says.
Ha attributes some of her success to the supportive academic staff. Her supervisors, Associate Professors Rajnish Sharma and Peter Richards, as well as Professor Richard Flay — who she worked with as a Teaching Assistant — not only submitted reference letters endorsing her for the Amelia Earhart Fellowship, but also connected her to Dr Priyanka Dhopade, an aerospace engineer, lecturer from our Department of Mechanical Engineering, and a 2012 recipient of this award.
"Dr Dhopade is extremely kind and has helped me so much. She also managed my expectations by informing me that applicants for the Amelia Earhart scholarship sometimes take several tries before getting an award. When I told her the good news she emailed everyone to celebrate my success — she is just so supportive and I'm very lucky to have her as a mentor."
This is a wonderful recognition of the exciting aerospace research happening here, particularly at the Newmarket Campus, as well as of the diverse individuals who contribute to it. The aerospace engineering sector does struggle with diversity and inclusion, and places a strong emphasis on attracting under-represented people. The reality is that some of us are already here, often despite the many systematic barriers. I hope these opportunities help amplify our voices, address these barriers, and lead to a more inclusive engineering environment.
Ha hopes that she can inspire more women to pursue their passions. "I've always believed that engineering is the right path for me. It suits my personality and I love teaching and research — there's a lot involved with it, not just physical labour. There's also work in design and simulations."
Established in 1938, the Amelia Earhart Fellowship is presented annually to up to 35 women pursuing PhD degrees in aerospace engineering worldwide. Ha is one of just three recipients in the fellowship's history from Aotearoa New Zealand. She shares this honour with Dr Maedah Amirpour, a Research Fellow in our Mechanical Engineering department who was presented with the fellowship in 2016 when she was pursuing her PhD with us.
The annual Mercer Memorial Scholarship in Aeronautics was established in 1948 by the Air Pilots' Guild of New Zealand in honour of Captain JC Mercer, a pioneer in air transport. It is awarded to any student engaged in postgraduate research relevant to the field of aeronautics.