Te Herenga Mātai Pūkaha shines in ENVI nominations
Engineering New Zealand's awards ceremony, the ENVIs, has returned for 2021 and the University of Auckland's Faculty of Engineering is represented in six of the nine categories.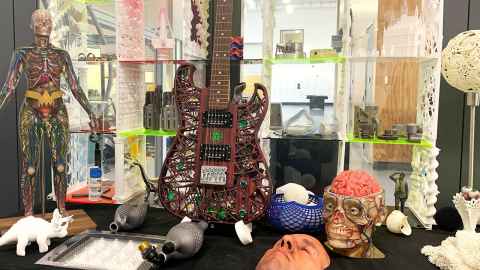 The ENVI awards is hosted by our professional body, Engineering New Zealand. It celebrates the work being pursued by the engineering community across various disciplines — from education to innovation and leadership. The awards will be presented at a ceremony that will be simultaneously livestreamed on 1 July.
The following is a roundup of the Faculty of Engineering/Te Herenga Mātai Pūkaha's presence in the ENVIs this year.
Student engineer of the year
Omar Mustafa, Part IV Chemical and Materials Engineering student
Omar is one of just two finalists in this category, and his current research project involves developing and designing milk cooling technology backed by economic analysis and a pilot trial. Head of Department of Chemical of Materials Engineering Professor Ashvin Thambyah says, "when Dr Amar Auckaili and Professor Mohammed Farid were looking for a talented student engineer to work on their novel thermal storage heat exchanger, they were fortunate that Omar was assigned to the project. He already proved his excellent academic ability and has a strong sense of engineering insight and creativity to solve complex problems."
The recent graduate says, "this wouldn't have been at all possible without the great guidance and support from my supervisors and teachers throughout my years at university, so a very special thank you to Dr Amar Auckaili and Professor Mohammed Farid, for pushing, challenging and motivating me to always be better." He is now applying his innovative skills to Aotearoa New Zealand's dairy industry at Synlait Milk in the South Island.
Engineering creativity award
Life in Plastic, it's fantastic: 3D printed anatomical models
Creative Design and Manufacturing (CDAM) Lab 
Professor Olaf Diegel and his team at the CDAM Lab have been known to dabble with the occasional offbeat idea, often blending the fun side of engineering and a drive towards additive manufacturing for good. One of their latest experiments, a world first, involve the creation of full-colour 3D anatomical visualisations that represent "true science". The figures are extremely detailed — down to the colour of a person's eyes — and show off the capacity for 3D printing to blur the lines between art and science. 
Head of Department of Mechanical Engineering Professor Krishnan Jayaraman believes that this particular nomination is notable, because it harnesses creativity to benefit the wider community. "This has potential to be of enormous benefit to the medical profession, enabling surgeons to use augmented 3D models to determine, and even practice performing specific surgeries." Professor Diegel is already moving forwards with this process in a current collaboration with a surgeon.
Engineering education award
Faculty of Engineering/Te Herenga Mātai Pūkaha (Building 405)
Our 32,000m2 building stands strongly as a symbol of engineering for the future — innovative, diverse, welcoming, and unapologetically, proudly Aotearoa in its form and function. Its name is also our faculty's, gifted by Ngāti Whātua; interpreted as the weaving together of people, their knowledge and histories, and welcoming them all to the whare/home of engineering. On its opening, we also unveiled our Pou Whenua, Te Pou Herenga Tangata, and debuted our haka, both symbolic of our past, present and future.
Our people were placed at the centre of the building's planning, design and build, and its physical form is reflective of that: visible labs, breakout rooms, Multi-Disciplinary Learning Spaces, and more. Acting Dean of Engineering Professor Gerard Rowe says, "We've put our students first, and what we can now provide in totality is an educational experience unlike any other. They will be surrounded by engineering in practice, discipline diversity, and the breadth of possibilities within our five departments every day."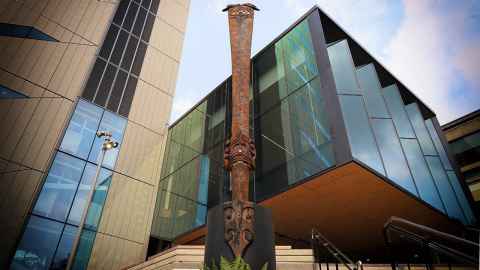 Engineering partnership award
The IDS 2020 Waka Kotahi
Waka Kotahi (NZ Transport Agency)
Several of our Transportation Engineering researchers are involved with Waka Kotahi on their vision to bring together key players to understand the investments and strategy involved with our infrastructure, specifically in our 11,093kms of State Highway networks. This was a collaboration led by Infrastructure Design Support (IDS) — whose CEO is Engineering lecturer Dr Theuns Henning — and involved industry players and Waka Kotahi. Other major collaborators from the faculty include Sujith Padiyara, a Technical Team Leader in our Transportation Research Centre, and Anissa Hasanah, a now-PhD student who was a part of the research team whilst pursuing her Master of Engineering inTransportation Engineering.
Young engineer of the year
We're immensely proud to see three of our alumni nominated in this category. The Young Engineer of the Year award is presented to someone with "a passion for community, thrives on leading others, and their work makes New Zealanders' lives better". Our faculty has a good track record of nominations in this category, including previous winners Jenny Chu (2018) and Martin Peat (2016).
Our finalists for this year include:
Akshat Malhotra, a 2015 Mechanical Engineering graduate who is leading a team of over 50 engineers and designers at Beca, delivering major projects such as SkyCity's 5-Star Horizon Hotel, AUT's Engineering School, and more.
Dany Rasaam, a 2013 Computer Systems Engineering graduate who now works for the Royal New Zealand Navy managing technicians and the weapon engineering school, supporting operational ships, and is second-in-charge of the NZDF Junior Officer induction course. He was also selected as the Military Liaison Officer in 2019 for the Governor-General of New Zealand.
Jonathan Chambers, who after graduating with a BE(Hons) in Civil Engineering in 2016 was named an Emerging Director of the Harrison Grierson Board at the age of 24, a 12-month role that previously had only been held by senior staff.
Engineering innovation award
Resilient Slip Friction Joint (RSFJ)
Tectonus Limited
Tectonus Limited is no stranger to the awards circuit and have been going strong since their formation in 2016. Led by Civil Engineering lecturer Professor Pierre Quenneville and Structural Engineering PhD graduate Dr Pouyan Zarnani, Tectonus's pioneering technology, the RSFJ, is a seismic damper that plays a role in damage mitigation in buildings during earthquakes and aftershocks. The company now has an extensive catalogue of products, and continues to develop research-driven seismic technology that will build resilience in earthquake-prone zones.