Animated holographic sculptures tell stories of Māori creation
An art installation created by researchers at the School of Architecture and Planning which takes five key moments from Māori creation tradition and transforms them into 3D animated holographic sculptures, is on show at Pah Homestead until 30 May.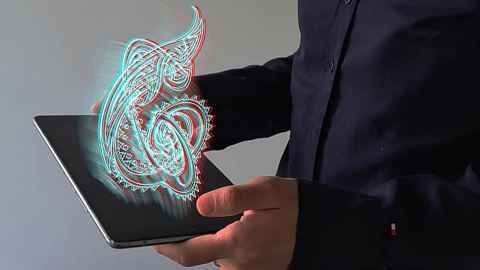 Kōrero Paki was created by Yinan Liu and Uwe Rieger of arc/sec Lab in the School of Architecture and Planning, and Jermaine Leef and Holly White of Manaia M.
It was initially developed for and displayed at the Ars Electronica Festival 2020, the international Ars Electronica art and technology festival which usually takes place in Austria but which, for first time and as a result of Covid-19 restrictions, was held last year in a hybrid format of the onsite festival and online festivals in more than 120 locations worldwide.
Kōrero Paki uses an anaglyph stereoscopic display method to create holographic mini sculptures which, when seen through simple red/cyan cardboard glasses, come to three-dimensional animated life.
It could be described as part visual arts, part theatre, and part creative technologies.
The narratives address the creation, the journey from Hawaiki, the significance of the whale, the ceremonial welcoming onto the Marae, the use of traditional weaponry and martial arts. The five chapters are a blend of songs and stories from Jermaine Leef's personal experiences growing up in his iwi Ngāti Kahungunu, Rongomaiwahine.
The installation can be seen at the The Wallace Arts Centre, Pah Homestead, until 30 May.
It also be downloaded on a phone using a QR code or through the website www.paki.nz, so that the sculptures hover above the surface of a smartphone and appear to be dancing in the viewer's hand.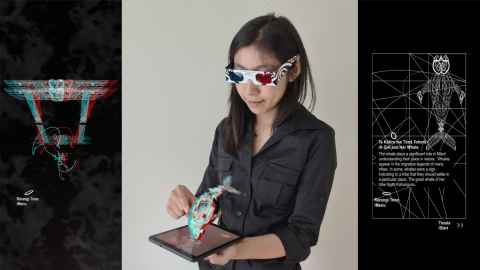 Media contact
Margo White I Media adviser
DDI 09 923 5504
Mob 021 926 408
Email margo.white@auckland.ac.nz