Sisters study and graduate together
Sisters Hannah Swinton and Clare Stanton both graduate with doctorates in clinical psychology and say sisterly support has been crucial to their success.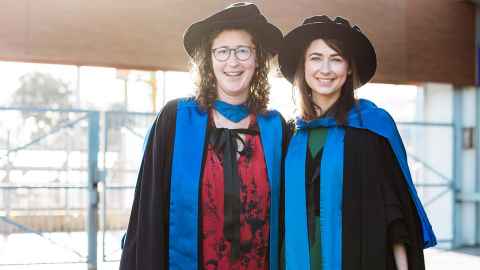 Therapy runs in the family for the sisters whose mother Josephine Stanton is a well-known Auckland psychiatrist.

"All through our lives we have seen how passionate mum is about her work so she certainly encouraged me to study clinical psychology," says Clare, who is the younger of the two sisters at 31.
She works in drug and alcohol rehab and her goal right now is to keep enjoying the work and to keep learning.
"I love it, I feel lucky to work with people at such an important time of change in their lives and to be alongside them as they explore what they want their life to look like."
Hannah, 33, is currently on maternity leave with her three-month-old son but will return to her role at community mental health provider Matariki at the end of the year. She wrote her thesis on the experiences of young people who have a sibling using substances in problematic ways.
"So my interest is in supporting members of the whole family, to hear what insights family members can offer and to be helpful in supporting them," she says.
The sisters say they are not competitive but have instead supported each other through the demands of doctoral study.
"Clare has been a really strong support, I found it really helpful having classes together and we're both interested in how families work," Hannah says.
Clare says the sisters are good friends.

"It was comforting to go through such an intense period of study together, Hannah is such an authentic, generous and kind person and now it's such a treat that she's not just my sister but also a skilled psychologist who can help me with life stresses!" Clare says.
Both sisters thank their University supervisor Associate Professor Kerry Gibson for her support and Clare says a bunch of people helped her achieve her goals.
"It hasn't been easy but my classmates were a big support and I'm also grateful for whanau support and my husband who helped me keep some balance in my life."