It takes a (learning) village
Māori and Pacific students are of deep importance for the University of Auckland, a priority group for government, and the fastest growing demographic. But they experience poorer educational outcomes than other students: lower course and qualification completions, fewer into postgraduate studies, and low numbers in key fields.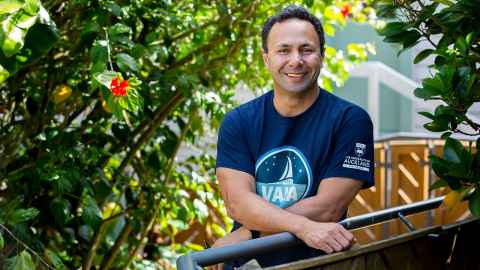 Associate Professor Damon Salesa is Pro Vice-Chancellor Pacific at the University of Auckland and as a keynote speaker at the virtual QS EduData Summit,  challenges not only his own University but the tertiary sector as a whole to do better by indigenous students.
He says  the many drivers of these inequalities reflect important socioeconomic inequalities.
"The University has spent an enormous amount of resource researching and understanding this complex problem and notes key specific educational drivers. These include things like poorer outcomes in secondary schools, poor advising, course and programme choices in schools and university, and study costs and financial impediments.
"Equally challenging are the questions of belonging and connection to campus that is largely Pākehā-centric, and resulting student disconnection and disengagement
But a 'learning village' that is more conducive to the success of Māori and Pacific and other disenfranchised groups can be developed, he believes.
Reflecting on the modern data analysis tools being highlighted at the Summit, Associate Professor Salesa points out that great strides can be made by utilising these with an overlay of better cultural and social understanding.
"Our initiatives and programmes must be characterised by institutional self-reflection, data utilisation and research, student-centred thinking and cultural responsiveness. There is no reason we can't create and maintain an environment that provides Māori and Pacific students the same opportunities as their contemporaries."
O LE FOFOE LE ALAMEA, LE ALAMEA                                                          The cure for the Alamea, is the Alamea.                                                     


                                                                                                                               We are the problem; we are the solution.
Dr Salesa discussed some of the programmes that have been adopted by the University to this end, describing how the strategy must be to build  university achievement on the cultural, social, personal, and academic strengths of students, which requires not just the learning of students, but transformation of the University itself, typified by large scale initiatives such as Whakamana Tangata, the student services strategy.
Other programmes include:
Tuakana (older sibling) programme
This offers academic and pastoral support for Māori and Pacific students using an Indigenous model of whanau support, inspired by the support an older sibling gives to a younger one: a key learning relationship.
Understanding data
The University  has invested deeply in analysing and utilising data. A new cohort analysis based on the last two years of school supports the understanding of student preparation and helps improve processes and relationships.
Many different digital data points have been integrated into a wellbeing and engagement index.
University relationships and partnerships with families, schools, and community
 Pacific Academy: a calculus and physics tuition programme provided for free to Pacific students
Support for Polyfest and a number of community events
South Auckland Maths Challenge
Bachelor of Education provided in Tai Tonga, South Auckland
Range of programmes delivered from Tai Tokerau campus, Whangārei

"To support the learning of our students we need to create authentic and deep belonging, as well as enduring and caring relationships: an enormous challenge with a large and diverse group of students," Dr Salesa says.
"To do that we must act as a community – relying on the work of both professional and academic staff, creating, and maintaining authentic partnerships, and being driven by student centred design and leadership."
Associate Professor Salesa spoke at the virtual QS EduData Summit. This global event was held to consider how educators can use data to understand the impacts of new educational policy and work towards international improvement of teaching and learning outcomes to address digital divide and technological inequalities. It was delivered in partnership with the University of Auckland.