Treaty: how can it become more than a word?
If 'treaty' is to be more than a word, what will need to happen? For Australia's National Reconciliation Week 2021, the Atlantic Fellows for Social Equity (AFSE) invited a panel of leaders from Australia and Aotearoa New Zealand to discuss their respective treaty journeys.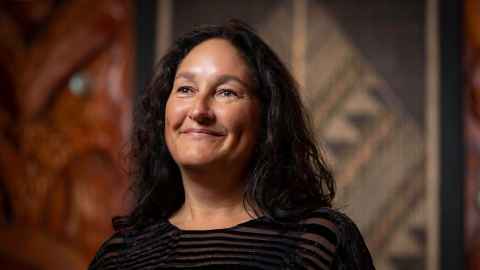 The wide-ranging discussion emphasised that the truth-telling process needs to portray Indigenous history through the perspective of strength and resilience, not just the lens of victimhood.
"If we only talk about the horrors of colonisation, crucial as these are, we keep centering the coloniser as the focus of our story," said Associate Professor Te Kawehau Hoskins, the University of Auckland's Pro Vice-Chancellor Māori .
In her previous role at the University's Faculty of Education and Social Work, Dr Hoskins co-led the Aotearoa-based component of the Atlantic Fellows for Social Equity (AFSE) programme with Associate Professor Melinda Webber, also from the faculty.
AFSE is a life-long social change programme focused on Indigenous communities, based at the University of Melbourne.
Associate Professor Hoskins told the panel it was important for Māori to take ownership of the treaty story.
"We want to tell our own stories of agency, how we've approached engagement, what our strategies have been, how we've been resilient, how we've survived," she said. "That's a narrative that's moves us from always being positioned as victim to one of agency."
The panel acknowledged that Indigenous people in Australia and Aotearoa New Zealand have taken different paths in the treaty negotiation process between sovereign Indigenous people and western settlers.
In Aoteaora, the Treaty of Waitangi was signed in 1840 but repeated breaches by the Crown led to the need for a Treaty Tribunal to mediate disputes between iwi (tribes) and the government. For the past 40 years, the challenges of sharing and building relationships between Māori and the state have continued.
We want to tell our own stories of agency, how we've approached engagement, what our strategies have been, how we've been resilient, how we've survived.
In Australia however, the only Commonwealth nation without an agreement with the Indigenous peoples of the land – Aboriginal and Torres Strait Islander people, a long history of treaty attempts have galvanised in recent times into an array of models.
In Victoria for example, an elected First Peoples' Assembly has started a key piece in the treaty process, a Truth and Reconciliation Commission examining history and reparations. The Northern Territory Treaty Commission has developed a treaty model and is undertaking consultations with community.
In Queensland, the Treaty Advancement Committee is developing its model after securing government commitment to a treaty process. And at the federal level, an Indigenous Voice proposal is being moved forward.
Each model has similarities – the need to tell truth, to embed truth in curricula and to make binding agreements – and subtle differences, but all models recognise time will be needed for these complex talks.
Both the Aboriginal and Māori perspective emphasised the importance of building positive relationships.
Western paradigm emphasises law and policy," said Dr Hoskins, "but our Indigenous knowing tells us that good personal relationships are key to the possibility of anything. Without them, and despite having treaty, policy, or legislation, progress can grind to a halt or become oppositional."
She said Māori have been very good at doing everything on all fronts.
"We've always privileged relationships, and our tribunal process has gone out into Māori community settings, so the Crown has found itself in places where our settings, rules and ways of being reign. That can be a transformational process, catalysing a commitment to social justice that might not have been there before, and it's meant working at every level.
"Today we are also engaged in trying to influence institutions, practices and policies at all levels to be responsive to Te Tiriti o Waitangi. Sometimes we want separate institutions, or interlocking or even overlapping ones with the state, and all of these are possible and desirable, depending on what's going to work best for our people."
The Aboriginal speakers acknowledged they were in many ways at the beginning of this process, one they expected to take years, and would need their young people involved to help in the ongoing struggle.
Webinar presenters
Associate Professor Te Kawehau Hoskins
Ihonuku | Pro Vice-Chancellor (Māori), University of Auckland
Dr Hoskins (Ngāti Hau, Ngāpuhi) focuses on developing a positive Māori profile within the University and helping develop Māori programmes in liaison with the Vice-Chancellor, Māori staff, students and the community.
Leanne Miller
First Peoples Assembly of Victoria member and AFSE Senior Fellow
Leanne Miller, descendant of a matriarchal clan, Dhulanyagen Ulupna of the Yorta Yorta people, comes from a family with a strong and long-standing commitment to Aboriginal affairs. Her grandmother is Geraldine Briggs and her mother is Frances Mathyssen – both highly respected Aboriginal leaders. 
Dr Jackie Huggins
Co-chair, Treaty Advancement Committee, Queensland
Jackie Huggins is Bidjara and Birri-Gubba Juru from central and north Queensland. An historian and author, she has spent over four decades working in Aboriginal affairs in a range of areas, including history, the arts and reconciliation. Her work has been in academic, government, non-government and community fields. 
Dr Aunty Geraldine Atkinson
Co-chair, First Peoples' Assembly of Victoria
Geraldine Atkinson is a Bangerang/Wiradjuri woman who has devoted her career to expanding the possibilities available for Koorie people through education. For over 30 years, she has been a significant presence in the Koorie and wider Victorian community, beginning as an Aboriginal teacher aide in 1976.
Treaty: More Than a Word had 450 registrations and more than 200 were live on the day.