Empowering refugee voices through interpreting
PhD candidate Alejandra González Campanella is on a mission to empower the voices of some of our most vulnerable communities: refugees and asylum seekers.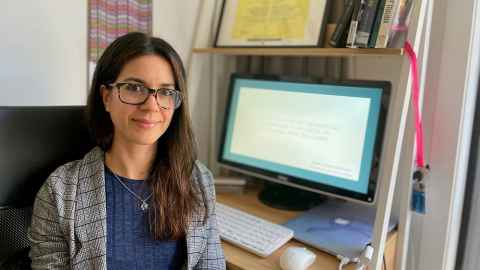 Growing up in Uruguay with Spanish as her first language, Alejandra González Campanella developed an interest in English while watching Friends and listening to music. She became fluent almost by accident, before realising she could create a career in language interpreting.
For several years, Alejandra worked as a translator for large pharmaceutical and engineering companies but always felt like she wasn't where she was meant to be. In 2015, a family health scare in the United States opened her eyes to a whole new area of translation.
"My sisters don't speak English so I was the person communicating with the hospital staff. It had never occurred to me how crucial translation is in those emergency moments – and I realised that a lot of other families around us were having the same issues communicating with medical staff."
This motivated Alejandra to study her masters in translation and intercultural studies, with a focus on public service translation. After graduating, volunteering with refugees, and discovering more about the refugee crisis around the world, she began to see a space where she could make a real difference. Drawn to the University of Auckland for the prospect of working with Dr Vanessa Enríquez Raído, Alejandra enrolled in a PhD in Translation Studies and moved to New Zealand.
"I'm trying to raise awareness around the importance of interpreting in the refugee context, because it's something that people don't really talk about or understand. The New Zealand government is in the process of implementing the Language Assistance Services programme. I want to see a component on trauma and working with vulnerable populations as part of that scheme so that we can best support those who need it most."
Without language, you cannot have inclusion, so it's up to us to empower the voices of our refugee communities.

Alejandra is currently interviewing refugees, asylum seekers, interpreters and policy-makers to analyse their experiences with interpreting services in New Zealand and make recommendations on areas that could be improved.
"People from refugee backgrounds have survived significant trauma – and not only from the first things you think of, like war or genocide – but also from being away from their home countries, adapting to a new environment, and not being able to speak the language.
"Through translation, we need to empower these people to convey their voices. It's impossible to ensure their integration and inclusion in society without recognising the need for bespoke interpreting – interpreting that acknowledges their specific needs.
Although she's only halfway through her research, Alejandra has heard some stories that have struck her, from refugees not understanding their language rights, to healthcare providers not offering or understanding the translation services that should be required.
"We also need to think about protecting the interpreters, who are hearing really emotional and difficult stories, and re-telling them in the first person over and over. This can cause secondary trauma for the interpreters as well – so they need a lot of emotional support and resources."
Alejandra says World Refugee Day is the perfect time for people to educate themselves about the trauma and challenges that refugees face.
"Refugees and asylum seekers aren't extraordinary people. They're ordinary people who have been through extraordinary and traumatic experiences. Any of us could be in that situation, and we'd all want to be treated with basic human rights."
Alejandra is deciding what she wants to do once she completes her PhD, but one thing is for sure: she will be using her knowledge to help others in need. She's currently completing the Academic Career Advancement Programme within the School of Graduate Studies, to prepare her for a career in academia.
"I want to stay in the academic world so that I can keep researching new knowledge in this crucial area. I'd also love to train other interpreters to give them the tools they need to support our most vulnerable communities, as well as helping to inform policy in the field. Without language, you cannot have inclusion, so it's up to us to empower the voices of our refugee communities."
World Refugee Day, 20 June, is an international day designated by the United Nations to honour refugees around the globe. 
Learn more about World Refugee Day.