Andrew Grant recognised as a 2021 Distinguished Alumni
We caught up with Andrew to find out why he is passionate about contributing to the future of engineering in Aotearoa New Zealand.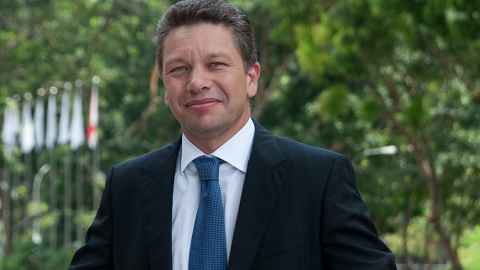 Andrew Grant is a 2021 Distinguished Alumni for the University of Auckland's Faculty of Engineering. A prominent international business consultant, he is a senior partner at McKinsey & Company and a member of its global board for the last 15 years. Andrew has also served as a member of the Prime Minister's Business Advisory Council. He serves on the University's Koi Tū and School of Engineering Advisory Boards, and was a member of the University's Campaign For All Our Futures board.

Your path led you away from engineering and into a successful career in economics. Why did you study engineering?
I was always fascinated by the ability of engineers to solve real-world problems. My parents often amusingly reflect that given I was born during the Wahine storm in Wellington; maybe the imperative of "getting the engineering right" was imprinted early into my sense of a future career. Whatever the source, I always have passion for and a fascination with "engineering feats" that could withstand the forces of nature.
I also grew up with some role models who were terrific engineers, my grandfather and some family friends. I saw first-hand growing up in a rural community how the completion of a couple of significant pieces of infrastructure meaningfully improved the lives of our local community.
The art and science of solving problems is one of the great traditions to learn.
Was an engineering degree valuable in setting up your career?
When people ask me about the value of doing an engineering degree, I always highlight three things.
First, Engineers are good problem solvers. Fundamentally what I do today is solve problems. The nature of these problems is different to the problems I helped solve as a graduate engineer, but the pedagogy, the methodology and the underlying intellectual curiosity required is the same. The art and science of solving problems is one of the great traditions to learn.
Second, an engineering degree is exceptional for learning about the real-world challenges of delivering something. You not only have to design the problem and come up with the solution, but the delivery typically requires working with humanity of every description. When you think about how complicated it is to design, build and deliver a sizeable piece of infrastructure, the human challenge is immense. Engineering teaches you to deal with the public sector and the private sector; you have to work with white collar workforces, with blue collar workforces, and with the interface between the two.
The third reason is that in the employment landscape of today and in the future, I believe we all will have to re-skill multiple times. With engineering, you learn that on day one; almost as soon as you know something, it has begun the journey to becoming obsolete. The technology is always moving on. Engineering introduced me to this idea that you're on a professional learning journey. The idea that there's always another level of fidelity, another level of granularity, another level of insight, another question to ask.
What inspires you to support our unique Kiwi education?
A New Zealand secondary school and tertiary education has been one of the greatest gifts that I received. There was an egalitarian way that we mixed young people from lots of different perspectives. There was also a strong belief that we could aspire to being relevant on an international scale while embracing something uniquely New Zealand about the way we do it.
However, I worry we're losing that edge. I'm not misty eyed about the past: the bar has been raised on what it takes to be globally excellent and it requires us to be even more thoughtful about the experience we provide.
That's why I'm passionate about playing a role, because it absolutely is the most important thing. I think it needs to be nourished, cherished and invested in.
How can Aotearoa New Zealand as a country set up its students for success?
I think we live in the most exciting era in human history. We are in the midst of the fourth Industrial Revolution. This industrial revolution is not anchored on one leap of technology as it was in the previous three, it's a whole family of technologies changing across multiple fronts that are being integrated. When you think of what a smart phone does, it brings together a dozen or so discrete technologies.
We have the opportunity to solve a lot of new complex problems, but we really need to be thoughtful about the environmental impact, the human impact and the broader societal impact, in a way that doesn't end up creating even greater problems.
I fundamentally believe that an engineering perspective with a wider purview is the "killer app", for want of a better description, of education in the 21st century. I am encouraged by the perspective I see chairing the Department of Civil and Structural Engineering Advisory Board. The Department is not only seeking to double down on absolute excellence, equipping young New Zealanders with a truly world-class engineering degree. We also want to provide them with the broader perspective to ensure they have the best education full stop in terms of the life skills required to succeed and thrive in the workplaces of the future.  
After completing his engineering degree with the University of Auckland, Andrew Grant was awarded a Rhodes Scholarship to the University of Oxford where he received a masters degree with first class honours in politics, philosophy and economics.

Since joining McKinsey & Company in 1992, Andrew has served many leading global corporations and governments worldwide. His current focus is helping public sector clients solve their most pressing strategic challenges, especially those related to economic development, healthcare and infrastructure.