Top honour for physical education champion
Associate Professor Alan Ovens has been awarded the highest honour from his peers – Physical Education New Zealand's (PENZ) Sir Alexander Gillies Medal.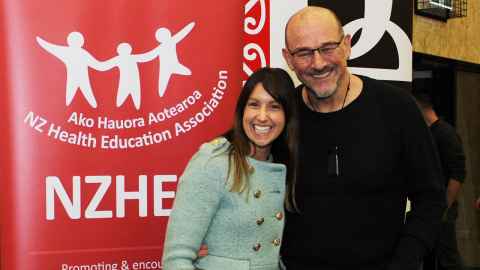 The medal ecognises distinguished and outstanding service to PENZ nationally, as well as the profession of physical education on the world stage, and since its inception in 1967, has only been awarded 11 times. 
The award is the most prestigious PENZ can grant for outstanding, sustained, career-long services of national or international significance to the profession.
Associate Professor Ovens says he's "absolutely thrilled and honoured to have received this award".
"Physical education is a field I've been passionate about my whole life. To be acknowledged by my peers as having made a distinguished and long-term contribution felt wonderful. It's a lovely reward and recognition for working in such an important educational area.
"And the award is very sparingly given out, so I was quite chuffed in that sense." Dr Ovens is just the 11th winner of the award, and the first recipient since 2014.
He has been working in physical education since 1985 and teaching in the Faculty of Education and Social Work since 1991. He's currently the discipline leader of the Sport, Health and PE programme, as well as heading up the University's Richard Tinning Research Unit.
He says in that time, the way we approach physical education in schools and the way it's taught has changed so much.
"When I first started, there wasn't a focus on quality teaching. It seems so logical now, but [back then] it wasn't. Early on there was a focus on administration and sports science. No one really looked at the concept of being 'a good teacher' and 'how to best meet the needs and interests of our students'.
Working with young people in this space is a wonderful medium for being a teacher who wants to make a difference in the lives of young people.
He loves working with young people and says physical education is "just the most brilliant educational space for working with them".
"For example, you don't have to role model things like conflict resolution. Give kids a ball and in ten minutes you have a conflict, and now you have a real situation which you can use to teach about resolving conflicts.
"It is a safe space in which we can teach so much. If you want to teach about relationships, develop emotional stability, or experience the thrill of doing something challenging, in physical education you can set up situations and experiences that allow students to have meaningful learning opportunities.
"So in that sense, that's what's driven me all the way along my career. Working with young people in this space is a wonderful medium for being a teacher who wants to make a difference in the lives of young people."
Associate Professor Ovens has previously been chair of the Auckland PENZ Branch, was elected to the PENZ Board in 1998 and took on the role of awards officer. He served as president of PENZ from 2006-12, where he led the organisation through a significant restructuring. In 2016, he was co-opted back on to the PENZ Board to help resolve a financial crisis.