Vision of Global Studies in and from the Pacific
Dr Jamie Gillen, Global Studies Programme Director, discusses the new Master of Global Studies, the academic vision behind the degree, and what students can expect.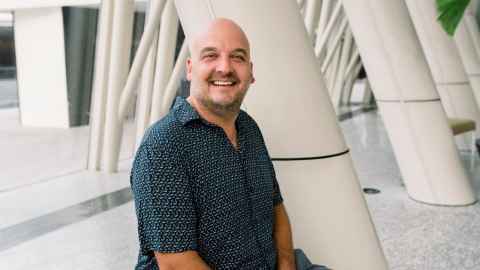 In the wake of the great success of the undergraduate programme in Global Studies, a masters programme is now being launched for March, 2022. The new Master of Global Studies is the only one of its kind in New Zealand, just like the undergraduate degree.
"The undergraduate Global Studies degree became much more popular than we expected. The demand came from students to start a new masters programme, and we're basically just responding to them. Students always lead the conversations in my view.
"Global Studies is a very new field. What we're excited about is that we have a chance to define it. We look at the students as having a pretty substantial stake in defining this new field through their research at the masters level. They will become junior colleagues, as we embark on learning and defining Global Studies", says Dr Gillen.
The academic focus of the Master of Global Studies includes transdisciplinarity, sustainability, mātauranga Māori, human rights, social justice, environmental justice, and international relations. Dr Gillen emphasises the importance of incorporating Pacific and Indigenous knowledges into the programme.
We want Global Studies to come from somewhere, and that somewhere is in the Pacific. Our academic focus will be on Asia Pacific, but also on questions of the Treaty and how the Treaty can be incorporated more justly into Aotearoa society.
"We feel committed to our neighbours in the Pacific, migrants, and people who make up the fabric of Aotearoa society, who are sometimes not clearly addressed and appreciated. We are expecting students to not just be agreeable to these principles, but to contribute to them, too. Our society is looking for people who will be able to understand, respect and contribute to difference. That reflects quite importantly on the intricacies of Aotearoa and the Pacific."
According to Dr Gillen, strengths of the Master of Global Studies degree stem from the vision of Global Studies from the Pacific, versatility, and putting ownership in the hands of students. Global Studies helps students to create a set of skills that they want to sharpen.
"The way of the future of learning is not teaching students what to know, it's teaching them how to know, how to value knowledge and how to acquire knowledge. We will serve as coaches and mentors at the postgraduate level, but students have the opportunity to truly explore a pathway that will not only make the world a better, a more ethical and just place, but it will also allow them to more clearly understand their role in the world. We feel that this would be appealing to students because it's quite empowering.
"We are a young degree, we are a young field, and we are also a young set of faculty members. We're all starting a journey together. This is a mutual learning journey amongst all of us and I think that's a real strength.
"Students are going to be handed a set of keys. They have to make the choice on what those keys are and what they want to do with them. They can take ownership over the course of their lives with their degree."
The skills which will be sharpened and enhanced in the Master of Global Studies degree can be useful for a range of different careers, including government, non-profit, education, media, and international business.
"Nowadays employers are looking for people who are collaborators. They want to see not just the depth of knowledge, but also that depth extended in the breadth of experiences that Global Studies provides. They want people who have a vision and a conviction towards something.
"Students should consider how they want to operationalize their Master of Global Studies degree and how it will shape their career goals. The Global Studies field is so vast, students are getting jobs in so many different realms they are excited about. We're here to show them how their career will be enhanced and made more impactful as a result of the degree. Career outcomes are less about what is going to be offered to them after graduation than how they will use the degree to really suit their interests and strengths. That's the 21st century job market.
"There is also a pathway to do a PhD. If students have a masters in Global Studies, they can do a PhD in many other different types of degrees in many different related subjects, especially in Arts."
For more information about the programme, explore our new Master of Global Studies.