Kaumātua and kuia voices heard
Opinion: The importance of kaumātua and kuia in Māori society and their role in the pandemic is recognised in research by the James Henare Māori Research Centre.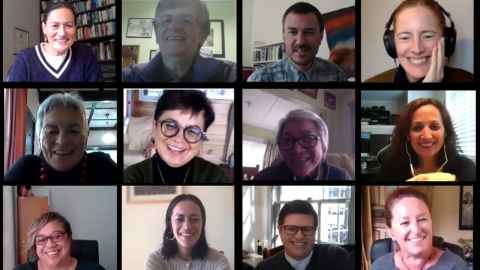 Ki te kotahi te kākaho ka whati, Ki te kāpuia e kore e whati
Alone we can be broken, Together we are invincible
Kingi Tāwhiao
A research project by the James Henare Māori Research Centre at the University of Auckland, Hongi, Harirū and Hau: Kaumātua in the time of COVID-19, is a timely reminder of the importance and strength of kaumātua and kuia in Māori society, and how dominant stereotypes that ageing populations are a burden on society must be discarded.
This research considered responses by kaumātua and kuia to the current global crisis of Covid-19 and the enormous dangers facing Māori. Māori elders have a collective memory of pandemics and other calamities that have reached our shores. All urupā (cemeteries) have dedicated plots to those lost to influenza, tuberculosis, Covid-19 and other unforeseen crises.
Most kaumātua and kuia in our research have experienced inadequate health services and poor health. In addition, they have also endured economic, social and education inequities. Yet despite this, Māori elders from our research sites have galvanised together to provide a united and tikanga-based response to the pandemic. As cultural custodians they are the repositories of mātauranga and their knowledge and life experience is critical to our survival.
The study Hongi, Harirū and Hau deepens understandings of kaumātuatanga and details the value of kaumātua inclusion in decision-making. Last year much of our research was adapted to online forums as it was unsafe to venture into many of the communities we work with. We conducted 63 Zoom interviews with kaumātua and kuia from Ngātiwai and Waikato, as well as Māori health providers. Our kaumātua and kuia participants, ranging in ages from 60 to 85 years, were committed, adaptable and tech-savvy. Because of the repeat interviewing that occurred, the James Henare research team formed strong relationships with the kaumātua and kuia participants
With the onset of the latest Delta outbreak, we have returned to our community researchers from the study, asking them how kaumātua and kuia in their communities are coping with the new challenges.
Whaea Ngahuia Dixon, who co-organised our Waikato engagements, is safely in lockdown in Ngāruawāhia with her daughter and mokos. She says "kaumātua will no doubt be cautious and are following the patterns set during the 2020 outbreak".
She explains this was the case with the cancellation of this year's Koroneihana at Tūrangawaewae marae when news of the Delta variant in Auckland broke. All in-person activities immediately ceased in order to keep Māori communities and kaumātua safe. She further remarks that there may be fine tuning and restrictions may be more stringent, but as before "rangatahi will take their place to provide whatever assistance is needed".
Our community researcher from Ngātiwai, Whaea Cilla Moore, is also safely in lockdown with her husband in Whangārei. Whaea Cilla has observed some differences between this lockdown and the last. She observes that Ngātiwai has not been able to respond as they did previously. While Ngātiwai quickly organised manaaki packs in the first lockdown, they have had a slower response to whānau members this time due to the speed this lockdown was put in place and its unknown end. She says kaimahi (workers) have adapted to new health protocols in preparing manaaki packs which are now being distributed to kaumātua and kuia in rural communities, alongside reinitiating an 0800 support line.
Whakapapa is fundamental to our kaumātua participants. In our research, they describe whakapapa as their connections to their tūpuna (ancestors), whenua (land), iwi (tribe), marae, each other, and importantly their mokopuna. Collectively, kaumātua and kuia express that the wellbeing of whakapapa is analogous to the well-being of mokopuna and future generations of rangatahi.
While commending Director-General of Health Ashley Bloomfield for his clear and firm messaging, Whaea Cilla, like many of our kaumātua participants, has identified the omission of Māori MPs, medical experts and community leaders from the Nation's emergency response briefings. This lack of visibility is stark. And they ask why the Government has not tried to create trust and allow Māori and Pacific leaders to communicate the messages during these important briefings.
This is a serious problem as the Government's health messaging is failing to address the staggeringly low vaccination rates of Māori rangatahi. Our preliminary research shows there are a number of eminent Māori epidemiologists who could effectively get vaccination messaging across to the rangatahi mass if given the opportunity to share Bloomfield and Prime Minister Jacinda Ardern's briefing podium.
The James Henare Māori Research Centre has been awarded a Waipapa Taumata Rau/University of Auckland Research Excellence Medal in recognition of the research work completed with kaumātua and kuia. Our research continues in this area with a new Health Research Council project that extends our kaumātuatanga work in relation to wellbeing and place across hapori (communities) in Tai Tokerau, Waikato and Tauranga. These regions have large Māori populations and are impacted by various forms of environmental degradation. We will be connecting with more kaumātua and kuia throughout these regions and highlighting their voices in order to contribute towards better health outcomes for Māori.
The authors are from the James Henare Māori Research Centre: Nicholas Jones, research assistant; Dr Hilary Lapsley, senior research fellow; Associate Professor Marama Muru-Lanning, Director; Dr Robert Pouwhare, research fellow.
This article reflects the opinion of the authors and not necessarily the views of the University of Auckland.
Used with permission from Newsroom Kaumātua make their voices heard 2 September 2021.
Media queries
Alison Sims | Research Communications Editor
DDI 09 923 4953
Mob 021 249 0089
Email alison.sims@auckland.ac.nz