Billy Apple's legacy extends to extraordinary scientific paper with Liggins Institute
Billy Apple was one of New Zealand's most famous artists – and also co-author of one of the Liggins Institute's most intriguing scientific papers.
The artist died at 85, after a short illness.
"N=1," an Apple artwork hanging on a wall at the research institute, in a spot chosen by Billy, sprang from a Liggins project where he turned himself into an object of scientific study.
It's an unusual story. Back in 1970, in New York, the conceptual artist retained some of his used toilet tissues for an art project. Forty-six years later, in Auckland, he encountered Liggins scientist Justin O'Sullivan, and an idea was born – why not compare Apple's faecal samples from the present and the past to get a picture of how gut bacteria change?
Thus, the 2017 paper in Human Microbiome Journal, entitled "Long-term stability in the gut microbiome over 46 years in the life of Billy Apple ®."
It was "a unique study'' because of the rarity of anyone hanging on to samples for such a long period, according to Professor O'Sullivan and, from a scientific perspective, because it challenges the concept of an n of one in an experimental study.
One key finding was that core bacteria remained stable over time.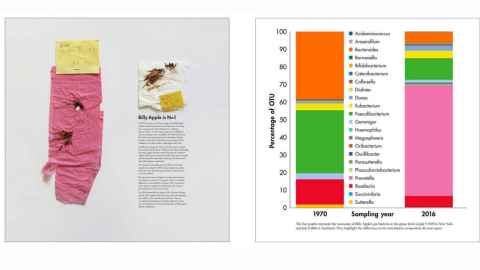 "Billy Apple's gut microbiome was less diverse at age 80 compared to 35, but 45 per cent of the bacteria species were retained over the 46 years, despite significant differences in his age and environment – New York and Auckland - and in his diet, from what he recalls," Liggins scientist Thilini Jayasinghe said at the time.
Apple's connection with the Liggins Institute and with Professor O'Sullivan's research team persisted: he was on hand in person in May to hear Justin deliver his inaugural lecture as a professor. "Billy and his visits to the Liggins will be sorely missed," says Professor O'Sullivan.
"Billy was a true friend of the Liggins, taking great interest in our research and our people and regularly attending our public events," says Liggins director Professor Frank Bloomfield. "His collaboration with us was truly one of a kind."
 
Media contact
Paul Panckhurst | media adviser
M: 022 032 8475
E: paul.panckhurst@auckland.ac.nz