$13.5m boost for leading EV charging research
Technology to wirelessly power heavy commercial vehicles quickly and on the move will be the game changer for switching freight fleets to electricity.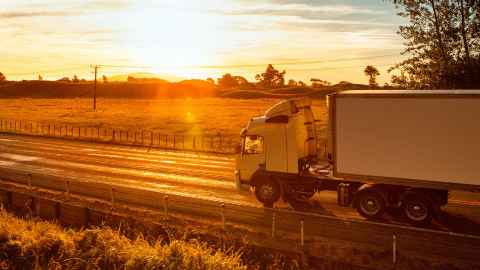 Research by the University of Auckland's Faculty of Engineering into developing vehicle-side and in-road charging technology needed to meet this challenge has been awarded $13.5m by the Ministry of Business and Innovation Endeavour Fund.
The funding will enable university researchers to keep the momentum of their work in this area which started three decades ago and is internationally-recognised, explains research leader, Professor Grant Covic, from the Department of Electrical, Computer and Software Engineering.
"It means we can focus on removing the huge EV barriers for commercial fleet owners which are the time it takes for plug-in charging and the size and weight of the battery packs needed to power heavy loads and long-distance travel.
"Wireless charging on the move will mean less downtime for vehicles and smaller battery packs. It's what fleet owners need if they have any chance of meeting Climate Change Commission advice to switch to electricity by 2035," he adds.
The five year programme has major challenges which include developing a system that works for all types of vehicles from all manufacturers; and how a system can work on different road structures and in extreme climates and temperatures – all without putting pressure on the power grid.
The research group has team members from other departments in the engineering faculty including Professor Simon Bickerton who leads mechanical aspects and Dr Doug Wilson leading pavement and transport engineering solutions. It also has members from the Business School Energy Centre, Victoria University of Wellington and crown research institute GNS Science.
The team works in close collaboration with various industry partners, in particular with WiTricity in the US to commercialise the technology, and with ASPIRE, an NSF funded US roadway electrification centre to develop research and pilots.
The global recognition New Zealand has in the field of wireless charging technology started with pioneering work at the Faculty of Engineering in the late 1980s by Emeritus Professor John Boys and Dr Andrew Green who developed a high efficiency resonant converter that enabled a high frequency current to be produced in a track, along with technology that enabled efficient power regulation – the basis for wireless power transfer.
Research on wirelessly charging of electric vehicles began five years later and resulted in the world's first wirelessly powered EV in commercial application, an electric bus system used at Whakarewarewa, Rotorua.
"We have always punched above our weight with this technology," says Professor Covic. "But now our work is urgent – we need clean transport.
"This research will help to create the safe, clean future that we want our children to inherit – and economic opportunities for New Zealand firms to commercialise the technology."