He mea nui te Reo i te wā e mātai ana i te hauora hinengaro
Kātahi rawa ka kitea te nui o ngā ākonga o Te Kura Mātai Hinengaro e ako ana hei kaimātai hinengaro haumanu, ā, ko Tamara McDonald tētahi.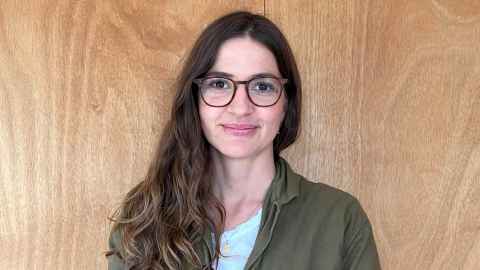 Kei te tau tuatoru a Tamara o te hōtaka haumanu, ko te mutunga mai o ngā tau e whā taumaha o te ako ariā, ā-ringa hoki ko te tohu kairangi.
"Nā runga i te kaha o ngā kaimahi Māori, i kitea te kaha ki te whakapiki i te maha o ngā akonga Māori i te hōtaka haumanu. E rongo ana au i te wairua haumako, tautoko hoki mai aku hoa tauira Māori, ā, kia au, he mea nui kia au kia maha tonu ngā ākonga Māori i roto i te hōtaka pēnei."
Ehara i te mea i hiahia a Tamara ki te mahi mātai hinengaro i te tuatahi, otirā i ako kē ia i te mahi whakaari i Ahitereiria. Engari i noho ia i te taha o tētahi whaea kēkē, he ahorangi o te mātai hinengaro, ā, taro ake ka tipu tana hiahia ki tēnei hei mahi māna. I te hokinga mai ki te kāinga, ka mahi ia hei kaiwhakahere i te toa kawhe o Tākuta Hinemoa Elder, he wāhi i āta poipoi i te whakamahinga o te reo ki ana kiritaki.
"I whakarato te toa kawhe i tētahi taiao ōpaki ki te whakangungu i te reo i a au i reira, otirā koirā te tīmatanga o te huihuinga o ngā whakaaro ki te mahi tautoko i ngā whānau."
Ko tētahi o ngā āhuatanga o te ako i te taha o tētahi rōpū ākonga Māori whare wānanga, ka kite ia i te hiranga o te reo i tua noa atu i te reo kōrerorero.
"He taonga te reo ki a au, ā he taha wairua hōhonu tōna, ā, nā te mārama pai ki te reo e āhei ai ahau ki tētahi māramatanga hōhonu o ō tātou hapori Māori, kaua ko ngā kupu anake engari ko ngā ao me ngā māramatanga i ahu mai ai ngā kupu Māori rerekē. Nā te reo i āhei ai mātou ki te tuitui i ngā hononga whaitake.
"Mōku, ko te rongo, te ako me te kōrero ā te Māori i te reo, he take whakahaumako, whakapakari hoki tērā."
Kāore a Tamara i te tino mōhio i te wāhanga hei mahi māna kia puta ia i te whare wānanga, engari e hiahia ana kia ki te whakatinana i āna rangahau i te mahi tūkino ā-tōkai i te tamaiti.
"E kaingākau ana ahau ki te ārai atu i te tūkino ā-tōkai, ā, e mōhio ana ahau ā tōna wā ka mahi au i roto i tētahi whakaritenga haumanu tētahi ki tētahi. E tino kaingākau hoki ana ahau ki tētahi mahi kairangahau, nā, ko te āhua nei ka mahi au i aua mahi e rua. Mā te ako me te hiki i taku reo Māori hoki hei whakarite i taku hononga ki taku iwi, taku tuakiri, ā, e whakapono ana au, ka hiki i taku whaihua hei kaimātai hinengaro Māori."
E ai ki a Tākuta Makarena Dudley, pouako matua i te Kura Mātai Hinengaro, i tana taenga ki te Whare Wānanga, i kite ia i te waiwai o te tō mai i ngā ākonga Māori ki te hōtaka haumanu.
"He nui te matea kia nui ake ngā kaihaumanu Māori e taea ana te mahi whaihua ā-ahurea ki te Māori ka tae atu ki ngā ratonga hauora hinengaro. E tino whai uaratia ana ngā ākonga mātai hinengaro haumanu Māori e taea ana te kōrero i te reo Māori, nā te pikinga o te whakamahinga o te reo i Aotearoa."
Te reo important in studying mental health
The School of Psychology has a record number of students studying to become clinical psychologists and Tamara McDonald is one of them.
Tamara is in her third year of the clinical programme, a demanding four years of theory and practical study culminating in a doctorate.
"Thanks to the impetus of Māori staff, there has been effort to increase the number of Māori students in the clinical programme. I feel enriched and supported by my fellow tauira Māori and I think it's imperative to have a significant number of Māori students in a programme like this."
Tamara did not start off wanting to be a psychologist but instead studied drama in Australia. But she lived with an aunt who was a professor of psychology and eventually became interested in it as a potential career. When she returned home, she ended up working as a manager in Dr Hinemoa Elder's café which intentionally nurtured the use of te reo Māori with its customers.
"The cafe provided an informal environment to practice te reo and while I was there, ideas about what I wanted to do to support whānau started percolating."
One of the features of learning among a group of Māori university students is that she notices how important te reo is in a wider sense than simply being able to converse.
"The language is a taonga and to me it has a deeply spiritual aspect, having a good grasp on the reo allows for a deeper understanding of our Māori communities, not just words but the worlds and understandings that different kupu Māori stem from. The reo allows us to form important connections.
"I think for Māori to hear, learn and speak te reo is enriching and strengthening."
Tamara doesn't know exactly what area she will work in once she graduates but she does want to apply her research in the area of child sexual abuse.
"I am passionate about sexual abuse prevention and I'm sure I will be working one-on-one in clinical practice in that area at some point. I'm also really interested in a research career so it's likely I'll be doing both of those things. Learning and improving my te reo Māori along the way will facilitate my sense of connection to our people, my own identity and I believe, a sense of effectiveness as a Māori psychologist."
Senior lecturer in the School of Psychology Dr Makarena Dudley says when she arrived at the University, she saw recruitment of Māori students into the clinical programme as imperative.
"There is a great need for more Māori clinicians who are able to work in a culturally effective way with Māori who present to mental health services. Māori clinical psychology students who speak te Reo Māori are particularly valued given the increasing use of the language in Aotearoa."