Opinion: Support to Afghanistan must not end at the gates of the nation's airport. Evan Jones explains how countries must come together to protect those left behind.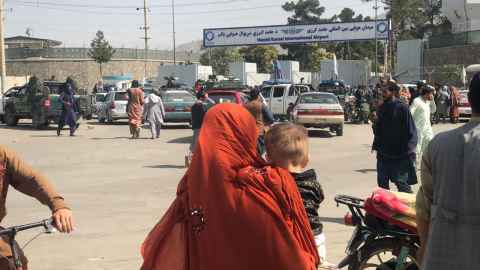 During late August, the eyes of the world were glued to rapidly unfolding political developments in Afghanistan, and subsequent evacuation efforts at Kabul Airport.
Over nearly two weeks, more than 100,000 men women and children - foreigners and Afghans alike - left the country, with many exiting Afghans fearful of what lay ahead if they remained.
Even before the recent change in the nation's political landscape, Afghanistan was already in the throes of immense humanitarian challenges. Amid the country's second drought in less than four years, nutritious food is simply not available to millions, leading to widespread childhood malnutrition.
Exacerbated by the crippling effects of conflict, Covid-19 and a harsh winter rapidly approaching - the country remains in humanitarian crisis.
According to the United Nations Humanitarian Response Plan, more than 18 million Afghans in 2021 - almost 50 percent of the country's population - need emergency humanitarian assistance, from food and water, to shelter and medicine. In addition, the World Food Programme notes approximately one-third of the country is facing food insecurity and two million children are already malnourished.
With the withdrawal of international troops, life for everyday Afghans has become even more difficult. In Kabul and across the country, there have been numerous examples of wheat, cooking oil and rice prices surging, placing additional pressure on already stretched family budgets.
Afghanistan's currency, the Afghani (AFN), has dropped in value to the $USD, and banks and ATMs remain primarily closed. This has made it incredibly difficult for individuals and families to access their savings, thereby further compounding already precarious living situations with household debt - most of which is taken on to pay for food and medicine – already at crippling levels compared to 2019 and 2020.
One young woman, Maryam*, described her decision to leave Kunduz in northern Afghanistan and make her way to Kabul to stay with relatives. She noted that "The situation in Kunduz was so unpredictable. We did not know what was going to happen and I could not find any work. I was scared to send my kids to school. We still do not know what will happen next, and we may have no choice but to leave. For now, we are together, but it is not easy."
While the picture for many Afghans like Maryam looks bleak, this doesn't need to be how the story ends.
Humanitarian interventions urgently needed, regardless of who's in power
Despite Afghanistan's overwhelming humanitarian needs, there are humanitarian organisations with existing operational footprints on the ground committed to 'staying and delivering'. Through United Nations agencies, international non-governmental and national civil society organisations, emergency support and lifesaving activities can be delivered across almost all corners of the country. In 2019, approximately 93 percent of districts across Afghanistan were provided with humanitarian assistance.
However, such endeavours cannot be undertaken in a vacuum; swift engagement and support by the international community is essential to ensure success. Currently, humanitarian organisations have less than 40 percent of the funds needed to address immediate needs; many Afghans' everyday necessities simply cannot be provided. If left unaddressed, these lifesaving needs will only grow, contributing to unnecessary and unavoidable human suffering.
Guided by the United Nation's joint operating principles (JOPs) - a document that provides the framework for engagement with authorities and armed groups at all levels - the humanitarian community in Afghanistan is committed to the principles of humanity, neutrality, impartiality, and operational independence. Through this framework, agreed with the Taliban, humanitarian agencies strive to provide assistance guided solely by needs, with priority given to the most vulnerable cases. As such, donors and the international community can have faith that their funding is being used strategically and efficiently to deliver the strongest possible humanitarian outcomes.
Propelling international commitments into action
In addition to meeting urgent humanitarian needs, it is crucial that countries and organisations come together to collectively provide protection to Afghan refugees on the move and those in neighbouring states. Despite reported 'quiet' across the country, Afghans witnessed record-breaking levels of violence with more than 5000 casualties, including more than 1600 deaths in the first six months of 2021 alone. Coupled with widespread uncertainty of what life will be like under new political leadership, many people remain terrified for their own lives and the lives of their families, and desperately seek refuge until they can safely return.
Less than three years ago, the United Nations General Assembly affirmed the Global Compact on Refugees. This document provides a framework for more equitable responsibility-sharing by states for refugee crises through greater international collaboration. Now adopted by 181 nations, the GCR tackles potential large-scale movements of people and addresses situations such the one happening in Afghanistan right now. Only through supporting the improvement of conditions in countries of origin, expanding access to third country solutions, and supporting host countries, can people who have fled Afghanistan have any hope of accessing long-term solutions to their displacement.
With foreign evacuation efforts finished, and all international troops now departed, it is essential the world remains engaged and committed to supporting the people of Afghanistan. Through the recent announcement by Foreign Minister Nanaia Mahuta to commit $3 million in aid to Afghanistan, New Zealand has taken a crucial first step. And while humanitarian assistance is not a panacea, it is essential in helping millions of Afghans including women and girls to meet their basic needs.
Importantly, New Zealand can engage even further, whether it be through additional government resettlement places for at-risk Afghans, or for universities to explore innovative supports such as waiving tuition fees or creating scholarship opportunities. Support to Afghanistan must not end at the gates of the nation's airport, but rather, it must extend to the country's 38 million strong population, ensuring that they have what they need to live safe, dignified and fulfilling lives wherever they may be.
Evan Jones is the Coordinator of the Asia Displacement Solutions Platform, and until recently was based in Kabul, Afghanistan. He is affiliated with the Centre for Asia Pacific Refugee Studies at the University of Auckland.
This article reflects the opinion of the author and not necessarily the views of the University of Auckland.
Used with permission from Newsroom A plea for Afghanistan 14 September 2021.
Media queries
Alison Sims | Media adviser
DDI 09 923 4953
Mob 021 249 0089
Email alison.sims@auckland.ac.nz